Reference

402

Bedrooms

1

Bathroom

1

Accommodates

2

Surface

650 ft²

Min Stay

1 days

Property Type

Apartment

Check-in

15:00

Check-out

11:00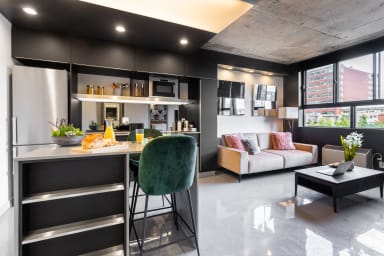 WELCOME HOME
​​Experience the allure of urban living at The Pierce, an ultra-trendy one-bedroom apartment nestled in the vibrant heart of downtown Montreal. Boasting a spacious 650 sq ft, this stylish residence is thoughtfully designed to meet your every need.
Unleash your culinary creativity in the fully stocked kitchen, complete with a central island and top-notch appliances. Wake up to the aroma of freshly brewed Nespresso coffee, setting the stage for a smooth start to your day.
Enjoy entertainment at its finest with two Smart TVs at your disposal. The living room becomes an immersive hub for movie nights, while the cozy bedroom offers a personal retreat for relaxation.
Recharge in the private refuge of the bedroom, featuring a luxurious king-size bed and a memory foam mattress that promises revitalizing sleep and restorative nights.
The modern bathroom invites you to unwind in style, boasting a spacious shower that creates a haven of relaxation. With cozy bedding, soft towels, and essential toiletries provided, every detail is carefully considered to enhance your comfort.
Immerse yourself in the vibrant rhythm of downtown Montreal while luxuriating in the modern comforts of The Pierce. Welcome to your new living space, where urban sophistication meets unparalleled convenience.
THE NEIGHBOURHOOD
The Pierce Hotel is located in the heart of the artistic and dynamic city of Montreal. Spend the day gallivanting the flamboyant streets and visit the many galleries and museums nearby such as the Montreal Museum of Fine Arts. Further your experience and indulge in a day of shopping and fine dining at any of the many fashion boutiques and restaurants lining the streets right outside your door.
CITQ number: 297973
Penalty of 100% of the reservation amount will apply if cancellation takes place less than 5 days prior to arrival date.
Read more →
24 Hour Check-in
Air Conditioning
Antique
Art Deco
Atypical
Baby bath
Baby crib
Babysitter recommendation
Baroque
Cleaning and disinfection
Clothes Dryer
Coffee Maker
Contactless check-in and check-out
Contemporary
Dishwasher
Ecological
Elevator
Empire
Energy-efficient devices
Essentials
Freezer
Fridge
Full Equipped Kitchen
Gated property
Gloves available
Gym
Hair Dryer
Handicap Accessible
Hand sanitizer
Hangers
Heating
Highchair
Historical
Hi-tech
Hoover
Internet
Iron
Kettle
Linen Towels
Masks available
Microwave
Minimalist
Mosquito Net
No single-use plastic
No single-use toiletries
Organic food & beverages
Oven
Parking Included
Pool Shared
Private entrance
Professionally cleaned
Romantic
Satellite Or Cable
Sauna
Self Check-in
Smoke Detector
Smoking Forbidden
Social distancing
Staff wear protective equipment
Terrace
Toaster
Tv
Victorian
Vineyard
Washing Machine
Wood
John P.

Great for a quieter stay

There is no front desk and not really any staff visible. Everything is done by yourself and the rooms are like mini apartments with all the amenities one could need. We loved it overall and will be back on our next visit to Montreal. Thanks!

June 2023

Pierce hotel

The dishes were not clean, the couch has stain and there was a lot of dust everywhere. The bed was clean and comfortable tho. The is no desk to work. The emplacement was great. The design is nice. It only seems like a lot of people passed by and unfortunately the cleaning was not good.

September 2022

Très bon séjour dans un bel appartement bien localisé

L'appartement est grand et confortable et bien équipé d'électroménagers modernes. Près du métro. Par contre, pas de parking et stationnement sur rue difficile.

July 2022

App 402

Amazing stay ! I liked the appartement! There was everything I needed to cook and clean that was awesome.

December 2021

Abdallah H.

Good place to stay in Montreal

Nice and clean place to stay in central Montreal. Close to everything you need downtown. The apartment was like described in the pictures. I will not hesitate to stay here again the next time I am in Montreal.

July 2021

Luiza M.

Sparkling clean and comfortable; convenient to downtown; parking a bit of a pain

The bright hotel-style apartment was sparkling clean and modern (although in an old building). It was comfortable, very suitable for 2 people, and had all the amenities you need for a short stay. The king bed was especially nice. We did not do any cooking, but all of the basic tools for cooking seemed to be there (could use an extra cutting knife, and some extra plates and cutlery), as well as olive oil, salt and pepper. You will need to shop if you need to cook or make tea or coffee (very small coffee maker on site to make a cup at a time, and a few coffee pods, but no tea bags, sugar, etc.). There are lots of small ethnic restaurants around. The apartment was also quiet and seemed well sound-proofed. We did have to ask the people next door to turn their music down after 11:00pm, but they were playing it quite loudly. The TV worked well and we were able to watch Netflix (but not sports). Parking was not very convenient, as the two closest parking garages have closed down (likely because of the pandemic). We were able to find temporary street parking, and for overnight a garage on MacKay about a 10-15 minute walk away that charged $25. A word of caution in the shower - make sure the top knob is pointing upwards to get the rain showerhead. There all kinds of shower nozzles, but they spray forcefully and horizontally and make a wet mess on the floor. Otherwise, there was plenty of hot water. All in all, we had a good stay here.

May 2021

Daniel S.

Great location and great amenities

The apartment was spacious, clean, and had everything needed. Would recommend.

March 2021

Sara H.

perfect

very clean, in the middle of downtown, modern and cozy place!

February 2021

Vikram B.

Review

The Place is Great Absolutely stunning !!! Easy To Find 👍

February 2021

Yves J.

Nice place

I really recommended this place

December 2020

The overall stay was nice

Although they could add an ice machine and a secondary lock from inside to feel safe.

December 2020

Cristina V.

Great stay!

Very stylish apartment, very comfy bed and good quality bedding, great shower pressure, all amenities, fully functional kitchen, wonderful location, very busy neighborhood yet quiet for a good night sleep, everything you can need is a few steps away.... Very reliable and responsive host! Would definitely stay here again!

December 2020

Emilie B.

Super Endroit

Dans son entièreté, l'endroit était très agréable. C'était super bien insonorisé et mis à part quelques portes qui claquaient au loin et des déplacement de mobilier à l'étage d'au-dessus, il n'y avait aucun autres bruits nuisibles. L'endroit était très propre lors de mon arrivée et avait bien été chauffé. Les instructions pour se rendre au bâtiment étaient très claires et les instructions à l'entrée indiquant comment utiliser chaque appareil dans l'appartement étaient super précises. La cuisine manquait légèrement de vaisselle, comme par exemple une plaque pour le four, mais était parfaite pour deux personnes. Le mobilier de repos était extrêmement confortable. J'ai rarement aussi bien dormi dans un lit comme celui-ci. Finalement, malgré le fait qu'il s'agissait d'un self-check-in, j'ai trouvé le service à la clientèle impeccable. Mes questions étaient répondues dans un très bref délais et avec un respect et une politesse exemplaire, et mes messages vocaux étaient retournés également rapidement. Les seuls points négatifs seraient que la douche a pris beaucoup de temps avant d'atteindre une température chaude (environ 15 minutes). Nous pensions même à un certain point qu'il y avait un problème ou simplement plus d'eau chaude. De plus, malgré la facilité de programmation d'air climatisé et de chauffage, l'appareil faisait quand même beaucoup de bruit et pouvait être nuisible lorsque l'on dormait. De plus, l'endroit suggéré pour le parking n'était plus disponible dû à des constructions, donc trouver du parking a été un peu plus compliqué que prévu et plus cher qu'indiqué. Cependant, je recommande cet endroit 100%. C'est abordable, c'est au centre-ville à distance de beaucoup de services (restaurants, pharmacie, dépanneur, etc) et l'endroit était pareil que sur les photos du site. Émilie

November 2020

Widad R.

Mon opinion

C'est un endroit très chaleureux, un décor qui rend l'appartement encore plus somptueux, d'une propreté irréprochable. Vraiment rien a rajouter je le recommande a 100 000 %

March 2020

Eric L.

Great Location, Very Clean.

The AirBnb was great, will be staying there again when I'm in town.

February 2020

Jonathan T.

Amazing place!

Really enjoyed my stay at this Airbnb apt in Montreal! Super easy to access, really clean and very central location!

January 2020

Kelly M.

Great stay, clean and luxurious.

We loved our stay at the Pierce Hotel. The location is perfectly placed in Downtown Montreal. The building is secure and modern. Our room / common area was clean and spacious. We loved our stay and would come back again if we happened to find ourselves in the city again! Thank you.

December 2019

Marcos T.

Exactly as described

Clean, modern and comfortable downtown spot. Shower is great, TVs in living room and bedroom, modern touches all made my stay very pleasant.

November 2019

Très bien

Belle espace, bien équipé avec toutes les commodités nécessaires ! Très propre ! Je recommande sans hésiter

August 2019
1650 maisonneuve ouest , H3H1J7Montreal, Quebec
FAQ
Did you know?

Unlock the answers to your questions and discover more about this unit and more in our Help Center FAQ – your go-to resource for a seamless experience!
Please click on this link to learn more: https://simplissimmo.frontkb.com