Reference

1302

Bedrooms

1

Bathroom

1

Accommodates

1-2

Surface

753 ft²

Min Stay

1 days

Property Type

Apartment

Check-in

15:00

Check-out

11:00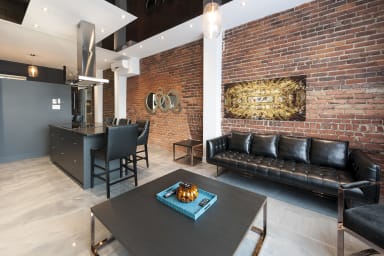 Open concept kitchen with living space
Stylish living room with big windows
Open concept kitchen with living space
Fully equipped kitchen - utensils, pots and pans available inside cabinets
Kitchen island with cooking top and eating area
Kitchen island with cooking top and eating area
Fully equipped kitchen - cooking top, oven, microwave, toaster, double sink
Fully equipped kitchen, island with cooking top.
bedroom glass wall and hallway
Double sink in the washroom, nice long mirrors
shower area - multiple jets shower
King size bed - minimalist decor
WELCOME HOME
Stay where your comfort is honored. Double sinks for your toiletries and double rain showers were installed so no one has to fight about the temperature or hogging all the water. Once freshened up, make your way into the Master bedroom and surrender to the welcoming lull of your King Size memory foam mattress and luxe sheets for a night of deep sleep. Start your morning with a cup of Nespresso before putting in a load to wash in your in-suite laundry. Plan your week while cooking lunch in your fully equipped kitchen and grand island or order in and set the mood by getting the fireplace going in the living room so you can sit back and enjoy a classic film on the Smart TV.
THE NEIGHBORHOOD
Explore the many pathways of Mont Royal Parc and make it to the top of Belvedere Kondiaronk, famously known as 'the lookout', giving you an almost bird's eye view of Montreal. Visit the Salon de Thé CHAI Tea Lounge and let your senses (taste) transport you to the corners of the world through their vast selection of teas or enjoy a luminous night of art and music at Les Place des Arts.
CITQ number: 294694
Penalty of 100% of the reservation amount will apply if cancellation takes place less than 5 days prior to arrival date.
Read more →
24 Hour Check-in
Air Conditioning
Antique
Art Deco
Atypical
Baby bath
Baby crib
Babysitter recommendation
Baroque
Cleaning and disinfection
Clothes Dryer
Coffee Maker
Contactless check-in and check-out
Contemporary
Dishwasher
Dvd Player
Ecological
Elevator
Empire
Energy-efficient devices
Essentials
Freezer
Fridge
Full Equipped Kitchen
Gated property
Gloves available
Gym
Hair Dryer
Hand sanitizer
Hangers
Highchair
Historical
Hi-tech
Hoover
Internet
Iron
Kettle
Kids Friendly
Linen Towels
Long Term Rentals Available
Masks available
Microwave
Minimalist
No single-use plastic
No single-use toiletries
Organic food & beverages
Oven
Parking Included
Pool Shared
Private entrance
Professionally cleaned
Romantic
Satellite Or Cable
Sauna
Self Check-in
Smoke Detector
Smoking Forbidden
Social distancing
Staff wear protective equipment
Telephone
Terrace
Toaster
Tv
Ventilator
Victorian
Vineyard
Washing Machine
Wood
Modern roomy well appointed comfortable apartment

Enjoyed our stay which was very comfortable and roomy with everything we needed suppled

June 2023

Tracey R.

Worked for what i needed.

Not in the greatest area, but good room and way more than what i needed.

June 2023

vacation in the center of Montreal

Perfect appartement for a few day vacation in the center of Montreal

May 2023

Gabriel S.

Very nice

Nice and cozy place. I would definitely stay here again.

May 2023

Nicholas V.

Fantastic Stay

The apartment is really nice and well put together. If you're looking for a city living experience this place nails it. The dual sink and dual shower in bathroom were a welcome touch. I wish I could bring the water pressure back home with me. It was great to have a separate living area and bedroom - this is the primary reason I stayed here vs a hotel. The two large TVs make rest time a little more enjoyable. The kitchen was well-equipped for our needs (dishes, pots, pans, flatware, and drinkware. The washer and dryer were a life-saver. The room came with two laundry pods and two dishwasher pods - an appreciated extra. There were a couple of cosmetic maintenance touch-up opportunities, but nothing that took away from our experience. Construction is taking place across the street as of the spring of '23, but the noise was only present during the workday while we were mostly out experiencing the city. There were more homeless/mentally ill on the streets on this block than you'd like to see, but they never bothered us past making us a little uncomfortable - this also served as a point of discussion for us as we walked through the city, more than anything, it is sad. In summary, it was fantastic stay. For someone who lives in the suburbs and has never lived in a downtown environment, this was a treat. It's so cool to tuck away into a little coded entrance to a nice room. Also, while we explored a variety of restaurants while there, don't neglect the nearby options. We really enjoyed our stops at FreshMint, serving La Fabrique bagels and Cacao 70, which shares an entrance to MiltonParc. Last thing I'll say, if you're in town and have time - try to grab a dinner at Foiegwa and let the bartenders at the Cloakroom bar craft your custom drink.

May 2023

Dayson J.

Wow

Amazing place I would recommend everyone to go there one day if possible , I will definitely go there soon.

April 2023

Great location and exceptional loft

The entire loft was exceptional, it was clean and spacious.

September 2022

Nice place!

Place was exactly like the pictures. Very clean. Easy and clear check-in.

August 2022

Kin Y.

Great experience!

I don't expect to have such a great room during my budget trip. Room is clean and tidy and lots of space to move around my luggages. Definitely will come again in my next visit.

July 2022

kenny h.

Montreal visit

Loved the room and all amenities. The suite was spacious, clean and modern. Bed was very comfortable with a great bathroom. I would give this a 5 star if located in a better place and had available parking. There were numerous homeless gatherings the second you walked downstairs and out the door. The parking garage access proved to be a "harassment" when coming and going. Great room though that was very clean!

June 2022

Dégoûtant

Assiette remplie de bouffe d'anciens locataires et pas d'eau chaude !

December 2021

Brenda S.

Beautiful apartment

Convenient to McGill and a short walk to downtown. All the amenities provided for a very comfortable stay.

November 2021

Trompeur

Malheureusement on n'a pas réussit à dormir . Certe c'est propre mais aucunement fiable pour la nuit . On n'a eu un bruit provenant de notre propre chambre plus de 3 heures d'attente pour qu'un membre du staff vienne ( il n'est pas venu) donc j'ai appelé et essayer de parler avec lui. Il me promets de m'appeler pour un remboursement il ne tient pas parole je suis partie de l'hébergement tard le soir la tête qui me fesait terriblement mal . Certe c'est propre mais mise à part le bruit de la chambre c'est un hotel mal situé beaucoup de bruit de l'exterieur et on n'entends meme nos voisins . Il n'on aucun pouvoir pour le bruit extérieur certe mais celui de ma chambre ils ne sont pas venu le réglé et m'on laissé me fatiguer à les attendre et ne m'on toujours pas remboursé .

June 2021

Samia Z.

Wonderful loft!

I really enjoy my stay at the Milton loft! It was very easy to find! A nice place, very clean, wonderful design! Enjoyed it and would definitely recommend it! I will for sure book it in the future!

April 2021

Dan G.

Great hospitality

This unit is literally the best. When I walked in I wasn't too convinced but after 10 mins of being there and inspecting the place, I fell in love with it. Cozy and spacious. I love love the bedroom and the washroom. Only isssue I ran into was that the kitchen sink was draining pretty slowly. But other than that, I would high recommend this place- Especially to couples. I can't wait to return back !

January 2021

Très beau séjour!

Loft fabuleux avec une magnifique vue sur le Mont-Royal. Luxueux, parfait pour un couple, propre, de beaux électroménagers. Le seul point négatif, pas de coupes de vin. Nous étions chanceux d'en avoir amené. Je recommande fortement!

December 2020

Paola T.

Very clean

This place is super nice. Super fast wifi Super clean Amazing check in system! Loved my experience!

November 2020

Vinesh B.

1302 - 1 Bedroom Loft Mount Royal Parc

Couldn't be happier with our stay. Apartment was very well kept with everything we needed for our stay. Process to check-in and check-out was smooth. Overall, great value. Would recommend to others heading to Montreal.

October 2020

nice loft!

Very nice loft! The elevator didn't work when we arrived so it was a bit problematic we had to climb the stairs at first but later at night it started to work. Also, our door make a very loud noise when opening and closing but overall the loft was very nice and had everything and it was not expensive! Thanks for the nice stay.

July 2020

Dennis B.

Milton Parc

Very nice, well maintained units in a good area of the city. Good communication with ownership/landlord for ease of entry. Units do not have bathtubs or windows that open. Overall I would stay there again and recommend to friends.

March 2020

LOCATION,MODERN DECORATED WITH HIGH-TECH

LOCATION: VERY CONVENIENT; 30 MINS LESS WALKING ACCESS TO METRO STATIONS,STREET ST-DENIS,ST-LARURENT,BUS STOPS STEPS AWAY. LOTS OF RESTOS,STORES AND GROCERIES AROUND,A SHOPPPING CENTRE NEARBY . INTERIOR: NICE AND CLEAN; SPACIOUS WITH HIGH CEILING MODERN DECORATION WITH HIGH-TECH EQUIPMENTS; PARKING: TAKE THE RENTER'S ADVICE OR TAKE SOME TIME ROLLING AROUND THE AREA FOR A FREE PARKING IN THE STREET OR PAY-PARKING YOUR VEHICLES IN PUBLIC PARKING LOT NEARBY CHECK-IN : EASY ACCESS WITH CLEAR INSTRUCTIONS; FOR A SIMPLE PERSON,CHECK-IN SECURITY PREVIEW PROCESS MAY BE A LITTLE COMPLICATED

February 2020

Hidden Gem

The place is hard to find. Don't look for a "hotel" - or any sign of one. Just look for the House number (over the door inside an entrance) and ignore the surroundings. Once inside, you will find a real gem, modern, comfortable, well equipped. And if you have a problem, someone answers the phone and sorts it out. Shower is great: bed super comfortable; kitchen is great. What's not to like.

February 2020

bruyant

Chambre très bruyante qui donne sur une grande avenue. Des SDF sont devant l'entrée de l'immeuble Les radiateurs étaient bloqués sur 20 le 1er jour qd on est arrivé.

November 2019

Carole, Ontario

At first I was a little apprehensive about the virtual check in with photo ID especially with all the internet hacking. All went great! Clear communication and direction made it seamless. The suite was clean & comfortable. Having the services within walking distance made the stay even more pleasant. Just a few housekeeping suggestions: 1) a tea towel in the kitchen instead of using a hand towel from the bathroom. 2) clearly identify the lotion and soap in the dispensers by the bathroom sinks as they are in the shower. Use different colour if possible because it's my impression that the solutions got mixed .... 3) for the non technical person, please provide clear instructions for the heating system. 4) note to self, make sure your phone is fully charged so you have the access code to the building and unit and have it written and kept with you at all times. I didn't get locked out but could image how stressful it could have been. I would recommend this location. Enjoy your stay. From a Montrealer!

November 2019

Jason E.

An amazing and unique experiebce

Had a wonderful stay at MiltonPark. The boutique hotel had everything we could want and was a beautiful modern conversion. Central to everything we wanted to see, we would stay here again in a heartbeat!

November 2019

R B.

We will return.

The apartment was very nice. The appliances all worked and the apartment was clean. The layout took advantage of the older architecture and added modern stylings . Loved the bathroom. The only negatives are well outside the control of the owners. The street is loud. The other guests were loud. Homeless people live in the covered entrance. But the location is an easy walk to all amenities. We would return.

October 2019

Lauro Y.

Excellent

Great location, near Place des Arts station and a good variety of restaurants, markets, etc The apartment is modern and has all necessary for a good stay. Great wi-fi, great bedroom, big bed, great bathroom with two showers.

October 2019

SEWON P.

Wonderful home

Very comfortable and convenient. I would absolutely recommend this location to anyone looking to have fun in Montreal.

September 2019

It has everything we want and good location!

We highly recommand you this loft because it has everything we want! Good location and walk to McGill university within 5mins!

August 2019

Loft

Génial modern et excellente situation

July 2019

Ramiro C.

Good Times

I had a wonderful experience. The room exceeded my expectations. I would certainly book another room with you. Thank you.

July 2019

Gregory B. (

United States

)

Greg

Place was clean and well kept worked great for us Thanks

July 2019

A perfect loft

Clean, well designed and equiped, near from everything... but don't forget to bring your coffee for the Nespresso machine (but there ´s a grocery at 1 min).

April 2019

Nate W.

Great except for the bed sheets

The bed sheets gave me and my girlfriend rug burn and the pillows could use some work. Other than that though the king bed was very spacious and comfortable. The kitchen was awesome and the bathroom was amazing. In all we enjoyed our stay.

February 2019

Efrem R.

Very Nice Loft

Amenities were Great although not enough Bathroom tissue so we purchased more..the only serious downfall was homeless people sleeping and hanging out in the area of bldg entrance..pretty frightening

January 2019

Nathalie l.

Super

Excellent je retournerai

December 2018

Derek J.

Perfect

Easy- clean- nice layout. Will stay again

December 2018

Great experience

Amazing stay , great loft, bed is very comfy. Location of apartment is amazing next to everything

October 2018

The best in Montreal

Localizaçao maravilhosa; tudo novo; moderno( impecavel. Me senti como se estivesse em casa;

October 2018

robert c. (

United States

)

ROB AND CHER CHANDLER (TROY NY USA)

We had a blast and we will be back again. Nice location and nice one on one time.

May 2018

Jess D.

Perfect place !

Appartement top, check un simple et efficace. Toutes les commodités nécessaires dans l'appartement. Rien à dire :-)

April 2018

Horrible experience

Filthy, calls not returned, run down, loud, no supplies provided, not maintained - on arrival needed to launder bedding and towels before use

March 2018
3485 avenue du parc , H2X 2H6Montreal, Quebec
FAQ
Did you know?

Unlock the answers to your questions and discover more about this unit and more in our Help Center FAQ – your go-to resource for a seamless experience!
Please click on this link to learn more: https://simplissimmo.frontkb.com