Reference

1303

Bedrooms

2

Bathroom

1

Accommodates

4

Surface

1001 ft²

Min Stay

1 days

Property Type

Apartment

Check-in

15:00

Check-out

11:00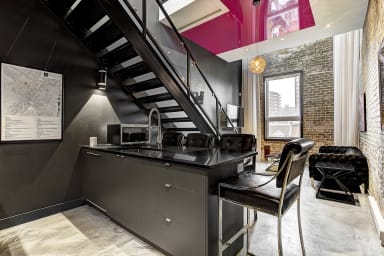 Open concept kitchen with living space
Fully equipped kitchen - utensils, pots and pans available inside cabinets
Smart TV with cable in the living room
Double sink in the washroom, nice long mirrors
Open concept kitchen with living space
WELCOME HOME
Stay where your comfort is honored. Make your way into the Master and guest bedrooms and surrender to the welcoming lull of your King Size memory foam mattresses and luxe sheets for a night of deep sleep. Start your morning with a cup of Nespresso on the rooftop terrace before putting in a load to wash in your in-suite laundry. Double sinks and double rain showers were installed in the bathroom so no one has to fight about hogging space and water. Hungry? Whip something up in your fully equipped kitchen and grand island or order in and set the mood by getting the fireplace going in the living room so you can sit back and enjoy a classic film on the Smart TV.
THE NEIGHBORHOOD
Explore the many pathways of Mont Royal Parc and make it to the top of Belvedere Kondiaronk, famously known as 'the lookout', giving you an almost bird's eye view of Montreal. Visit the Salon de Thé CHAI Tea Lounge and let your senses (taste) transport you to the corners of the world through their vast selection of teas or enjoy a luminous night of art and music at Les Place des Arts.
CITQ number: 294694
Penalty of 100% of the reservation amount will apply if cancellation takes place less than 5 days prior to arrival date.
Read more →
24 Hour Check-in
Air Conditioning
Antique
Art Deco
Atypical
Baby bath
Baby crib
Babysitter recommendation
Balcony
Baroque
Cleaning and disinfection
Clothes Dryer
Coffee Maker
Contactless check-in and check-out
Contemporary
Dishwasher
Dvd Player
Ecological
Elevator
Empire
Energy-efficient devices
Essentials
Freezer
Fridge
Full Equipped Kitchen
Gated property
Gloves available
Gym
Hair Dryer
Hand sanitizer
Hangers
Highchair
Historical
Hi-tech
Hoover
Internet
Iron
Kettle
Kids Friendly
Linen Towels
Long Term Rentals Available
Masks available
Microwave
Minimalist
No single-use plastic
No single-use toiletries
Organic food & beverages
Oven
Parking Included
Pool Shared
Private entrance
Professionally cleaned
Romantic
Satellite Or Cable
Sauna
Self Check-in
Smoke Detector
Smoking Forbidden
Social distancing
Staff wear protective equipment
Telephone
Terrace
Toaster
Tv
Ventilator
Victorian
Vineyard
Washing Machine
Wood
Patricia S.

Hotel stay

Overall great space. Not good if people cannot take stairs for the loft bedroom. Area is a bit rough with homeless people out front

June 2023

Jennifer B.

Chic private spacious apartment in great location

I loved my stay here. It's location was an easy walk to downtown, McGill, Place des Arts, the Plateau, cafes, restaurants, groceries, and a drugstore. The apartment was quiet, spacious, and easy to unwind in. Beds were comfy, bathroom spacious with a great shower. Kitchen had everything I needed and the big screen TVs were a plus for movie nights. Will definitely stay here again.

March 2023

Comfort at its finest

This was a really nice place to stay.Loft was amazing and exceeded our expectations.

December 2022

Adrienne M.

Enjoyed our stay

Nice unit-appears newly renovated. Lots of space. Central location- easy 2 block walk downtown and to mont royal. On the downside, the street out front is home to many homeless and challenged people. Although a short walk away it is once again clean. Kitchen could use more essentials to be functional to cook- i.e. larger pots, cookie sheets. Layout is open concept without full walls in either bedroom so noise may be an issue if you have night owls or early birds.

July 2022

Déçue

Bonjour, Je suis assez déçue de cette réservation car la situation de l'appartement n'est pas idéale (quartier sale, beaucoup de sdf et de drogués en bas de l'immeuble), l'appartement est de bonne taille mais très mal équipé, la propreté était discutable (évier de salle de bain bouché, douche à nettoyer et le comble container à poubelle sur le palier avec l'odeur !). En résumé, les photos sont plus belles que la réalité. 2 points positifs, la terrasse et la qualité des lits.

May 2022

Really nice place, great value!

Booked this for a conference for two employees to share. Each had their own bedroom. Due to limited avails in traditional hotels, this was a competitively-priced option but also super swanky and chic! My colleagues were impressed with their accommodations! Well-equipped unit. Some others had some comments about the area. Montreal in general is pretty safe. Folks who are asking for change or cigarettes can be a tad aggressive but are generally harmless. Montreal has a very ecclectic vibe about it that you either love or hate. The unit is VERY clean, safe, and well-appointed. You can book with confidence. Great process if you like self-check in and want to avoid the whole front desk thing. Responsive service team.

April 2022

Yasmine D.

Looks as pictured but.....

When we arrived at the address it was hard to find as the street was crowded with very interesting people (one lady flashed her boobs at my husband). The check in process was well explained in the email so it was a breeze. Once in the PH everything looks exactly as pictured and well layed out however, beside from that it had nothing else going for it. For the rate payed it was too much for what you get. The PH was dark and no light bulbs in the light fixtures not in the staircase nor under the stairs where the kitchen was. There was a floor lamp tho but didn't provide much lighting. The PH needed lots of minor maintenance. I think the owners need to come in before every check-in to make sure the unit is clean and good for the next guests. There was dust everywhere, the dishwasher was dirty with food particles, I found a used capsule in the coffe machine and dried food on the dishes. It seems like with them trying to make everything automated they compromise on a lot of the essentials that would make this unit a 5 🌟. I was grossed out with the shower as it was very dirty and the right side shower nobs were broken and just put back there for shows. Same for over the stove light, there was no way for us to turn the light on. My husband and I slept in the downstairs room and boy that mattress needs a replacement ASAP. The middle part is very sunked in and couldn't get a wink of sleep all night. I had to put a pillow under my butt to stay afloot but that didn't work. The mattress needs to be replaced. For the upstairs one my sister said it was fine and slept good. My advise is to keep up with maintenance and specially the cleaning of the units because of that I will not recommend this unit. I never really leave reviews however I needed to say something about this and please take it as a constructive criticism and get your shit together for real real. It is a nice unit but needs lots of love to keep it booked. Oh yes

November 2021

Dominique M.

MiltonParc

Great host, respond fast and the place was clean and spacious. I will definitely book with them again!

March 2021

Charles P.

Wow

Always a 5 star experience with Simplissimmo ! Everything was perfect, clean and organized. If you are visiting Montreal they are simply the best !

March 2021

Nadia L.

Best getaway 🙏

The experience at this airbnb was amazing . it was definitely worth the money , everything show in the picture literally is the same how it is when your there I would definitely pick this spot again in the future 🙏the hostess answers you right away if there ever is a problem, the instructions getting to the place is very clear .

March 2021

Justin J.

Bad

Worst place ever! They said ur allowed visitors then call police on their clients for having more then 1 visitor there! they couldve came and told me extra visitor had to leave instead they call police !! RACIST AND IGNORANT people. They Have No Respect ! THERE WAS CRACKHEADS all infront of the building smoking crack and begging for money and not wanting to let people pass through

March 2021

Linda N.

Overall good

It was nice had a bit of trouble but the host was quick to respond overall good experience

March 2021

Martine S.

Magnifique !

Le loft est grand avec un très haut plafond. il est aussi très lumineux et moderne. Les murs foncés ajoutent une atmosphère élégante et luxueuse! Gros plus pour les TVs dans chacune des chambres et pour la salle de bain. Cet appartement est tout simplement magnifique.

February 2021

Gal C.

Mr Gal

I found the place very nice But there were a few things that I didn't like - the toilet bowl was filthy (with piss stains on them) The 2 TVs out of 3 were broken. There was a heavy smell of a broken down pipe in the toilet. The stay was nice- but was very disappointed on how not clean the place was.

February 2021

Jacob T.

Great experience!

Great place, always available, when needed information. Really stern and honest about the description given! Highly recommended !!

February 2021

Kamran P.

Be careful

Host tried to charge us $513 for a "heavily damaged TV". We did not use the television we even provided proof. If we had used it we would have seen the damage on the TV and reported it right away. They claim to inspect the place before we entered but that does not prove that they could of ignored the broken tv to pull a stunt on us. Very disgusted with Milton Parc. Airbnb sided with us and not Milton Parc. Be careful as this may happen to you as well.

February 2021

Super good

10/10 very good, very clean

February 2021

This place wow

I was very nice neighbors wasn't noisy the place is very nice you should take this one

February 2021

Nirssanth G.

January 2021

Great apartment

Great place! Lots of space and very modern. A must!

September 2020

Tj S.

Great place

Lovely place. Cool decode. Clean. Would stay when I go to Montreal.

September 2020

Jen M.

Inside the building was a dream, outside the building was not.

I would've given 5 stars. The condo was absolutely beautiful and functional. The roof top terrace is a dream with breathtaking views! But going in and out of the building, you are greeted by many homeless people and there were some very unpleasant experiences just due to them. That is out of the buildings control, but I feel it's fair to warn others who rent here. Personally it didn't take away from our experience at the MiltonParc, but I can see it bothering others.

August 2020

Séjour parfait

Le logement est magnifique! Je vais certainement y retourner, et j'ai déjà hâte. C'est propre, luxueux et très grand. Les images ne sont pas du tout trompeur. De plus, la compagnie d'hébergement est très efficace, et elle est vraiment disponible rapidement pour nous soutenir. Enfin, le logement est très bien situé. Tout est pratiquement accessible à pied.

August 2020

Rude customer service, entrance smelled like a urinal beautiful loft

I will say their customer service needs work. I travel a lot and am currently travelling through Canada to explore each province. My sisters and i had booked our hotel the day before and we called for some assistance with their registration process. The woman who helped us was extremely rude and condescending the worst service. We had been in contact with them quit a bit to try cancel the reservation and rebook and each interaction was worse than the last. I guess not being from Montreal we didn't really know what to expect. There is no parking so if you're driving that's something to consider. We almost cancelled once we got there coz the door way of the condo smelled like urine and there were lots of homeless people sleeping by the front door. One who I was convince must have either been intoxicated or dead based on the fact he was lying lifelessly on the sidewalk. I wouldn't say the neighbourhood is family friendly. Now that the cons have been listed will get to the positive things the loft was beautiful. Once you get inside you forget about the fact that the front door is a complete urinal because it's spacious, clean minus the dirty floors which is fine if you keep your shoes on the whole time. The decor is nice, beds are comfortable, it's like a little oasis. I would recommend this loft if you speak French you'd probably get better service from the staff.

June 2020

Takmila M.

Nice stay

It's a nice loft, clean and tidy. Clean and modern washroom. The hosts were quick to reply to our inquiries.

March 2020

Alex R.

Super loft

Loft de rêves très bien situé au coeur de Montréal avec vue sur le mont-royal!!!

March 2020

David A.

Nice and perfect stay

Thanks gain for my stay

December 2019

Vicky C.

Excellent

Excellent emplacement près de 2 épiceries et plusieurs restaurants. Endroit très propre et de belle qualité avec beaucoup de commodités. Le seul élément serait le Wifi qui permet difficilement de travailler dans un booster de signal

November 2019

Moira N.

Montreal

Our apartment was well equipped, very clean and a lot of fun. Excellent location.

November 2019

C'était bien

Lieu très propre 🤗

October 2019

GOOD

The apartment was spacious and cleaned! It looks exactly like the pictures.

September 2019

CLOSE TO EVERYTHING

Very nice apartment, clean, safe, comfortable. Complete kitchen if you want to make your own meals.

September 2019

GREAT STAY

Open space, comfortable bed and large bathroom with double shower. The check-in is easy and simple.

September 2019

Great location

Completed equipped!

September 2019

Jacqueline D. (

Netherlands

)

Nice boutique apartment in the center of Montréal

The apartment was fantastic! Luxurious and well-equipped kitchen. The beds slept very well. Nice to have your own roof terrace. We were by car. We could park it around the corner (book in advance for a fee). The apartment is right in the center. All sights are within walking distance and a large supermarket is less than 50 meters from the apartment. Really recommended.

August 2019

Wana K.

Milton Parc

We really enjoyed our stay here! The place is very clean, spacious and very well located.The view from the ''terasse'' is amaziiiiing!

July 2019

good

location is good , so clean but warm water and wifi was poor

July 2019

CAROLYN S.

Great Location but amenities need some work!

Loved the location, and the rooftop deck with view! Comfortable beds and everything was clean. Check in/Check Out process was a breeze. I would have rated Excellent but there were a handful of amenities that were 'missing' in my opinion (especially for a group of 4) or were not functioning. The following needs some improvement: Strong urine smell at entry door, no coffee pot- just 3 Nespresso pods for a group of 4 people for 2 nights and you cannot buy pods in the store, no dish towel for the kitchen, no bakeware or any cooking sheets to use the oven, no wine glasses (not a 'fully equipped kitchen')!, no Bluetooth or other device for music, upstairs TV did not work (no cable line), and lastly, there was a vibration noise coming from the fridge (?) that would loudly rattle every 4 minutes or so- this was quite annoying- The 'open' bedrooms can be noisy, so we all needed to buy ear plugs. There is no privacy for either bedroom, so beware.

July 2019

Great weekend and great apartment

We really enjoyed the rental. It was close to everything we needed. It was clean, decorated nicely, quiet and overall very comfortable. The communication prior to travel was quick and friendly. Thank you.

June 2019

Loft d'archi

Très beau loft mais totalement non fonctionnel. Toutes les pièces sont ouvertes les unes vers les autres (vue directe d'un lit vers l'autre pourtant séparé d'un étage ou indirecte entre le canapé et le lit du bas via le mobilier poli du plafond... clientelle particulière ciblée ?). Niveau de propreté laisse totalement à désirer. Système de check in particulier (à faire en ligne avec des photos de pièce d'identité + selfie avec son ID), nécessitant une connection internet, heureusement possible au Cacao70 (café du rez de chaussée), et relativement lent à l'activation (plus d'une demi-heure dans notre cas). Et pour finir, insonorisation relativement faible entre les lofts mitoyens. Bref, il y a certainement mieux dans cette belle ville !

April 2019

Elyce

Very disappointed in the ivetalbexperience. Would not recommend this accommodation nor would i ever stay here again.

April 2019

Vanessa B.

Best loft ever

I would definitely stay here again

February 2019

Milton Parc in Montreal

Just great accommodation. We love coming here and will be back...

February 2019

Nice atmosphere, poor sleeping arrangements

The loft has a very nice style and atmosphere, but the open-concept sleeping arrangements are not ideal. I would not recommend staying here.

January 2019

Not bad

I liked everything, except the bed.

January 2019

katerina t. (

United States

)

Perfect location, very clean and modern

The apartment was BEAUTIFUL, and location superb. I loved the keyless entry, and the nearby restaurants, next-door convenience store with ATM, and the quiet neighborhood. We walked everywhere from here. The decor was fantastic, and all amenities great. The only reason I don't give an EXCELLENT rating is: 1) no privacy or soundproof room in the whole place--it looked interesting being open air, but with 4 people in it, very difficult to have one sleep and another watch tv, etc. Would think this is definitely not for two couples or for small children! 2) bedroom TVs were not connected to any kind of service and could not connect to our ipads, so useless, really. would have been great to be able to watch a movie from the bedroom! 3) the entrance hallway had a nice bench for you to sit and take off/put on shoes/boots, but it needed an absorbent big rug/mat on the floor to soak up the salty/snowy mess from our shoes. 5) It would be nice to include detergent for one laundry wash (it would cost so little and would allow guests to not have to buy a huge batch of detergent to do one or two washes!) 6) bathroom entry door was frosted glass, which meant, if someone got up and turned on the bathroom light in the middle of the night, the entire apartment was illuminated and all were woken!! 7) in winter-time, there should have been 4 spare blankets provided, just in case, and for the times you don't want high heat in the house, but you want to be cozy watching tv... We had a lovely stay and will recommend your place to others for sure.

November 2018

VICTOR B.

Best Loft to Stay in Montreal

Wonderful location for restaurants, sightseeing, local culture, and nightlife. I would stay here for every visit to Montreal.

October 2018

Fantastic space in a superb location

Just steps from the Metro and in close proximity to everything, the location could not have been better. The space itself was spacious and modern. It was the perfect setting for a special get-away.

October 2018

caroline v.

Séjour formidable, notamment grâce à l'emplacement de l'appartement

Le loft était très design avec des plus comme son emplacement, la salle de bains et jolie terrasse. Plusieurs choses étaient moins bien, mais pas rédhibitoire : -équipement trop juste en vaisselle; -ampoules manquantes, notamment sur la terrasse, -accès wifi un peu juste, -manque t

October 2018

Emplacement idéal pour visiter Montreal

Très bon emplacement et appartement esprit loft vraiment très sympa !

August 2018
3485 Parc , H2X 2H6 Montreal , Quebec
FAQ
Did you know?

Unlock the answers to your questions and discover more about this unit and more in our Help Center FAQ – your go-to resource for a seamless experience!
Please click on this link to learn more: https://simplissimmo.frontkb.com