FROM
C$124.00
→
C$857.00
/ night
Reference

1304

Bedrooms

2

Bathroom

1

Accommodates

4

Surface

1001 ft²

Min Stay

1 days

Property Type

Apartment

Check-in

15:00

Check-out

11:00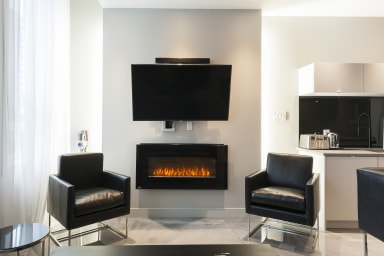 Fireplace, smart TV with cable
Fully equipped kitchen, island with cooking top.
Open concept kitchen with living space
Open concept kitchen with living space
Fully equipped kitchen - cooking top, oven, microwave, toaster
Kitchen island with cooking top and eating area
Fully equipped kitchen - utensils, pots and pans available inside cabinets
Double sink in the washroom, nice long mirrors
shower area - multiple jets shower
Milton Parc Hotel is definitely the reference type Loft Design Hotel in the heart of Montreal. It is perfectly located at the corner of rue Parc and Milton, less than 3 minutes away from the Place des Arts and Mont Royal Park. Quartier Milton Parc is a bold project that consists of 8 lofts, including 3 penthouses with private terrace and private parking. The Milton Parc was designed and thought with exclusive expertise in order to redefine the comfort standards and the pre established standards of the industry.
The 2 bedroom Loft Penthouse
5 urban lofts consist of an area of ​​about 800 square feet with panoramic windows, metallic powder flooring type, electric fireplace and a stretched canvas on the ceiling! The perfect union between the authentic character of a loft and a vanguard modern construction.
Uncompromising lighting is 100% LED, the kitchens are fully equipped with kitchen islands that can accommodate up to 4 people seated. A bathroom consisted of twin vanities and a double shower unconventional and ultra modern …
The semi-closed bedroom has a king bed with top quality mattress and a fully walk-in closet.
Each Loft includes unlimited high-speed internet connection, a telephone line and two flat screen TVs including Smart TV technology in order to navigate without limit on the Internet or even on your Netflix account.
The Milton Parc Hotel has chosen to equip all its units with the best equipment for the comfort of all our guests. . All the units also have a Nespresso coffee machine.
It is obvious that the Milton Parc offers all the amenities of a hotel and more...
WITHIN 5 MIN WALK TO:
• Numerous Bistros/Restaurants/Cafes and Groceries
• Complexe Desjardins Shopping Mall
• Eaton Center/UNDERGROUND Shopping Mall
• Palais des Congress (Montreal Convention Centre)
• Place des Arts (Performing Arts Centre)
• Museum of Contemporary Arts
• Theatre du Nouveau Monde/ Club Soda
• Quartier Chinois (China Town)
• Quartier des Spectacles
• Quartier Latin
• Quartier international
• Vieux Port / Old Port / Old Montreal
• McGill University
Penalty of 100% of the reservation amount will apply if cancellation takes place less than 14 days prior to arrival date.
Read more →
Air Conditioning
Antique
Art Deco
Atypical
Baby bath
Baby crib
Babysitter recommendation
Balcony
Baroque
Cleaning and disinfection
Clothes Dryer
Coffee Maker
Contactless check-in and check-out
Contemporary
Dishwasher
Dvd Player
Ecological
Elevator
Empire
Energy-efficient devices
Essentials
Freezer
Fridge
Full Equipped Kitchen
Gated property
Gloves available
Gym
Hair Dryer
Hand sanitizer
Hangers
Highchair
Historical
Hi-tech
Hoover
Internet
Iron
Kettle
Kids Friendly
Linen Towels
Long Term Rentals Available
Masks available
Microwave
Minimalist
No single-use plastic
No single-use toiletries
Organic food & beverages
Oven
Parking Included
Pool Shared
Private entrance
Professionally cleaned
Romantic
Satellite Or Cable
Sauna
Smoke Detector
Smoking Forbidden
Social distancing
Staff wear protective equipment
Telephone
Terrace
Toaster
Tv
Ventilator
Victorian
Vineyard
Washing Machine
Wood
Magnificent

Loved every second at this gorge or loft!

August 2020

Unnacceptable...

A nice interior place is all that it is. During my stay there was a very big invasion of privacy with the host calling then asking personal questions, as well as possibly having cameras inside the appartment watching you when he is not supposed to. It is very underwhelming from the outside and it is located in a neighborhood that does not look or feels safe at all. We were a total of 5 girls (3 staying over, 2 guests) and we were too scared to leave the appartment once it got dark to even go out for a walk because we felt it was so unsafe.

August 2020

Je ne le recommande pas.

Le quartier est pauvre et il y a plein d'itinérants qui nous sollicitent et de drogués. On ne se sent pas en sécurité à l'extérieur, Il y a plein de déchet dans la rue. Communication seulement en anglais....? Le code à la porte ne fonctionnait pas, le concierge nous a aidé à communiquer avec l'hôte pour avoir le bon code pour débarrer la porte. La finition du loft est lamentable. La cuisine n'est pas équipée suffisamment: pas de poêle, pas de plaque de four, pas de coupes de vin, pas de guénilles ni de linge à vaisselle..... Il y a seulement 1 cup à café par personne par jour. À notre arrivée la plaque de cuisson était sale. Le lave vaisselle est tout croche. Le lit du haut enfonce dans le milieu. Le canapé est raide et déchiré. Il n'y a pas de manette de TV et le terminal est coincé derrière la télé donc la manette ne l'atteint pas. Nous sommes restés embarrer sur la terrasse parce que le manche de protection est lousse et est retombé. Nous étions 4 et il y a seulement 2 chaises sur la terrasse dont une tout déchirée.

July 2020

Emplacement ideal

Appartement très agréable et bien situé. Le dépanneur est sympa et le magasin Provido pratique pour les quelques courses, tout ça a côté

February 2020

Jacqueline J. (

United States

)

Needs work

The apartment itself was very nice and clean. However, the management needs to put a packet of information in the unit that explains how to use the various appliances including the fireplace, shower, tv, dishwasher, stove and washing machine. You can't assume everyone knows how to use them. Plus, there needs to be emergency contact numbers available for when things go wrong or are broken. The shower was broken in our unit and only scalding water came out. I tried the 2 phone numbers I had in my emails and couldn't reach anyone on a weekend. Even though I left a message, no one got back to me until after we checked out in Monday. Plus, we couldn't figure out how to use the fireplace. That was too bad as it was a feature of the place that made me choose it for a winter weekend in Montreal.

January 2020

Presque 5 étoile

Tout était a peu près bien, les murs en revanche étaient remplis de trou boucher de plâtre et pour un vidéo-clip cela ne donnait pas l'effet escompté. Cependant tout le reste étaient proche de parfait !

January 2020

Kathie T.

Excellent place to stay

The accommodation was as advertised. Good spot and easy access. Plenty of room.

January 2020

Loved it

Loved it! Cool details!

November 2019

Maria Z.

Great Location, Clean and comfortable

The location is pretty great because the neighborhood has that authentic vibe and it close to many things. It was a great size for 2 people not sure about 4 with only 1 bathroom. The bed was comfortable and the apartment was clean. I would definitely recommend and stay there again.

October 2019

Beau séjour

C'est très bien comme appartement, cependant l'entretien ménager pourrait être améliorer ( beaucoup de poussière sur les lustres et le nettoyage de la plaque de cuisson et de la hotte de poêle). Manque de produit d'hygiène (papier de toilette). Il devrait y avoir des instructions écrites pour le fonctionnement de la télé Le décodeur est caché derrière la télé, donc le télécommande ne fonctionne pas si le décodeur n'est pas visible.

October 2019

robert s.

Couple getaway

Nice unit with access to stores,restaurants, and public transit

October 2019

VERY NICE

The place was as beautiful as the pictures. Everything was clean. We really enjoyed our stay at Milton Parc!

September 2019

JONATHAN H.

Nice Location

What a nice unit :) we loved it, Thanks again

September 2019

Amanda C. (

United States

)

Wonderful home

Comfortable bed, amazing shower.

September 2019

Nice place

Nice location and the staff were helpful.

September 2019

Fausse représentation

Ce n'était pas le même loft que j'avais choisi. Sur les photos c'était celui en brique à l'intérieur. Lorsque qu'on paie 500$ la nuitée, nous espérons avoir le même condo que sur les photos.. de plus aucun ouvre bouteille ni verres de vin. ( ils sont venu nous en porter par contre le soir tard donc au moins) et la tv le décodeur ne fonctionnait pas (et aussi un employé de maintenance est venu le soir tard) par contre je ne comprend pas encore qu'à ce prix, c'est supposé être des choses qu'on regarde si on les a avant que les clients arrivent...

August 2019

Ranjan M.

Excellent place to stay while visiting Montreal

We have enjoyed our stay at the MiltonParc. Very nice and clean place, rooms are big, comfortable beds and other facilities. Very centrally located and we walked to most places. The cafe next door and really nice. Highly recommend to anyone visiting Montreal.

June 2019

Apartamento moderno

O apartamento é moderno e amplo . Entretanto a falta de porta nos quartos não permite privacidade . Além disso as camas de ambos os quartos estão em péssima condição. No mais o apartamento é novo e de boa qualidade.

May 2019

Appartement

L'appartement est propre et il est exactement similaire aux photos sur internet. Par contre, les murs ne sont pas insonorisés & au moindre bruit, un monsieur débarque et reste là (atteinte à la vie privée!!). Une petite soirée à 4 entre amis, je ne conseille pas du tout ce logement. Une petite soirée tranquille en amoureux, allez-y...

April 2019

Elmira V.

Mom and Daughter Montreal Getaway

Stayed at Milton Parc, Montreal for the second time this year, once in February and just recently in November 2018 with my Mom for 2 nights. I've stayed during off season dates which kept my travel cost down but allows for a luxurious way to take advantage of really cool accommodations. What I love most about the units are the kitchen amenities, large bathroom with 2 sinks, and if you are lucky enough have access to the upper level bedroom with a walk out to the roof top patio with a view of the cross atop Mont Royale and finally the location close walk and proximity to everything. I usually buy groceries from the local market which is a 2 minute walk away and then enjoy cooking up a storm while drinking wine. Love this place and am planning a family vacation next year with the hopes to book at least 3 units on the top floor. I absolutely recommend staying a Milton Parc, the Simmplissimo team make it easy and a secure way access the unit without a concierge desk, and ask questions anytime you need to speak to someone. They quickly respond.

December 2018

Spacious room

As the title suggests, the room was very big. Much bigger than I expected, which was a plus. It was also clean and well organized, and gave more of a loft feeling than a regular hotel room. It would suit more as a partying room with such spaciousness i guess? Now the cons. This place has no lobby. The appearance of the hotel's building doesn't seem anything like it. No signs, logos, whatsoever. And no early check-in or baggage service is possible so if you are arriving early, MAKE NOTE OF IT!! Oh and our room had no tubs when I thought I was getting one. Annnd finally the construction. Is the hotel going through a renovation or something even when the visitors are there? Other than that, the overall experience was good enough. Great location with walkable distance to most of Montreal's desired places. Cacao 70 is right below so you can grab your brunch there.

October 2018

里面设施比较全。干净时尚。

停车场地点就在公寓边上的超市前,可以直接说清楚。

October 2018

Trés bon séjour de 10 jours

Super Bien placé, propre moderne de qualité Merci beaucoup

September 2018

Vibhuti N. (

United States

)

Amazing facilities, easy check in

We had reserved 2 lofts at Milton Parc. There were 7 of us, and we had a wonderful time. The lofts are clean, and are equipped with everything you could want -- plenty of fresh towels, silverware, plates and glasses. The beds are comfortable and the bathrooms are large. I would stay here again in a heart beat!

September 2018

Close to McGill, roomy and comfortable

Attended my daughter's grad from McGill and needed a roomy space for 4 adults. Our suite 304 had two comfortable king beds and the most amazing shower. Full kitchen incl Nespresso and Magic Bullet, tons of space to hang clothes for 4 people for 3 days. Got lots of use out of the two umbrellas provided. Improvements to consider: provide a corkscrew and clothes washing soap, wifi was not that strong. Overall my family enjoyed staying there.

June 2018
3485 avenue du parc , H2X 2H6 Montreal, Quebec
Tenant Check-in

Simplissimmo will happily welcome tenants to the apartment on the day of arrival! Check-in is usually after 3PM.

Tenant Check-out

Simplissimmo meets with tenants on the day of departure to collect keys, verify the state of the unit, and bid a fond farewell so you never have to worry. Check-out is usually at 12PM.

No extras

Once HP & Associés have rented your property, there are absolutely no hidden fees for your tenants. Hydro, electricity, cable, internet and more, everything is included! Except for Holland Hotel's Lofts and the following periods, high season prices apply: Christmas and New Year period (dec-20 to Jan-2nd/ each year), Grand Prix of Montreal (9June 9th to 13th, 2016), Osheaga Festival (july 29th to 31st, 2016). (Presidential Loft: 2,792 $ / Executive Loft: 2,392 $)

In the heart of the city!

Being in the center of the action is as simple as picking a neighborhood! Downtown, Plateau, International District or Old-Montreal, the city has it all.
Home cooking

All units under Simplissimmo's management should offer fully-equipped kitchens complete with ultra-modern appliances, perfect for the gourmet chef!

Sleep tight

Properties under Simplissimmo's management are mostly furnished with memory foam mattresses that adapt to body's natural shape and temperature, for the comfort of the tenants!

Of course it's included

All properties under Simplissimmo's management should provide full sets of high-quality cotton bed & bath linens.

Pet friendly

Let us know if you accept pets in your unit.