Reference

302

Bedrooms

1

Bathroom

1

Accommodates

2

Surface

650 ft²

Min Stay

1 days

Property Type

Apartment

Check-in

15:00

Check-out

11:00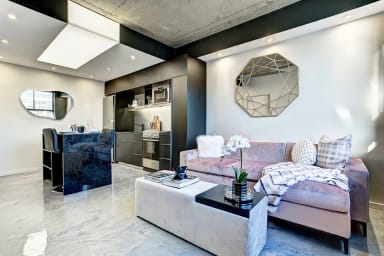 THE LIVING SPACE
Whether it's for business or pleasure, each unit has been meticulously designed to offer the best in furnished accommodation, including an inviting den area with 40" Smart TV, a personalized air-conditioning system, and a fully-equipped kitchen complete with 4-person central dining island. Enjoy optimal calm and comfort in the master bedroom thanks to blackout blinds, a wall-mounted Smart TV and a premium king-size memory foam mattress, while a designer bathroom features a Zen vanity and a sleek, walk-in glass rain-shower. Add to that unlimited high-speed Wi-Fi Internet, high-quality linens, concealed washer/dryer, Nespresso coffee machine, complementary Netflix subscription, and Simplissimmo's extremely competitive and comprehensive guest services, and it's easy to see why the Pierce Hotel is more than just a place to stay for the night.
Please note that you will get the exact same unit in terms of size furnitures and layout but the colour of the furnitures might be different.
THE BUILDING
Forever on a mission to deliver the most outstanding guest experiences, Simplissimmo decided to restore and renovate entire floors of a nearly half-century-year-old building to create its latest masterpiece: the unique and expansive Pierce Hotel. Selected for its ideal location and fully-customized to meet the Simplissimmo standard, guests staying at the Pierce benefit from easy self check-in using codes and an electronic keypad, a ground floor convenience store for any last-minute needs, and affordable nearby parking for those with a car.
THE NEIGHBORHOOD
Located in the center of all the action and surrounded by every major service, staying at Pierce Hotel really does put Montreal at your doorstep. A true walker's paradise, this address offers direct access to both the prestigious Golden Square Mile and the bustling Downtown core with numerous cafés, elegant restaurants, and shopping options of all kinds literally around every corner. The nearby Guy-Concordia metro station connects you to the city's most exciting attractions within minutes, and the always-lively Crescent Street and its infamous nightlife are just steps away. Why be a tourist when you can live like a local with Simplissimmo!
Within a 5-minute walk to:
Sainte-Catherine Street
Concordia University
Kampai Garden
Montreal Museum of Fine Arts
Mandy's
Pharmaprix
Café Myriade
Sir Winston Churchill Pub
And more!
In case of non-compliance with the contract's terms and conditions, the full amount of the security deposit will be retained.
Penalty of 100% of the reservation amount will apply if cancellation takes place less than 5 days prior to arrival date.
Read more →
Air Conditioning
Antique
Art Deco
Atypical
Baby bath
Baby crib
Babysitter recommendation
Baroque
Cleaning and disinfection
Clothes Dryer
Coffee Maker
Contactless check-in and check-out
Contemporary
Dishwasher
Ecological
Elevator
Empire
Energy-efficient devices
Essentials
Freezer
Fridge
Full Equipped Kitchen
Gated property
Gloves available
Gym
Hair Dryer
Handicap Accessible
Hand sanitizer
Hangers
Heating
Highchair
Historical
Hi-tech
Hoover
Internet
Iron
Kettle
Linen Towels
Masks available
Microwave
Minimalist
Mosquito Net
No single-use plastic
No single-use toiletries
Organic food & beverages
Oven
Parking Included
Pool Shared
Private entrance
Professionally cleaned
Romantic
Satellite Or Cable
Sauna
Smoke Detector
Smoking Forbidden
Social distancing
Staff wear protective equipment
Terrace
Toaster
Tv
Victorian
Vineyard
Washing Machine
Wood
Michael K.

Looking forward to my next stay

Everything about this stay was terrific, from check-in to communication mid-stay until departure. Clean, thoroughly equipped and supplied, perfectly located, professionally managed.

November 2021

Evelyne R.

Confortable

Chambres bien aménagées, lit très confortable. Propre mais pas très propre. Chambres très bien insonorisées. Quartier très bruyant et le bruit entre par les fenêtres.

November 2021

Mtl stay

The place itself looked really nice however the both TV'S kept shutting off and I had to purchase batteries for the remote in the bedroom to work. The shower leaked into the hallway whenever it was in use.

July 2021

Nahidul I.

Everything Was Good!

It was very organized and in a timely matter. Definitely will be going back!

March 2021

Franka S.

Wow

Belle place ! Confortable ,moderne assez pour vous et votre compagnon. J'adore ❤❤❤❤ La chambre est équipée de papier de toilette, batterie de cuisine , aspirateur etc. Nous nous sommes sentis comme à maison !!! Merci

December 2020

Evens O.

302

propre et tres comfortable 😍

December 2020

Maribel A.

Great place

Feel very cozy

December 2020

Room 302

Our stay was amazong, everything was on point.

December 2020

Review

Really nice place, easy access, will stay again here!

November 2020

Guillemette M.

Good location, great flat

Nice flat, clean, excellent location. Some remarks : - elevator a bit old and not really clean - no hot water in the kitchen / bathroom sink (but per chance in the shower !)

February 2020

Arianne B.

Great place

Très bien placé, parfait pour un couple

December 2019

Melanie F.

Mme fontaine

Très joli appartement Fonctionnel L'hôtel situé près du métro Tout est très bien a part l'eau qui est très longue à chauffer🤣amitiés de France Le Canada va ma manquer!!🇨🇦🇨🇦

November 2019

Horrible

The conditions that was on booking did not match the conditions in the contract of the hotel and i couldn't cancel the reservation because they already took the money on my bank account !!

October 2019

GOOD STAY

It was a very nice place to stay we'll be back again very soon

September 2019

Super séjour

Tout est bien !

September 2019

Ottimo appartamento

Abbiamo passato due giorni in questo bellissimo appartamento. Posizione centrale e ottima pulizia

September 2019

Top pour visiter la ville

13 jours passés dans cet appartement fonctionnel, plutôt calme, où la climatisation a été fortement appréciée en ces jours chauds de juillet. Bien équipé ( il manquait seulement une cafetière même si une machine nespresso est présente), décoration moderne, literie parfaite, bien situé en face du métro et à côté de la rue Sainte-Catherine, avec boutiques, restos,... Check in simple (bon, il faut avoir une connexion internet), appartement propre à notre arrivée. Pourtant il est vrai que l'immeuble n'est pas engageant. Bref : satisfaits !

July 2019

Kajita Y.

nice room and enough equipments

I stayed about a week with my wife. The room was clean and there were enough equipments like dishes, knives, refrigerator, towels, washing machine, etc. What we really had to bring were clothes and pajamas. The location is also good (i.e. station and super market are within 5 minutes walk).

July 2019

Torielle P.

10/10

Loved having ths space in Montreal. Amazing location with a lot of food options nearby. Very clean and spacious!

April 2019

Broken shower, nozzle sprayed straight up

The place was modern, beautiful and close to everything ... but when wer arrived at midnight we wanted to shower which could not happen because the piping was broken and it sprayed the water straight at the ceiling. Then we went to bed and tried to turn the heater/ac off but that wouldn't work either, it was stuck on. It was too late and there were no staff to contact so we dealt with it, but we will not be staying here again.

April 2019

Andrew C.

solid stay

this was my 2nd time at the Pierce Hotel and it was solid once again. I think the best attribute is the apartment's location which is a 2 minute walk to the Green line metro (Guy Concordia) and proximity to restaurants and stores on St Catherine's street. In addition, the unit is large and clean with a clean check-in process. Wifi is fast enough - usually ~15 mbps .I had 2 small issues with the apartment (elevator code was reset, small leak in bathroom) but with just a phone call, the issues were quickly resolved or remedied for my stay. Great value as well!

April 2019

Fernando G. (

United States

)

Great room, and amazing location. Check-in could be improved.

Location is key here. It is perfectly well located in Downtown Montreal, one block away from the metro. The room was very nice, spacious. A very good one-bedroom apartment, fully equipped, with a very comfortable in-suite bathroom. Everything was cleaned and order. The room was very welcoming. The check-in process is rather cumbersome. You need two codes (one for the building, one for the room). I mean, the instructions were precise, and I had no doubts on how it was done to get to my room nor any issues in getting there, but it was still cumbersome. And then, every time going in and out, you needed (to remember) two codes (or check them on your phone) which makes it quite a hassle, since the codes are not straightforward at all (they involve more numbers than I can memorize by rote repetition). The lobby of the building is not very welcoming, but it also seemed to be under repairs, so it could be just a bad timing. Once in, the room was great, though (see above).

March 2019

Dennis G.

Impressed

For the price that they are offering per night, you can't go wrong. Especially in/near downtown Montreal the place is amazing enough for a good nights sleep or how ever as many nights you are staying. Will definitely recommend you guys to my friends and family. Keep up the great work Pierce Hotel!!

December 2018

Nancy N.

Thank you Katie & Simplissimo for a wonderful experience

Flawless experience at Simplissimo's apartment buildings in downtown Montréal. Modern, tasteful and well-thought out furniture and appliances to facilitate a convenient and elegant experience. Location is perfect for a weekend trip in the town. I only regret not booking for longer to enjoy it better. :) Thank you again Katie for always following up promptly to ensure I had everything needed.

December 2018

Devki R.

More AirBnb than Hotel

I booked through a hotel booking site, so was surprised to get email stating that there was no front desk/concierge, but I would be "emailed a key code" to get in, but only the day of arrival. No flexibility of timing was a bit frustrating. The bed looked rumpled and slept in, there was paper towels in the shower, which looked as if it had not been cleaned. The Nespresso coffee maker is a very nice touch, but NO coffee pods! only used ones in the reservoir. Since I had to do my own dishes and take out my own trash, I was a bit taken aback that there was a "tip envelope" for maid service...especially since there is none! Sleek decor was nice, however the floor was freezing and not welcoming. There should be a small carpet at least in the sitting area. Local television service would have been nice. There is a box to hook up my laptop, but no table to place my laptop on. Very awkward. The bed was amazing, and several pillows of various firmness were appreciated. Towels should be a little bit bigger...bathsheet size, to match the level of decor. All in all, now that I know what to expect, I would consider renting again. The location cannot be beat for a real Montreal experience...but not great for Old Town.

December 2018

Matt D.

Great stay

Great stay! The space was clean and modern and in a good location. It was easy to communicate with the host as well when we discovered my girlfriend had left a pair of earrings behind. Would stay again!

October 2018

maude d.

Excellent

Clean, calm and confortable bed! Nice place.

October 2018

Virginie B.

Perfect stay !

Beautiful appartment, Perfect location.

September 2018

Richard H.

Great location. Great space.

So appreciated this place. Right in the center of things. Rue de St. Catherine and all of the restaurants and activities just a block away. Entrance to the building is a bit generic, but this is a nice, comfortable and well appointed apartment. I was solo, but this would have been great for a couple too. Washer, dryer right in the unit -- not mentioned in the listing. A nice surprise.

June 2018

Jorge S.

Perfect apartment

Everything in the apartment was great! It has a lot of new appliances, the decoration is beautiful and the bed is super comfortable. If you have to spend a couple of nights in Montreal, I highly recommend this place!

May 2018

Marian M.

Good!

Nice clean apartment at a good location

April 2018

James B.

Great location!

Close to the Metro subway and St. Catherine street, couldn't ask for more. Heaters worked perfectly, unit was very clean and bed comfortable.

February 2018
1650 maisonneuve ouest , H3H2P3 Montreal, Quebec
Tenant Check-in

Simplissimmo will happily welcome tenants to the apartment on the day of arrival! Check-in is usually after 3PM.

Tenant Check-out

Simplissimmo meets with tenants on the day of departure to collect keys, verify the state of the unit, and bid a fond farewell so you never have to worry. Check-out is usually at 12PM.

No extras

Once HP & Associés have rented your property, there are absolutely no hidden fees for your tenants. Hydro, electricity, cable, internet and more, everything is included! Except for Holland Hotel's Lofts and the following periods, high season prices apply: Christmas and New Year period (dec-20 to Jan-2nd/ each year), Grand Prix of Montreal (9June 9th to 13th, 2016), Osheaga Festival (july 29th to 31st, 2016). (Presidential Loft: 2,792 $ / Executive Loft: 2,392 $)

In the heart of the city!

Being in the center of the action is as simple as picking a neighborhood! Downtown, Plateau, International District or Old-Montreal, the city has it all.
Home cooking

All units under Simplissimmo's management should offer fully-equipped kitchens complete with ultra-modern appliances, perfect for the gourmet chef!

Sleep tight

Properties under Simplissimmo's management are mostly furnished with memory foam mattresses that adapt to body's natural shape and temperature, for the comfort of the tenants!

Of course it's included

All properties under Simplissimmo's management should provide full sets of high-quality cotton bed & bath linens.

Pet friendly

Let us know if you accept pets in your unit.