Reference

306

Bedrooms

1

Bathroom

1

Accommodates

2

Surface

650 ft²

Min Stay

1 days

Property Type

Apartment

Check-in

15:00

Check-out

11:00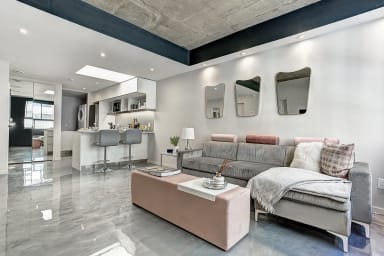 WELCOME HOME
The rooms at the Pierce have been designed to make your stay an unforgettable refined experience. Curl up in your Premium King size memory foam mattress with luxe sheets for a night of deep and restful sleep and wake up to a fresh brew of Nespresso Coffee and a refreshing rain shower. While your clothes are being washed in the in-suite laundry room, cook a delicious breakfast for you in the fully equipped kitchen to comfortably enjoy on the quaint dining table for two. Let yourself be tempted by Montreal's eclectic nightlife or stay home to watch a movie on the 40'' Smart TV mounted in the warm and welcoming living room we have prepared for you.
THE NEIGHBOURHOOD
The Pierce Hotel is located in the heart of the artistic and dynamic city of Montreal. Spend the day gallivanting the flamboyant streets and visit the many galleries and museums nearby such as the Montreal Museum of Fine Arts. Further your experience and indulge in a day of shopping and fine dining at any of the many fashion boutiques and restaurants lining the streets right outside your door.
CITQ number: 297973
Penalty of 100% of the reservation amount will apply if cancellation takes place less than 5 days prior to arrival date.
Read more →
24 Hour Check-in
Air Conditioning
Antique
Art Deco
Atypical
Baby bath
Baby crib
Babysitter recommendation
Baroque
Cleaning and disinfection
Clothes Dryer
Coffee Maker
Contactless check-in and check-out
Contemporary
Dishwasher
Ecological
Elevator
Empire
Energy-efficient devices
Essentials
Freezer
Fridge
Full Equipped Kitchen
Gated property
Gloves available
Gym
Hair Dryer
Handicap Accessible
Hand sanitizer
Hangers
Heating
Highchair
Historical
Hi-tech
Hoover
Internet
Iron
Kettle
Linen Towels
Masks available
Microwave
Minimalist
No single-use plastic
No single-use toiletries
Organic food & beverages
Oven
Parking Included
Pool Shared
Private entrance
Professionally cleaned
Romantic
Satellite Or Cable
Sauna
Self Check-in
Smoke Detector
Smoking Forbidden
Social distancing
Staff wear protective equipment
Terrace
Toaster
Tv
Victorian
Vineyard
Washing Machine
Wood
Good apartment

WOW Apartment

October 2022

Really nice stay

The rules are very restrictive and the neighborhood is kind of sketchy but it all amounted to a very nice stay due to the security. It was so quiet and comfy. I was glad for the ability to do laundry and heat up leftovers to save money on breakfast. Definitely would stay again.

August 2022

Rodrigo P.

Brand new appartement but not clean

The apartment is beautiful, spacious but the floor and the bed sheets were not clear. I found hair and one pillow had a yellow spot. Gross.

April 2022

Je recommande assurément

Hôtel très bien situé et avec décoré avec goût. Très confortable et tout y est. Je le recommanderais et surtout j'y retournerais cet été!

March 2022

5 Stars !!

Loved the location & the condo. Was well taken care of & simple to check in & out, would definitely stay again!

January 2022

Simplissimmo

Wooow on a passé un excellent séjour . Le logement est très propre, spacieux et bien situer. Je le recommande fortement.

April 2021

Great value!

The place was nice and tidy and quite spacious and the price was quite reasonable would visit again for the same price!

April 2021

Alain B.

EXCELLENT!

This apartment is full equiped - washing machine, dishwashing machine, tv (2) with Netflix, large shower, oven, microwave etc. Well located near the Musée des Beaux-Arts de Montréal, Musée Mc Cord. The only annoyance is the registration procedure... Few days before, we have to send to photos of an ID card, only few hours before arriving, we received a message with the code to enter in the hotel and another code to get in the apart... The owner could look at the registration procedure of AirBnB! Other than that everything has been EXCELLENT!

March 2020

Great stay in Montreal

Pierce Hotel is very well located. The flat is very well equipped and modern. All is meet to enjoy Montréal for business and/or holidays.

November 2019

jessie m.

pierce

Bel emplacement, exactement comme sur les photos. À une exception près, le condo paraissait plus grand en ligne. Malgré ce petit détail, bien situé, propre et tout est à proximité. Je recommandes pour un petit moment à 2

October 2019

Daryl H.

Great place in a convenient location

Our stay was great. It was clean, comfortable and close to the center (subway, restaurants...).

September 2019

Rodrigue G.

Propreté, belle espace, bien situé ! Que dire de plus !

C'est un bel endroit, tout équipé, propreté impeccable ! Je vous recommande le concept sans hésitations !

May 2019

Very nice and excellent position

Everything was good, the apartment was very nice, clean and with the all things you need! The only two "bad" things were Netflix because it didn't work and even my boyfriend has not be able to connect with the WiFi !

April 2019

Quiet and good located place

We are really enjoy stay there.

April 2019

Anahita B.

Great appartment

The apartment was located in the heart of the city, having access to everything you could possibly need. The suit was vey clean and unlike many reviewers, we had hot water in the bathroom and also we could adjust the room temperature. I highly recommend this place. However, parking had been a struggle for us since the hotel does not offer parking and also some of the kitchen utensils were not washed and simply kept in the drawers dirty.

April 2019

Appartement hotel

Beautiful, very clean but the street was very nice. A machine made noise all night, could not sleep at all. If I could move the appartment to another location location, I would give it 5 🌟

February 2019

Lucile F.

Perfect

It was perfect. Nothing to add!

February 2019

Super

très bel appartement,très bien équipé et très bien situé qui nous a permis de passer un séjour trés agréable

January 2019

Fanny H.

Really nice

I enjoyed my night there

October 2018

Jimmy G.

October 2018

Clean place, easy to contact office if needed. Has what we need for a nice stay without resto 3 times a day.

October 2018

K. E.

Poor, poor, poor...

Check-in to this property was a nightmare.... Although I informed the hosts that we will be arriving late at night (about 21:00 hours) after a long-distance flight, despite their written acceptance of this request, there was no one available to greet us and let into the apartment. When we called the contact phone number given, all we reached to was an answering machine... After being stranded at the property with heavy suitcases and tired for several hours we had to go and find a nearby hotel to stay in and paid top dollars EXTRA for an accommodation which we already pre-paid for. On top of that the place was noisy, the A/C made a lot of noise and bad smell (apparently it was not among the appliances that got renovated), there were cockroaches in the building, floors a and the windows were dirty beyond words can express. Please see photo attached... We will NEVER stay at this or any other property run by this host/manager.

September 2018

Heather B.

Heather b

Amazing location Huge apartment with everything you need for your trip !!! Very clean and accessible

July 2018

Saud A.

Saud

Location, clean, size, design, and equipped very well

March 2018
1650 maisonneuve ouest , H3H2P3Montreal, Quebec
Tenant Check-in

Simplissimmo will happily welcome tenants to the apartment on the day of arrival! Check-in is usually after 3PM.

Tenant Check-out

Simplissimmo meets with tenants on the day of departure to collect keys, verify the state of the unit, and bid a fond farewell so you never have to worry. Check-out is usually at 12PM.

No extras

Once HP & Associés have rented your property, there are absolutely no hidden fees for your tenants. Hydro, electricity, cable, internet and more, everything is included! Except for Holland Hotel's Lofts and the following periods, high season prices apply: Christmas and New Year period (dec-20 to Jan-2nd/ each year), Grand Prix of Montreal (9June 9th to 13th, 2016), Osheaga Festival (july 29th to 31st, 2016). (Presidential Loft: 2,792 $ / Executive Loft: 2,392 $)

In the heart of the city!

Being in the center of the action is as simple as picking a neighborhood! Downtown, Plateau, International District or Old-Montreal, the city has it all.
Home cooking

All units under Simplissimmo's management should offer fully-equipped kitchens complete with ultra-modern appliances, perfect for the gourmet chef!

Sleep tight

Properties under Simplissimmo's management are mostly furnished with memory foam mattresses that adapt to body's natural shape and temperature, for the comfort of the tenants!

Of course it's included

All properties under Simplissimmo's management should provide full sets of high-quality cotton bed & bath linens.

Pet friendly

Let us know if you accept pets in your unit.