Reference

502

Bedrooms

1

Bathroom

1

Accommodates

2

Surface

650 ft²

Min Stay

1 days

Property Type

Apartment

Check-in

15:00

Check-out

11:00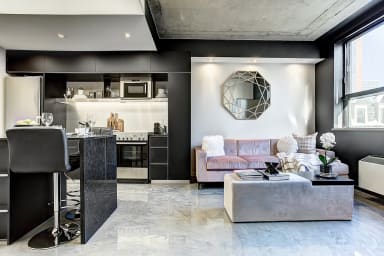 WELCOME HOME
The rooms at the Pierce have been designed to make your stay an unforgettable refined experience. Curl up in your Premium King size memory foam mattress with luxe sheets for a night of deep and restful sleep and wake up to a fresh brew of Nespresso Coffee and a refreshing rain shower. While your clothes are being washed in the in-suite laundry room, cook a delicious breakfast for you in the fully equipped kitchen to comfortably enjoy on the quaint dining table and island for two. Let yourself be tempted by Montreal's eclectic nightlife or stay home to watch a movie on the 40'' Smart TV mounted in the warm and welcoming living room we have prepared for you.
THE NEIGHBOURHOOD
The Pierce Hotel is located in the heart of the artistic and dynamic city of Montreal. Spend the day gallivanting the flamboyant streets and visit the many galleries and museums nearby such as the Montreal Museum of Fine Arts. Further your experience and indulge in a day of shopping and fine dining at any of the many fashion boutiques and restaurants lining the streets right outside your door.
CITQ number: 297973
Penalty of 100% of the reservation amount will apply if cancellation takes place less than 5 days prior to arrival date.
Read more →
24 Hour Check-in
Air Conditioning
Antique
Art Deco
Atypical
Baby bath
Baby crib
Babysitter recommendation
Baroque
Cleaning and disinfection
Clothes Dryer
Coffee Maker
Contactless check-in and check-out
Contemporary
Dishwasher
Ecological
Elevator
Empire
Energy-efficient devices
Essentials
Freezer
Fridge
Full Equipped Kitchen
Gated property
Gloves available
Gym
Hair Dryer
Handicap Accessible
Hand sanitizer
Hangers
Heating
Highchair
Historical
Hi-tech
Hoover
Internet
Iron
Kettle
Linen Towels
Masks available
Microwave
Minimalist
No single-use plastic
No single-use toiletries
Organic food & beverages
Oven
Parking Included
Pool Shared
Private entrance
Professionally cleaned
Romantic
Satellite Or Cable
Sauna
Self Check-in
Smoke Detector
Smoking Forbidden
Social distancing
Staff wear protective equipment
Terrace
Toaster
Tv
Victorian
Vineyard
Washing Machine
Wood
Clean the windows

You would think that spending 900 the windows would be clean I'm pretty sure they have not been cleaned in 10-15 yrs There was a couch in the apartment that had hair on in and I wouldn't even think of sitting on it as it was filthy Not worth that kind of money Disappointed completely

July 2022

PERFECT

Excellent place, so clean and I like it so confortable like place!

December 2021

Pas mal

Beau condo, assez spacieux pour deux et moderne. Très grand lit confortable et tout à notre disposition pour cuisiner. La propreté du plancher laisse à désirer, marcher pieds nues et vous vous retrouvez avec des pieds noirs. Télévision du salon fonctionne mal, beaucoup de bugs. La télévision de la chambre ne fonctionnait pas et pas de télécommande. Un seul ascenseur qui fonctionnait sur deux, donc le temps d'attente pour descendre, surtout, était excessif. Aucune place de parking à côté, surtout le vendredi et samedi soir, donc il faut payer le parking 25$ par jour.

August 2021

Kelly-Ann H.

Not as advertised

The pictures are way better than the actual apartment. It was clean and the bed was comfy but I wouldn't have agreed to pay as much as I did for this apartment

July 2021

Perfect Getaway

I stayed here for three night with my boyfriend while visiting Montreal from out of town. Everything was amazing, getting into and out of the room and building was easy and felt secure. The apartment itself was very clean and had everything that we needed for a short stay. It looks almost identical to the pictures. The location was great for what we wanted, steps away from St.Catherine St and really not a far walk from anywhere you may need to go while staying there. Would highly recommend this place and may have to stay again if we decide to come back.

July 2021

Olympia S.

I was ok

Place was nice and clean but much smaller then I thought. Looks bigger in pictures but other then that my stay was fine.

April 2021

Ceh C.

Nice Place !!

Very good location , place really comfortable !!

March 2021

Confortable stay

The room was really confo and clean. Nice "retro" deco. I really appreciated the small details (dishes, warm room, washer soap). It made me feel like i was at home quickly. The only thing i would wanted is to have instructions on the shower (i almost burned myself) and it was easy for the water to come out.

November 2020

Roy V.

Beautiful and Accommodating

Originally I only stayed for 2 nights, but my partner and I really enjoyed the place that we decided to stay one more night and even though it was a another different room they quickly moved me to another room. My partner and I LOVED BOTH rooms, they were equally beautiful and comfortable, both with fully equip kitchen and basically all our experience was TOP NOTCH.

November 2020

Claude V.

Appartement Simplissimo

Nous avons aimé notre séjour dans l'appartement. Tout était fonctionnel. L'appartement était propre et tranquille.

October 2020

Excellent stay

Great stay, everything was nice and cozy.

September 2020

Shlomy A.

Beautiful spot

Beautiful place equipped with everything you need. Would highly recommend.

January 2020

estadía en Montreal

muy buen lugar, limpio, seguro, confortable y muy bien ubicado!

January 2020

Ruud D.

Perfect apartment

We stayed a couple of days in room 502 (Pierce Hotel). Very comfortable, close to shops, restaurants and public transport. Next tme Montreal, again Pierce Hotel

October 2019

Jessica B.

Very nice spot

Nicely decorated and spacious suite. My only complaint would be related to the temperature of the shower. I think the knob may have been broken because it was extremely diffuse to turn. Other than that, i would definitely go back

September 2019

bettyann w.

Beautiful

The apartment was close to the metro station Guy Concordia. It was great, a cozy little base to explore Montreal.

September 2019

PERFECT LOCATION

Great place to visit Montreal. The staff was quick to respond if we needed anything.

September 2019

WE LOVE THIS PLACE

Excellent!

September 2019

Renfei T. (

United States

)

Solid hotel experience

Overall I had a solid stay. Hotel was very clean and well kept. Location also very good right next to the Metro in the heart of downtown Montréal. Instructions around check in and check out were very clear and easy to understand. Air conditioning was effective to keep the room cool during the summer heat. My room had some modest room for improvement. There could have been more shower shampoo and soap options. The hair dryer did not work. And a water filter would have been nice to have as a drinking water option.

August 2019

Très bel appartement

Magnifique appartement avec tout le nécessaire.Très propre. Lit King size confortable.Situé idéalement à côté du centre ville,et à proximité de plusieurs parkings souterrains et du métro.De plus,une écoute en cas de problème.

July 2019

Mark E.

Great location and very clean

Needs toiletries in the bathroom. There was no shampoo or conditioner I had to buy my own.

June 2019

Paola S.

Just adjust the lights!

Very convenient location, close to groceries, subway, Mount Royal. Apartment is well structured overall, with kitchen and laundry options. Lighting needs improvement. Too bright and no light stand by bed that could allow reading or simply getup without waking up partner or getting blinded by brightness. Please have the vacuum cleaned, as It was pretty gross. Maybe a small shampoo would be nice. We had our own, but would be nice touch. And an oven pan. Otherwise, really nice! Would be back anytime. P.

June 2019

would be great if it was cleaner!

The location is really good, the apartment nice. The bedding is excellent. Hhaving Netflix was a teeat. However, the kitchen was dirty, especially the counters that were really gross. The windows were very dirty too, which is frustrating because the apartment was pricey.

June 2019

bien dans l'ensemble

le lit super confo, belle situation géografique mais manque de vaiselle et la douche ne fonctionnait pas bien.

June 2019

James C.

Well, not pleased.

The security deposit for the room is still charged against my credit card even a week after I checked out. This affects how much credit I have available on the credit card while travelling.

May 2019

Kaitlin L.

Amazing Hotel

Such a beautiful hotel room and situated perfectly in downtown so I could get around easily! Made my trip to Montréal stress free!

April 2019

Skyllar E.

Visitor

I recently stayed in this hotel / apartment while I visited Montreal with my mom for her birthday. Honestly, the size of the apartment and layout is perfect. It is modern and more or less, maintained well. However, there are a few considerations I believe this company should adhere to for future visitors. First off, there were finger prints everywhere. I am not kidding, the kitchen bar table was not clean at all and the glass door for the washroom was FULL of nasty prints. This wasn't the biggest issue. Secondly, the comforter for the bed (king size was great) was stained and smelled like it needed to be washed. I had to flip it upside down and even this was almost intolerable. I am not sure how long that comforter has been used but it definitely needs to be replaced. The bed was clean though. No bugs! Thankfully! In the middle of the night on my last night, I got up to use the washroom and upon turning the lights on, I noticed a little creepy drawer (a baby roach!!!!) crawling in the sink and I killed it really quick before he got away! This grossed me out so much that I automatically put all my luggage's on to the coach so they wouldn't be on the floor where another cockroach might be lurking around. I was disgusted. Another suggestion: have some tea bags or coffee pods for your damn guests! This is standard in ALL hotels. Literally, we arrived Friday night and checked out Sunday morning. We had 2 , yes only 2, coffee pods for the ENTIRE weekend ! The building looks old and needs updating. The elevators smelled and carpets in entrance were so filthy that it turned everywhere off when I got there but I had already paid for it. Everything else was good. These are definitely issues that need to be reviewed and fixed because this could easily have been a 4 or 5 star review but I'm rating it a 3 as I am honestly not content with the money I spent on it. Location was perfect though and close to everything.

April 2019

Mrs Yvonne Vreeken.

Apartment was excellent. Clean,good bed,super location en good contact with Alex. Until next time!!

February 2019

Nicholas B.

Great Place - Looks just as good as the photos

Check in was easy. The location was great. The apartment was beautiful

January 2019

Nadia B.

Pierce Hotel

Notre séjour a été bien plaisant , la suite était propre . Le host très plaisant et collaborateur. Si je peux passer un seul commentaire, il manquait des serviettes. Mais en somme , très apprécié.

October 2018

Janet M.

Great central location

Well appointed apartment in the heart of the city. Lots of great restaurants within walking distance. Quiet, very clean, comfortable beds.

September 2018

Rik B.

Montreal Apartment

Wow! What a great 3 days. The apartment was clean and fully equipped... exactly as seen in the photos. Security was great as well. We would definitely use Pierce Hotel again.

July 2018

Shih -.

Fantastic

This is a fantastic apartment! I will strongly recommend to all my friends.

May 2018

Najoud A.

Great place

Great location, good cleanliness & amenities thank you!

May 2018

Martin H.

May 3-7, 2018

Accommodations were clean, bed was comfortable. Overall very utilitarian, seating was lacking, one couch was uncomfortable, no arm chair or additional chair of any kind except two stools at kitchen island. We rented because of kitchen facilities which were adequate but no table or seating for guests. Which was our intent as we came to visit family. Downtown location was good, website said request parking, we did but got no response and when we got there were to to go to public parking down the street which was full so we move from one lot to another, a nuisance and costly.

May 2018

Alcibiades M.

One in a kind experience

Self service apartments .. all automatic.. great idea and very well developed!! The quality of the technology and services highly recommended!! The shower is an SPA experience!! Really nice!! Congrats on a great idea fully developed and perfectly managed.!!

May 2018
1650 maisonneuve ouest , H3H2P3Montreal, Quebec
Tenant Check-in

Simplissimmo will happily welcome tenants to the apartment on the day of arrival! Check-in is usually after 3PM.

Tenant Check-out

Simplissimmo meets with tenants on the day of departure to collect keys, verify the state of the unit, and bid a fond farewell so you never have to worry. Check-out is usually at 12PM.

No extras

Once HP & Associés have rented your property, there are absolutely no hidden fees for your tenants. Hydro, electricity, cable, internet and more, everything is included! Except for Holland Hotel's Lofts and the following periods, high season prices apply: Christmas and New Year period (dec-20 to Jan-2nd/ each year), Grand Prix of Montreal (9June 9th to 13th, 2016), Osheaga Festival (july 29th to 31st, 2016). (Presidential Loft: 2,792 $ / Executive Loft: 2,392 $)

In the heart of the city!

Being in the center of the action is as simple as picking a neighborhood! Downtown, Plateau, International District or Old-Montreal, the city has it all.
Home cooking

All units under Simplissimmo's management should offer fully-equipped kitchens complete with ultra-modern appliances, perfect for the gourmet chef!

Sleep tight

Properties under Simplissimmo's management are mostly furnished with memory foam mattresses that adapt to body's natural shape and temperature, for the comfort of the tenants!

Of course it's included

All properties under Simplissimmo's management should provide full sets of high-quality cotton bed & bath linens.

Pet friendly

Let us know if you accept pets in your unit.