Réference

3203

Chambres

1

Salle de bain

1

Capacité d'accueil

1-2

Surface

950 ft²

Séjour minimum

1 jours

Type de propriété

Appartement

Arrivée

15:00

Départ

11:00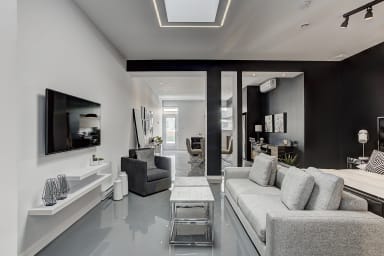 BIENVENUE CHEZ VOUS
Laissez-vous porter par l'appel nocturne de votre matelas à mémoire de forme King size et de vos draps luxueux pour un sommeil profond et réparateur. Vous pouvez ensuite démarrer votre journée avec une douche fraîche ou un bain chaud et relaxant et un bon café Nespresso. Reposez-vous tranquillement car nous avons pensé à tout. Commencez par ranger vos vêtements dans le grand vestiaire, mettez votre linge salle dans la machine à laver et préparez un délicieux Brunch dans la cuisine toute équipée avec îlot en marbre avant de vous rendre à votre Bureau pour quelques heures de travail productives. Prenez une pause et prélassez-vous au soleil sur la terrasse privée ou asseyez-vous sur le canapé dans pour regarder une émission de votre choix sur la télévision intelligente. C'est agréable de se retrouver chez soi.
LE QUARTIER
Situé à deux pas de l'historique Canal Lachine, ce quartier vous permet de vous épanouir dans la nature et de profiter des nombreuses activités de plein air disponibles toute l'année. Traversez le canal et visitez le populaire marché Atwater de Montréal, célèbre pour son Architecture Art Déco et parmi les plus beaux édifices de la métropole. Au fil des saisons, vous trouverez un grand nombre de bouchers, de fromagers, de producteurs horticoles et de maraîchers qui n'attendent que de vous servir et de vous ravir.
Numéro CITQ: 297941
Pénalité de 100% du montant de la reservation sera applicable si l'annulation à lieu moins de 5 jours avant la date d'arrivée.
+ Plus
Arrivée 24/24
Air conditionné
Antique
Art Déco
Atypique
Baignoire bébé
Lit bébé
Recommandation de babysitter
Baroque
Ménage et désinfection
Sécheuse
Machine à café
Arrivée et départ sans contact
Contemporain
Lave-vaisselle
Écologique
Ascenseur
Empire
Appareils à basse consommation
Produits de base
Congélateur
Réfrigérateur
Cuisine équipée
Propriété clôturée
Gants disponibles
Salle de gym
Sèche-cheveux
Gel hydroalcoolique
Cintres
Radiateurs
Chaise haute
Historique
Hi-tech
Aspirateur
Machine à glace
Internet
Fer
Bouilloire
Draps et Serviettes
Masques disponibles
Four micro-ondes
Minimaliste
Pas de plastique à usage unique
Pas d'article de toilette individuel
Aliments et boissons bio
Four
Parking Inclus
Piscine commune
Parking privé
Entrée privée
Ménage professionnel
Romantique
Satellite Ou Cable
Sauna
Arrivée autonome
Détecteur de fumée
Distanciation physique
Personnel avec équipement de protection
Terrasse
Toaster
TV
Victorien
Domaine viticole
Lave-linge
Bois
Wonderful

The property was very clean and well presented.❤️❤️ the property is well located. We loved the plan of the apartment as well as the entrance of natural light We loved staying in this apartment. We didn't even want to leave, it was so beautiful and comfortable. All the necessities were there. I recommend very very strongly. The apartment is more beautiful in real life than in the photos. I adore 🥰

Avril 2023

Comfort In The Heart of Montreal

Our stay at Les Lofts was amazing! It's clean and has all you need to have a pleasant stay! We're looking forward to coming back in the Summer! Les Lofts gets 5 stars from us! We just recommend maybe some updating of the sofa and dining chairs, due to normal wear and tear! Thanks Les Lofts! See you soon!

Février 2023

Loved the location!

Thoroughly enjoyed being next door to the Lachine Canal, made for a great walking area.

Novembre 2022

Quartier populaire proche du métro

Appartement confortable situé dans un quartier populaire. Proche du métro qui vous mène partout et du marché Atwater. Plutôt grand studio que appartement une chambre. Literie confortable, salle de bain agréable.

Novembre 2022

Katrina G.

Loved it

Pleasant place to stay

Octobre 2022

review of Lofts du Centre

Great location and space size. Furniture was worn and stained, which was unfortunate.

Juillet 2022

Excellent unit

Great experience staying in Montreal at this place Clean and excellent location

Juin 2022

Wow!

Le loft est grand et lumineux. Le lit est très confortable.

Avril 2022

Beautiful stay - slight problem with clean surfaces

We had a very nice comfortable stay at our loft. We had everything we needed and more. Unfortunately for us, some of our surfaces like coffee tables and nightstands weren't thoroughly cleaned, they still had stains on them. Other than that we had a beautiful stay. If that wasn't an issue, I would've rated 5 stars. Will most probably be back soon!

Mai 2021

Yusuf H.

Really classy place!

Loved the open concept, big mirrors, beautiful shower and bathroom! skylight ceiling is a big pro.

Avril 2021

Eli A.

Dirty

Chairs were filthy. Washroom not properly cleaned!

Avril 2021

Sonia R.

Lofts Du Centre

Great stay!

Avril 2021

Alexsandro V.

Propres et réponses rapide

Très belle endroit tranquille ,propre je recommande

Février 2021

Melanie G.

Our Wonderful Stay

We stayed at loft 203 from Feb 1st to Feb 4th. We really enjoyed our stay. The place was very nice and clean and well decorated. However, we found the dishes were dirty, we had to re wash everything and there were a few essential kitchen amenities that were missing, like kitchen mitts, measuring cup and scissors. We had to go to the Dollarama next door to buy the things we needed. Other than that, everything was great.

Février 2021

Rachael R.

Good stay

Beautiful place, could've been a little cleaner (the fridge smelled terrible) but was great for the one night we stayed.

Janvier 2020

David A.

Magnifique séjour

Merci pour cet excellent séjour

Décembre 2019

Joshua W.

Lovely place, and we would return

We really enjoyed our week-long stay at Lofts Du Centre and will stay there again next time we are in Montreal, or another place that Simplissimo manages. There were a couple of small things like: missing hand towels, needed more toilet paper, and ants appearing in the kitchen. We worried that by not having staff on premisis that this would be a problem, but I texted the phone number provided and all those issues were resolved within 24 hours. More towels and toilet paper showed up while we were out, and an exterminator was sent to take care of the ants. The apartment was lovely and clean, the bed was comfortable, and overall a great value and experience compared to a typical hotel. We enjoyed our experience and will return.

Septembre 2019

Very nice facility in an excellent location

Very nice loft. The location was close to the metro station Charlevoix. Good communication with the team very fast response and very flexible!

Septembre 2019

Winnie L.

Beautifully

Beautifully decorated. great location. lots to do and eat in the area. loved it.

Septembre 2019

TOP

Loft spacieux. Transport et centre ville a proximité.

Septembre 2019

THE PLACE TO BE!

Excellent stay

Septembre 2019

EXCELLENT

Comfortable property.

Septembre 2019

Nice place

Spacious, very well decorated!

Septembre 2019

Nice but could be better

The space was large and decorated nicely with easy access to the Metro and town centre. Access was easy when we finally got the entry code but it was a little difficult communicating whilst we were in the country. We are from abroad so had no data and had to rely on wifi when available. We had a rigorous identification procedure which could have been requested weeks before so that it wasn't so difficult to do whilst travelling. When we got there the place was cleaned but not to a great standard. There were stains on the bedding. It could have been clean but white is prone to stains so was off putting. The man in contact with us was apologetic and sent the cleaners to change the sheets the day after. They changed the duvet sheet (but didn't make the bed) but nothing else as there weren't spares, so we weren't able to use one of the pillows as the dirty pillowcase wasn't changed. When we arrived after a long day out in the city, there was no toilet roll at all. I realise it is a self catering accommodation, but it would have been nice to have one or two rolls to get by. I've never been to a self catering place before that hasn't provided any. We ended up having to purchase an opened pack of toilet roll with the majority missing at a local convenience store (it was the only option at 9pm in the evening). Luckily we bought a fresh pack the day after and left it in the apartment for the next users! There was a mouldy cake and stale croissants also left in a kitchen drawer which was very off putting. There were no additional garbage bags to use (only a small kitchen trash can and the croissants took up the whole waste bin!). All in all the place was fairly unequipped, but it could be great if there was just a bit more attention to detail and a better cleaning company. There was also a party in the block the first night we were there which was really annoying! Not much they can do about that I suppose, perhaps more security?

Juillet 2019

Boris B.

Boris

Overall it was good loft experience for 4 nights. Basic neiborghood Metro/bus on the corner. Everyday farmers market - 1 metro stop. 3 day/weekly metro/bus pass big saving... Spacious clean loft with good deck. Easy to use instructions. Full equipped kitchen with all what you need. Contour had some stains. Very good bad/shower/large tv. Love skylight idea. Will come back.

Juin 2019

Annie G.

Excellent choix

Très propre, très joli, à proximité du métro, pharmacie et épicerie. Très insonorisé et système d'accès sans clé très facile. Beau balcon, appartement très éclairé et très grand. Par contre manque de papier toilette, pas de papier mouchoir et une seule débarbouillette. Somme toute, je le recommande sans hésiter.

Mai 2019

Great place !

Thank you for the accommodations. We enjoyed the loft a lot ! Very clean and spacious. Would definitely love to stay there again. Close to the nightlife we were looking for !

Mai 2019

Parking

The parking lot was empty, whether we used it or not, should be provided for free if it's going to be empty anyways.

Avril 2019

Loved the loft. Parking?

The loft was great. Everything I wanted and more. Clean. Spacious. Quiet. The bed was so comfortable that I had a hard time getting up in the morning. The only negative is that I paid for a parking spot, but when I was leaving there was someone parked behind me. I called the rental service and was only able to leave a message, and nobody ever called me back. Eventually I found the car owner and they moved their car, but I lost 40 minutes and was late for my morning breakfast meeting. There has to be a better way to manage the parking.

Février 2019

Ana G.

Amazing

Very beautiful and clean place. Definitely recommend this place for a getaway. Everything was bless! For sure will definitely rent the place again! Loved it !

Janvier 2019

Mike W.

nice condo, great area, some quirks.

The condo is a bit quirky - has a huge desk to work on, but zero power outlets within 20 feet of the desk. So while the place is nice, modern & stylish, it's obvious that no one has ever attempted to live there how things are set up right now.

Janvier 2019

Juste Wow !

Super service ... super clean et super moderne... donc en résumé c'est juste SUPER !

Décembre 2018

Jessica G.

JESSGO

LOVED IT! WAS PERFECT IN EVERY WAY!

Décembre 2018

ELIAS C.

Lo recomiendo

Llegue a este lugar por recomendación de amistades y encontré más de lo que esperaba.

Décembre 2018

Tashay O.

This will likely be my go-to place to stay whenever possible

This apartment is huge and super cool. Very sleek and has a lot of storage space both in the closet near the bathroom and in the hallway. Lots of space for people to bring groceries in if you want to cook for yourselves. Convenient train located about a minute away walking (the green line). Dollar store right downstairs for snacks or other things you might need ( I had to get lotion and it was great to have this place here). The area is super hip and there were plenty of things to do nearby, or you could also just walk about 20 minutes to get into Notre-Dame street where there were endless shops and restaurants. The place was clean and access through the digital touch pad was easy to use. I would live here if I could!

Novembre 2018

Fabienne G.

Very good!

Nice location,nice loft and very good maintenance!A very good stay!

Novembre 2018

Fabienne G.

Excellent!

Everything was exactly like in the pictures! A very good stay!

Novembre 2018

Super !

Magnifique condo, très propre et lumineux. Le lit est vraiment confortable. Les irritants sont minimes : les postes de télévision, incluant les postes de musique, ne sont plus accessibles à compter de 22h. Le siège de toilette aurait besoin d'être mieux fixé. Nous y retournerons !

Octobre 2018

William M.

Great space and location

Great location for the Canal area. Getting in was slightly glitchy at first but no problems after that. Nice space. Bed is quite firm - my wife loved it, me less so. We would definitely stay again

Septembre 2018
2521 Rue Centre , H3K 1J9 Montreal,
FAQ
Saviez-vous ?

Débloquez les réponses à vos questions et découvrez davantage sur cette unité et plus dans notre FAQ du Centre de Support – votre ressource incontournable pour une expérience sans faille!
Cliquez sur ce lien pour en savoir plus: https://simplissimmofr.frontkb.com