Réference

404

Chambres

1

Salle de bain

1

Capacité d'accueil

2

Surface

650 ft²

Séjour minimum

1 jours

Type de propriété

Appartement

Arrivée

15:00

Départ

11:00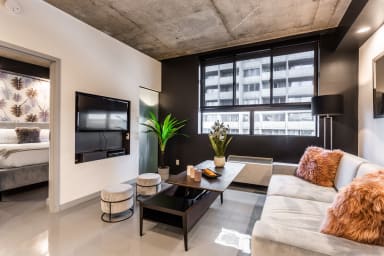 BIENVENUE CHEZ VOUS
Plongez dans le style urbain de Montréal avec cet appartement au Pierce Hotel, situé au cœur de la ville, offrant une cuisine équipée et un salon tendance. Avec ses 650 pieds carrés, cet espace moderne est conçu pour les citadins branchés.
La cuisine équipée, avec son îlot central, est un espace idéal pour les amateurs de cuisine. Détendez-vous dans le salon tendance, équipé d'un téléviseur Smart, pour des soirées de détente et de divertissement.
La chambre à coucher vous offre un espace privé avec un lit king-size confortable pour des nuits de sommeil réparatrices. La salle de bain moderne, avec sa douche spacieuse, est un lieu de détente ultime. Chaque détail a été soigneusement pensé pour votre confort, avec une literie de qualité et des serviettes douces.
Découvrez le style urbain au cœur de Montréal dans cet appartement au Pierce Hotel, où la cuisine équipée et le salon tendance vous invitent à vivre une expérience de vie inoubliable.
LE QUARTIER
L'hôtel Pierce est situé au cœur de la ville artistique et dynamique de Montréal. Passez la journée à vous balader dans les rues flamboyantes et à visiter les nombreuses galeries et musées à proximité, comme le Musée des Beaux-Arts de Montréal. Prolongez votre expérience et offrez-vous une journée de magasinage et de gastronomie dans l'une des nombreuses boutiques de mode et l'un des multiples restaurants qui bordent les rues juste devant chez vous.
Numéro CITQ: 297973
Pénalité de 100% du montant de la reservation sera applicable si l'annulation à lieu moins de 5 jours avant la date d'arrivée.
+ Plus
Arrivée 24/24
Air conditionné
Antique
Art Déco
Atypique
Baignoire bébé
Lit bébé
Recommandation de babysitter
Baroque
Ménage et désinfection
Sécheuse
Machine à café
Arrivée et départ sans contact
Contemporain
Lave-vaisselle
Écologique
Ascenseur
Empire
Appareils à basse consommation
Produits de base
Réfrigérateur
Cuisine équipée
Propriété clôturée
Gants disponibles
Salle de gym
Sèche-cheveux
Accès handicapés
Gel hydroalcoolique
Cintres
Radiateurs
Chaise haute
Historique
Hi-tech
Aspirateur
Fer
Bouilloire
Draps et Serviettes
Masques disponibles
Four micro-ondes
Minimaliste
Pas de plastique à usage unique
Pas d'article de toilette individuel
Aliments et boissons bio
Four
Parking Inclus
Piscine commune
Entrée privée
Ménage professionnel
Romantique
Satellite Ou Cable
Sauna
Arrivée autonome
Détecteur de fumée
Interdiction de fumer
Distanciation physique
Personnel avec équipement de protection
Terrasse
Toaster
TV
Victorien
Domaine viticole
Lave-linge
Bois
hayley p.

my stay.

I took my bestfriend to montreal for her birthday, we chose to stay at the pierce boutique apartments. I had absolutely no problem with this property, it was clean, i received all check-in information exactly when i said i would. the location is very convenient and close to everything needed. (at least for us in our case) at night it may seem a bit sketchier due to the lack of people in the area. however once inside the property you could not feel more safe.

Juin 2023

Horrendous

Wouldn't recommend to anyone

Mai 2023

yasser k.

Good location

Overall good place

Avril 2023

niels b.

Gooood

It was very good, the only thing that was a bit disappointing was that the bed was wobbly. Except for that it was really good, the person we contacted to help was very kind and helpful and the person who came to help with the tv was very nice too. Would recommend

Mars 2023

Jacob-Alexandre T. (

Canada

)

A Great Hotel Alternative!

I rented the Maisonneuve O appartement and i was shocked by it very unnassuming exterior and very pleased with its modernized and fuctional facilities! Rental process is a bit tedeous but very user friendly and clear. Also, i was very last minute with my booking and the staff was very accomodating and helpful. For the price, comparing to similarly priced hotels, you get a much better bargain, especially for the areas they offer. A hotel room with the same commodities on center-town Montreal would be twice the price and wouldn't have the homey feel of an appartement, if you're into that.

Février 2023

Cute place

Nice location and super cute place. The sofa however was either broken or wrapped. If you sit on one side the other side lifts 😂 The bed however was super comfortable. The place was a little dirty (specifically the walls and cabinets)

Novembre 2022

Great value-small caveats

The room was just as advertised. Very clean and way more spacious than a hotel room, especially at this price. For us, the location was perfect. Right at Guy Conordia for the train. Parking just down the street if you're driving here. $28/day for that. A million restaurants all around. A couple small maintenance issues. Blind on the bedroom window was jammed. Towel rack threatened to drop off its mount in the bathroom. When we checked in, the electronic door lock had expired batteries, so it didn't work. Staff was quick to respond to our text, and showed up fairly fast, but it was a 10 minute wait in the hall until we could get in. I greatly appreciated the bottled water, tea, and Nespresso pods in the kitchen. The kitchen and bathroom were super clean and stocked. Overall, for the price you pay, it's far bigger and better equipped digs than you'll get at a hotel. Other than the check-in snag, coming and going was straight forward. Pretty great Montreal value.

Novembre 2022

Great Stay

Pros- Unit looks exactly like the pictures that are posted online. Interior design is nice. Unit was clean. Appliances all worked and in good condition. Good size for two people. Feels more like a condo/home so I would consider it an airbnb and not a hotel. Didn't need to rent a car because it was walking distance to everything downtown. Buses and train station are steps away. An abundance of food options are nearby. Two 24 hrs stores are 1 minute away. Room has its own washer and dryer. Customer service via text was speedy! Cons- Strange odour lingers after exiting elevator in the hallway leading up to door. No room service. After each shower, water leaked from washroom and would run into the hallway towards the laundry unit. Toilette made noise for long periods after each flush. You have to throw out your own garbage/recycling which was located 2 floors above or in basement. Entry codes instead of key/card to get into the building, elevator and unit (it's good for safety tho). TV isn't ready to use. Must watch a tutorial to set it up. Didn't appreciate that while booking and entering info, the price was $895 for 3 nights but after confirming new information about the 14.98% & 3.50% taxes and a $65 cleaning fee were added. The full price should be stated upfront. This feedback was given to a booking.com representative. He said he agreed with my feedback and they are currently working on changing this. Overall I'd give it a 4.7/5. Cons are minor but good for future visitors to know so they know what to expect. It's a great place to stay. I highly recommend. Next time I visit Montreal, I will stay there again (if the price doesn't go up lol).

Juillet 2022

Massimiliano T.

Great apartment very centrally located

Very modern and elegant apartment, quite close to the city centre and 100 meters from a metro. Check-in and out super easy, which is what you need after/before a long journey. Getting a few coffee pods was much appreciated. I'll definitely come back if/when visiting Montreal next time.

Juillet 2022

Very lovely

Super nice experience, clean and cozy! Ideal location for going out, but tough to find parking if you're driving.

Mai 2022

Un cadre idéal

Très professionnel, la communication était facile et une bonne location en plein centre ville. Tout était juste parfait je vous le recommande fortement

Novembre 2021

Farnaz A.

Great stay

The unit is in a condo in a ur an part of town, fun restaurant and late night stuff all around it. Location was super central, Montreal is big so be ready for a 10-20 min walk to anything. But this place was so great and clean for the price we paid. Would definitely stay here again. Also has a 24h store downstairs which is sooooo convenient

Septembre 2021

Nice place but...

This place is very nice inside, it looks exactly like the pictures. It may look a little smaller than in the pictures when you get there but it's really a minor detail. The whole place is nice and clean and it is easy to get in, however one thing that might bother your stay that the building have no control over is the noise outside. The street is loud, it was honestly the only thing that bothered my stay but I pulled through. Other than that, it's a very nice place for yourself or another person.

Août 2021

Raphaëlle D.

Super

Très belle appartement , en plein centre-ville! Communication très efficace avec l'hôte.

Juillet 2021

Lovely, very central place

I really wanted to give a four-and-a-half stars because I was not given instructions in a timely manner, and the instructions I was given were wrong. So a full hour of frustration ensued before I was given the correct instructions. Aside from that little glitch, the place was clean, very central, one block away from the Metro, and there were restaurants and supermarkets all around. The apartment was quiet and wonderful. I would definitely go back.

Mars 2021

Javon J.

NIce Stay

really a nice stay looks bigger in pictures and needs more utensils

Mars 2021

Junior N.

Great stay

Such a wonderful place. Super clean and great host

Février 2021

Francis B.

404

Logement propre et bon service

Janvier 2021

Fatima A.

Hotel

Perfect place ! Clean !

Décembre 2020

Service pas à la hauteur

Bel unité, plutot propre et bien décoré. Petite touche intéressante serait de mettre de gradateurs au lumière, car chacune d'entre elles sont très forte le soir. Le hall d'entré sens la cigarette à plein nez. Service déficient - ils ont mis plus de 30 minutes à nous répondre car le code de la porte ne marchait pas, et nous ont répondu que le lendemain (12 heures plus tard) quand on leur a demandé le code du WiFi... Sans parlé de la procédure de check in, on on demande un photo avec visage de votre passeport et un autre ID... et qu'on vous demande de reprendre 3 fois la photo car ce n'est pas assez "claire" pour eux ! Avec toutes les histoire de vol d'identité, je ne suis pas à l'aide avec cette procédure.

Septembre 2020

Karine S.

Not like the pictures

The appartment was great but it's not as luminous as the pictures. It's also really small. There is no dish cloth. But for the rest it's really great!

Août 2020

Kirk K.

Excellent place

Very nice place well worth the amount for a stay. Some say its in a hard area of town but there is nothing wrong with where its too, its a 10 min walk to eaton centre and scotia theaters, bell centre is 10 to 15 min walk. Thanks for the pleasent stay we will be back.

Février 2020

Alora P.

Safe, and cozy in the heart of downtown.

We had a great time staying at Pierce Boutique! It was clean and felt very secure. We enjoyed that we were within walking distance to just about anything we wanted to eat or do. I saw some reviews that said it was loud, but I thought it was what could be expected for staying in a city like that. I also was pleasantly surprised to have a washer/dryer in our unit, which i definitely utilized. Our only complaint was that any time we turned or moved in bed the bed frame was SO loud, the mattress was a dream as long as you laid perfectly still. However, I would stay here again and recommend it to friends. Please just fix the bed! :)

Janvier 2020

Joseph A.

Great location

Right next to subway which made life so much easier. The room itself was fantastic. I stayed for just a couple days but seems like a fantastic place to stay longterm. Check in and out was easy with just codes. The code to get into the room is a bit long every time but once you memorize it, it's not a big deal at all. I come to Montreal every Christmas and definitely will try and come back next year.

Décembre 2019

Jared J.

Great Airbnb!

Great place with all the amenities! Very central location and close to the Metro - will totally stay here again!

Décembre 2019

Bad

I am not satisfied because when I arrived the first day, there was a pass code to enter the building, the elevator and the room, but I did not receive it by email and when I called them, no one answered, I left two voicemails but no one respond me. Fortunately, I have a friend who hosted me, otherwise I would have taken a room at another hotel.

Novembre 2019

Danielle D.

404 - Pierce Hotel

We enjoyed the look of the apartment. We did not like that house keeping came in to our room on 10/31 without consent while we were still asleep. I woke up by hearing a code and the front door slam. There was no knock or anything so you can imagine how scared I was to have someone in our apartment. When I yelled out who was there she said house cleaning. I responded by telling her it was unnecessary and if she could please leave. She said she was unable to because it was 12 and 11 is checkout. Also, the front desk gave her my code to enter. Our checkout was not until Sunday, 3 days later. She finally agreed to leave. I found it difficult to sleep the next couple days since the front desk had no issue just giving our room code out for someone to enter without checking our reservation.

Novembre 2019

American Tourist - October 22, 2019 - Room 404

I stayed in the Pierce Boutique Apartments by Simplissimmo - Pierce Hotel in Montreal Canada. My stay was extremely pleasant and very comfortable, this place is simply awesome/fantastic. Very clean and a good size room, extremely comfortable bed, very clean bathroom, super professional and courteous staff, convenient downtown location, great amenities and a very competitive/affordable room rate when compared with other similar facilities/hotels in the Downtown Montreal area. I highly recommend this place to all tourists and local people who are looking to comfortable/pleasant/enjoyable stay in a fantastic place, great room size/clean room/comfortable bed, clean bathroom, great amenities, central location, super professional and courteous staff, very secure/safe area with very affordable room rates!!!

Octobre 2019

Noella Y.

Did not have the room ready

- there is no one available (not even through the phone number provided) to assist with any questions; and - The check in was at 3, but when we arrived the room wasnt ready and we were forced to walk around with our luggage until it was done. But besides the above-noted... the place was very nice and it was close to alot of restaurants and bars.

Octobre 2019

Great accomodation in nice area

I loved this apartment! It is spacious, clean and had a fully equipped kitchen. I loved the fact that there was a laundrymachine & dryer. The bathroom was great and the bed very comfortable. There was also a TV in the bedroom. Also the area was very convenient. The metrostation a few steps away. Stores and restaurants in walking distance. I would highly recommend this place. The only thing I did not find easy, was the code to open the door of the apartment. It had 10 digits. This is way too long.

Septembre 2019

Beth G.

Excellent Accommodations! Excellent Location

Excellent experience at Le Pierce Hotel apartments on bld. Maisonneuve Ouest. Near the Museum of Fine Arts and walking distance to the Museum of Contemporary Art, Places des Arts, Parc Mont Royale, lots of restaurants, tons of stuff on St. Catherine and the underground malls. Had we stayed longer, we would have walked to the Old City. You can park on Maisonneuvre for $24, about 2 blocks west of Le Pierce. We were a couple and found the apartment very roomy, clean and well maintained. Will definitely return to this location. Advice for people like us who hadn't tried this self-service arrangement before and were a bit apprehensive: you'll be fine and appreciative once you get the hang of it.

Août 2019
1650 maisonneuve ouest , H3H1J7Montreal, Quebec
FAQ
Saviez-vous ?

Débloquez les réponses à vos questions et découvrez davantage sur cette unité et plus dans notre FAQ du Centre de Support – votre ressource incontournable pour une expérience sans faille!
Cliquez sur ce lien pour en savoir plus: https://simplissimmofr.frontkb.com