Réference

1201

Chambres

1

Salle de bain

1

Capacité d'accueil

1-2

Surface

753 ft²

Séjour minimum

1 jours

Type de propriété

Appartement

Arrivée

15:00

Départ

11:00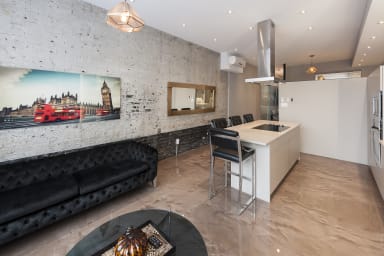 Open concept kitchen with living space - brick wall
Living area - kitchen + living room
Bright living room with big windows
Fireplace, smart TV with cable - open concept kitchen
Fully equipped kitchen - utensils, pots and pans available inside cabinets
Double sink in the washroom, nice long mirrors
shower area - multiple jets shower
washer, dryer, oven, microwave
King size bed - minimalist decor
BIENVENUE CHEZ VOUS
Demeurez là où votre confort est honoré. Des éviers doubles pour vos articles de toilette et des douches à effet de pluie doubles ont été installés pour que personne n'ait à se battre pour le monopole de l'eau. Une fois bien rafraîchi, rendez-vous dans la chambre principale ou vous serez bercé par le matelas à mémoire de forme King Size et par les draps de luxe pour une nuit de sommeil profond. Commencez votre matinée avec une tasse de Nespresso de mettre une charge à laver dans votre buanderie. Ensuite, préparez le diner dans votre cuisine tout équipée avec îlot ou commandez et créez l'ambiance en allumant la cheminée du salon pour enfin vous asseoir et regarder un film classique sur la télévision intelligente.
LE QUARTIER
Parcourez les nombreux sentiers du Parc Mont Royal et montez au sommet du Belvédère Kondiaronk, connu sous le nom de "the lookout", qui offre une vue de Montréal à couper le souffle. Visitez le Salon de Thé CHAI Tea Lounge et laissez vos papilles vous transporter aux quatre coins du monde grâce à leur vaste sélection de thés ou offrez-vous une nuit lumineuse d'art et de musique à la Place des Arts.
Numéro CITQ: 294694
Pénalité de 100% du montant de la reservation sera applicable si l'annulation à lieu moins de 5 jours avant la date d'arrivée.
+ Plus
Arrivée 24/24
Air conditionné
Antique
Art Déco
Atypique
Baignoire bébé
Lit bébé
Recommandation de babysitter
Baroque
Ménage et désinfection
Sécheuse
Machine à café
Arrivée et départ sans contact
Contemporain
Lave-vaisselle
Lecteur DVD
Écologique
Ascenseur
Empire
Appareils à basse consommation
Produits de base
Congélateur
Réfrigérateur
Cuisine équipée
Propriété clôturée
Gants disponibles
Salle de gym
Sèche-cheveux
Gel hydroalcoolique
Cintres
Chaise haute
Historique
Hi-tech
Aspirateur
Internet
Fer
Bouilloire
Adapté aux enfants
Draps et Serviettes
Location longue durée possible
Masques disponibles
Four micro-ondes
Minimaliste
Pas de plastique à usage unique
Pas d'article de toilette individuel
Aliments et boissons bio
Four
Parking Inclus
Piscine commune
Entrée privée
Ménage professionnel
Romantique
Satellite Ou Cable
Sauna
Arrivée autonome
Détecteur de fumée
Interdiction de fumer
Distanciation physique
Personnel avec équipement de protection
Téléphone
Terrasse
Toaster
TV
Ventilateur
Victorien
Domaine viticole
Lave-linge
Bois
nadya f.

Très belle fin de sem

Très belle place proche de tout endroit très propre et confortable le seul Hic c est qu on n entend le Bruit des gens dans la rue mais sinon week end parfait

Mars 2023

Carrie I.

Perfect for a Getaway

I rented this apartment on behalf of my daughter and her boyfriend. The apartment is gorgeous and was well-supplied. Good home base for seeing the sites, but also lovely for just staying in.

Novembre 2022

Wonderful

Perfect place and staff

Octobre 2022

Nice loft located in the wrong place

Situated besides a noisy main road. Drunk men and women are hanging out 24 hrs a day around the entrance and beg for money every time you leave or enter the building. My wife felt uncomfortable and unsafe. Otherwise the loft was spaceous and well equipped.

Juillet 2022

Denise C.

Fair stay

The apartment look exactly as the photos. However, the apartment was not very clean. There were unwashed dishes in the dish washer which makes us pretty uncomfortable. Also, since there is no front desk service, there is no luggage service either. Would recommend bringing your own shampoo and conditioner as they do not provide them. they only have some soap like solution for you to use. The sound proof system is pretty bad as you can hear the noise from the street.

Mars 2022

James M.

My stay

Good clean place with good location and amenities. Only complaints would be (1) there was not enough toilet paper and we ran out; and (2) the previous guest's toenail clippings were left on the kitchen floor.

Juillet 2021

Élise C.

Great host, great location

Hosts are very responsive and supportive; no check in issues what so ever We felt confident that whatever could happen would be handled in a professional, timely and respectful manner The place is spacious and comfortable Very well located, everything you could need is a walk away! Perfect cozy little spot for a getaway now that more clement tempartures are upon us!

Avril 2021

Amazing Place

C'était super , nous avons passé un bon moment de tranquillité dans un cadre magnifique !!!

Février 2021

Ruth P.

Wow

J'ai adoré. Beaucoup mieux que sur les photos. Très propre. Très grande douche. Juste waw👌🏽👌🏽

Janvier 2021

Milton Parc

Expérience très agréable. Emplacement stratégique. Très propre, lit très confortable.

Décembre 2020

Cayley D.

Clean, well-equipped, high ceilings

I booked this hotel as a surprise for my partners birthday, we had been dying to get out of the house during this pandemic. We had a lovely evening. The kitchen was well equipped. The brick wall, high ceilings and electric fireplace made it feel cozy. Comfortable and clean. Automated check in/out made for a simple stay.

Décembre 2020

Christine M.

Chris

Very clean and close to everything

Octobre 2020

Cynthia Y.

Excellente place pour un couple et un super week end

Les aménagements sont beaux et confortable. Vraiment au gout du jour et pratique a utiliser. Super accueil précis et bonne réactivité de l'équipe. Ils ont pensés à tout ! 2 tv, soundbar, 2 douches Nous avons adoré le design et super bien insonorisé

Octobre 2020

Bridget A.

Nice spot & location

Great place to stay during our recent trip to Montreal. The hotel was in such a great location, easily accessible to downtown Montreal. The neighbourhood at night was quite loud to our liking. The hotel it's self is elegant and fully equipped with all the necessities needed. A bit of more detailed cleaning is suggested. Would definitely stay here again, highly recommended.

Septembre 2020

Julia M.

Amazing place

Worth everything. & its great to have security around to just check up on guests when were passing by. They were extremely nice in the hallway just checking up on us. Me and my boyfriend loved this place and would definitely come back here to stay.

Septembre 2020

Wonderful place

No complaints. Everything necessary for a few days away from home. Lovely and clean.

Septembre 2020

Tony J.

Great Location Great Loft

Thoroughly enjoyed my stay. Pleasant upscale location with lots of lights!

Mars 2020

Magnifique appartement et excellent emplacement

L'appartement est moderne, grand et bien équipé ! Excellent emplacement.

Février 2020

bani t.

Highly recommended

Super clean, very convenient. Close to the university and bus station. Highly recommended

Février 2020

Harold L.

Gem on avenue du Parc

Modern well appointed boutique loft with all amenities for great rate. 24 hour coffee shop across the street, and great coffee/dessert shop just below Two blocks from McGill new residency hall where many conferences held If possible take units 203, 204, 303 or 304 as they are in back of building away from busy street noise

Octobre 2019

MERVEILLEUX

Appartement neuf et bien équipé. Je le recommande!

Septembre 2019

Thomas B.

Miltonparc

Dans l'ensemble nous avons été satisfait. L'emplacement, la conception de l'appartement, la double douche(sympa), le digicode en remplacement d'une clé pour la porte d'entrée, top, machine à laver le linge génial !Ce qui laisse à désirer une tv dans la chambre qui ne fonctionne pas, pas de câble antenne, pas assez de vaisselles, couverts, propreté de la cuisine ustensiles pas au top. Poussière dans la hotte de ventilation dans la salle de bain, ça aussi pas top. Dommage qu'en 4 nuits, il n'y est pas de femme de ménage pour donner un coup de balais! Petit détail mais qui pourrait faire la différence!

Septembre 2019

Modern and spacious accomodation

The property was spacious, clean and had all that we needed.

Septembre 2019

Would highly recommend to anyone who visits Montréal

The apartment is spacious and has a very well equipped kitchen. The location is convenient and instructions for self-check-in is easy.

Septembre 2019

Robert L.

Great experience

The apartment is absolutely gorgeous. The location is close to many shops and restaurants, the design of the apartment is what makes this place so great! I will definitely be staying here again when I return to Montreal. Highly recommend!

Septembre 2019

Great place !

Incredible space! All the luxuries and amenities of a great hotel. Great location and public parking, shops, food, and lots more near-by. Planning on staying again!

Septembre 2019

Beautiful apartment

Very good location. Updated modern room with a great kitchen. Would stay again.

Septembre 2019

Mohammed A. (

Arabie saoudite

)

Bright and modern accommodation

Central location, 2 min walk from Place des Arts. The apartment is well equipped and furnished. The apartment makes it easy to relax, enjoy this city and enjoy a good home meal with a fully furnished kitchen. I will come back.

Septembre 2019

Daniel R.

Meh.

Found the unit generally acceptable, though booking through VRBO was misleading. The unit was alright, but was lacking in sufficient amenities that I have had in previous vacation rentals (enough paper towels, toilet paper, washing up items) as I had stayed in an Airbnb the previous week, I was disappointed by how a property clearly run purely for the purpose of short term rentals was unable to match that of ones who are independently managed by individual hosts. Halfway through my stay the water was suddenly shut off for half a day without warning leaving me seeking customer service for 30 minutes to be told "maintenance was occuring, oops sorry" which really should have told to guests prior to. The area is convenient for access, but is surrounded by individuals who will consistently be right outside your door asking for change, cigarettes or otherwise and could potentially leave some individuals feeling unsafe, as some of them became quite aggressive. The unit has large sweeping windows, which are great but do not provide any access to fresh air as opening them without holding them open is impossible. Cleanliness was questionable as we spent out first day removing red stains from doors and removing a layer of dust from over head light fixtures. Overall, the apartment was nice enough but I would recommend some of the other beautiful properties available as Montreal has tons in much more accessible and beautiful areas.

Août 2019

Mitch K.

Clean spacious great location

Clean spacious great location

Juillet 2019

Nice stay near Place des Arts, Montreal

The appartment is very modern and clean. We liked it very much as it had a good shower and a comfortable bed. It had a Nespresso coffee machine but unfortunately only one capsule of coffee when we arrived so that we had to go and find coffee. This was not important as everything else was very good and we would go again.

Juillet 2019

Good find for downtown Montréal

This is a very modern luxuriously appointed apartment. It's 20 minutes walk to the waterfront, but a stiff 20 mins one.The theatreland of Montréal is in between, so it's well located. The parking is rudimentary for the high price but worked well enough. These are dedicated spaces in amongst a 24/7 convenience store parking facility and can occasionally get over-run with parking clients, even parking by a local business in these dedicated spaces. However, it was only difficult on our arrival on the eve of a holiday weekend. Otherwise there was no problem.

Juin 2019

Leslie C.

Overall great place to stay

Loved the space - very modern and clean. You can feel more at home when on a work trip than in a regular hotel room. Just a few quirks: The internet bandwidth was spotting and the address was a little hard to find the first time when arriving by taxi. The room was right on avenue du Parc so there was some street noise but once I pulled the black out shade down that helped with the noise. I do look forward to staying there again however.

Avril 2019

Great weekend!

The location was great, the condo was beautiful and perfect for a couple's weekend get away! We will be back! Thank you!

Février 2019

Glitchy

Nice place but full of glitches and style issues. Things didn't work like fireplace and tv remotes, 3 of 4 lights under utility fan didn't work. No cleaning supplies that I could find. Shower Soap dispenser empty. Promised fixes didn't happen. And the walls are badly painted, visible in late afternoon. So it looks nice on surface but glitches appear quickly and a lot of them. Also. The design of putting a vacuum cleaner tucked into a wall pocket is highly tacky. Put the vacuum in front closet. The space needs an area rug in living room to be a touch warmer. Have 6 evenly sized pillows in bed so it doesn't feel like you bought them at a dollar store. Put every light in dimmers!!! The team has a way to go to fine expert polish. But solid start.

Février 2019

Davidson A.

Beautiful Place

Everything about the place was great. Modern, convenient and clean.

Décembre 2018

Milton

Very nice place as described

Décembre 2018

Lisa S.

Awesome Stay

Awesome place to stay in Montreal!

Novembre 2018

Mduric

The suite was spacious and nicely appointed Disappointed it didn't provide basic condiments as other similar accommodations have A lovely kitchen which we hoped to utilize but no basic products. Cooking spray ,creamer,teas etc We enjoyed the location

Octobre 2018

Awesome place

Place was awesome, clean, cozy, near coffee shops :) And close to downtown. I highly recommend this location, as a great alternative to ultra expensive hotels in the downtown core.

Septembre 2018

Excelent

Very good Accomodation

Août 2018

Worst stay ever

Location is nothing less than horrible. It's full of homeless people roaming, drinking and sleeping around this place. Some of them are hanging out in your car park just beside the building, begging for money constantly. We did not fell the area was safe enough to walk in the city during evening and night time. It was very skungy (Australian term). Also, we did not fell it was safe to park our rental car there (clearly a car too fancy for the area). Also the cost of your car park was more expensive than the local interior and secured car park. It's not worth it. We were planning to stay for 17 days in your rental. We were expecting it to be serviced in some way. There was no proactive services (e.g. cleaning the room / making the bed / refreshing towels / upping toilet paper rolls, etc). We had to complaint to get a reactive clean-up of the room (appreciated). Other tenants / apartments were noisy at several hours of the evening and night. We could hear furniture scrapping the floor constantly and one of the flat did a party with about 10-12 people that were very noisy up to about 3am. We sent an complaint email around 2am and got some answer from your management that the party was going down. It faded out. But, they did the same the following night... We understood that your organisation did not really cared about its rules. We moved out a few days later (day 10 - with 7 days remaining on the rental) as we could not tolerable the location, noise and lack of servicing. We might as well moved in our new apartment which only have a bed and white goods. So we did. I would actively detract people from staying to this apartment. We definitely are regretting not staying in an hotel, with proper servicing and quality oversight. It was a very irritating experience. Michel Desjardins

Mai 2018
3485 rue Parc , H2X 2H6Montreal, Quebec
Tenant Check-in

Simplissimmo will happily welcome tenants to the apartment on the day of arrival! Check-in is usually after 3PM.

Tenant Check-out

Simplissimmo meets with tenants on the day of departure to collect keys, verify the state of the unit, and bid a fond farewell so you never have to worry. Check-out is usually at 12PM.

No extras

Once HP & Associés have rented your property, there are absolutely no hidden fees for your tenants. Hydro, electricity, cable, internet and more, everything is included! Except for Holland Hotel's Lofts and the following periods, high season prices apply: Christmas and New Year period (dec-20 to Jan-2nd/ each year), Grand Prix of Montreal (9June 9th to 13th, 2016), Osheaga Festival (july 29th to 31st, 2016). (Presidential Loft: 2,792 $ / Executive Loft: 2,392 $)

In the heart of the city!

Being in the center of the action is as simple as picking a neighborhood! Downtown, Plateau, International District or Old-Montreal, the city has it all.
Home cooking

All units under Simplissimmo's management should offer fully-equipped kitchens complete with ultra-modern appliances, perfect for the gourmet chef!

Sleep tight

Properties under Simplissimmo's management are mostly furnished with memory foam mattresses that adapt to body's natural shape and temperature, for the comfort of the tenants!

Of course it's included

All properties under Simplissimmo's management should provide full sets of high-quality cotton bed & bath linens.

Pet friendly

Let us know if you accept pets in your unit.