Réference

1203

Chambres

1

Salles de bain

2

Capacité d'accueil

2

Surface

753 ft²

Séjour minimum

1 jours

Type de propriété

Appartement

Arrivée

15:00

Départ

11:00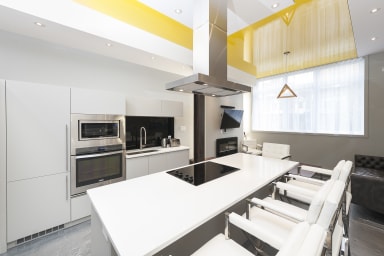 Open concept kitchen with living space
Leather couch, brick wall living area with nice big windows
Electronic fireplace and smart TV with cable in the living room
elegant mirror in the living area
Kitchen island with cooking top.
kitchen and living room with brick wall with a nice and clean design
Fully equipped kitchen - cooking top, oven, microwave, toaster, double sink
Kitchen island with storage
Fully equipped kitchen - utensils, pots and pans available inside cabinets
Modern bedrooms with king size bed. Mirrored doors to the closet
Smart TV in the bedroom. Partially glass wall in the corner
bright bathrooms with a nice long mirror
Shower with multiple jets - industrial feature
living room ceiling - design feature
washer, dryer, oven, microwave
L'Hôtel Milton Parc est certainement la référence des Hôtels Design de type Loft à Montréal en plein coeur du centre-Ville. Parfaitement situé au coin des rue Parc et Milton, a moins de 3mn de la Place des Arts et « aux portes » du Quartier Mont-Royale le Milton-Parc est un projet audacieux composé de 8 unités de Type Loft incluant 3 Penthouse avec terrasse privé et parking privé. L'hôtel Milton Parc a été conçu et réfléchit à l'aide d'une expertise exclusive afin de pouvoir redéfinir les standards du confort et des normes « pré-établit » dans l'industrie.
Les Lofts 1 chambre
5 lofts urbains composés d'une superficie d'environ 800 pieds carrés avec fenestration panoramique, plancher de type « époxy métallisée » et feu de foyer électrique et toile tendu au plafond ! Une union parfaite entre l'authentique cachet d'un loft et l'avant gardisme des construction modernes où texture et volume se côtoient généreusement.
Sans compromis l'éclairage est 100% LED, les cuisines sont entièrement équipées et incluent des ilots pouvant recevoir jusqu'a 4 personnes assises. Une salle de bains composée de vanités doubles ainsi qu'une douche double hors-norme et ultra moderne…
La chambre semi-fermée est équipée d'un très grand lit double avec matelas de qualité supérieur et d'un garde-robe entièrement emménagée.
Chaque Loft inclut une connexion internet haute-vitesse illimitée, une ligne téléphonique, ainsi que deux télévisions à écran plat incluant la technologie Smart TV afin de pouvoir naviguer sans limite sur internet ou même sur votre compte Netflix.
L'hôtel Milton Parc a choisi d'équiper tout ses lofts de machine à café Nespresso et ce pour votre plus grand confort. Literie, serviette, accessoire de cuisine et service d'entretien ménager il va de soi que le Milton Parc vous offre toutes les commodités d'un véritable Hôtel et même plus …
Caractéristiques :
• plafond de 13 pieds
• plancher en « époxy métallisé »
• plafond avec toile tendu (noir, turquoise ou Fuchsia selon les Lofts)
• brique apparente
• éclairage 100% ledit
• cuisine ultra moderne
• ilôt de cuisine offrant 4 places assises
• système de climatisation privée
• salle de bains avec double vanité et douche très grand format équipée de deux colonnes de douche
• chambres composées de très grand lit double et de matelas de qualité supérieur à mousse mémoire
• garde-robe entièrement emménagée
• 2 télévisions à écran plat de type Smart TV
• barre de son multimédia Bluetooth
• machine à café Nespresso
• literie/ serviette/ coutellerie/ vaisselle/ batterie de cuisine
• air climatisé mural
• chauffage électrique
Des caractéristiques uniques et exclusifs réfléchit et conçu afin de pouvoir offrir des lofts authentiques ou les normes sont redéfinis afin de pouvoir établir des nouveaux standards dans l'industrie hôtelière à Montréal.
Parking extérieur disponible à partir de 25$ par jour.
L'hôtel Milton Parc est une marque exploitée par 9297-9913 Québec Inc. et gérée par Simplissimmo.ca.
La taxe sur les produits et services (TPS 5%) et la taxe de vente du Québec (TVQ 9,975%) ainsi que la taxe d'hébergement (3,5% par nuitée) sont applicables pour chaque séjour.
Pénalité de 100% du montant de la reservation sera applicable si l'annulation à lieu moins de 14 jours avant la date d'arrivée.
+ Plus
Air conditionné
Antique
Art Déco
Atypique
Baignoire bébé
Lit bébé
Recommandation de babysitter
Baroque
Ménage et désinfection
Sécheuse
Machine à café
Arrivée et départ sans contact
Contemporain
Lave-vaisselle
Lecteur DVD
Écologique
Ascenseur
Empire
Appareils à basse consommation
Produits de base
Congélateur
Réfrigérateur
Cuisine équipée
Propriété clôturée
Gants disponibles
Salle de gym
Sèche-cheveux
Gel hydroalcoolique
Cintres
Chaise haute
Historique
Hi-tech
Aspirateur
Internet
Fer
Bouilloire
Adapté aux enfants
Draps et Serviettes
Location longue durée possible
Masques disponibles
Four micro-ondes
Minimaliste
Pas de plastique à usage unique
Pas d'article de toilette individuel
Aliments et boissons bio
Four
Parking Inclus
Piscine commune
Entrée privée
Ménage professionnel
Romantique
Satellite Ou Cable
Sauna
Détecteur de fumée
Interdiction de fumer
Distanciation physique
Personnel avec équipement de protection
Téléphone
Terrasse
Toaster
TV
Ventilateur
Victorien
Domaine viticole
Lave-linge
Bois
Amine B.

My stay

The place is very clean and very modern will definitely recommend it even if it's a little expensive .

Septembre 2020

Rayan A.

Extremely Disappointed and Disgusted.

The place is much smaller than it looks in the pictures. I should not have to wait over 12 hours to get a response from the host when we were very uncomfortable during our stay. We had told the host the problem multiple times and continued to say it was the AC's fault even tho we had turned it off. We had tried to explain it to them multiple times but they were not listening to us. Very close to downtown, however the location is very gross and disgusting. There are homeless people in front of the apartment entrance and they create fights with you when you try to get inside the building. There are many opened bottles of alcohol outside and the police were there multiple times. We had called the police 5 times in order to get them away from the door. There was poo on the ground and people passed out in front of the building. I have taken a photo of the poo as well. The inside of the airbnb is kept nice and clean. You will not be able to sleep because of the random noise that comes on roughly every 1 minute. The location and what you are surrounded by is disgusting and makes you feel unsafe, especially in a global pandemic. You feel like you will catch covid from just being there. If you are a group of girls or a few females looking at this location to stay at, I would not recommend this place as there are a lot of creepy guys just waiting outside.

Septembre 2020

Amazing

This place was absolutely amazing! Everything is so clean and all the essentials that you need for cooking is provided. Its also in a perfect location, near restaurants, grocery store etc. I would absolutely recommend and i am for-sure going to book this place again!

Août 2020

excellent

belle place et calme. confortable.

Août 2020

Amazing

I really fell in love with the place it was a special night for me of course and it's beautiful just to spend the night ! It's the same as the pictures definitely want to book again !:)

Juillet 2020

Makhete C.

Amazing place

The apartment is stylish with a modern look , it's clean , you feel safe there , it's calm no noise , it's cozy , it's comfortable. I highly recommend

Juillet 2020

jean-francois g.

Très belle endroit

Tout était parfait, belle place, bien positionné.

Mars 2020

Avenue du Parc MiltonParc

Excellent séjour dans un bel appartement très spacieux et très fonctionnel !

Mars 2020

ALI E.

Great experience!

I was impressed with the value for the very comfortable accommodations for our stay in Montreal.

Février 2020

Giovanna T.

Great place

Super modern. Very clean.

Janvier 2020

Splendid !!!

The loft was clean, beautiful, and very modern!!! I loved this place and will return for sure !

Janvier 2020

Rami

Excellent place. Well kept. Clean and good location

Octobre 2019

Celia Z.

Enjoying apartment

Interesting setup apartment: quiet, comfortable, clean, and convivial. Amazing kitchen appliances, nice bathroom, and a comfortable bed. A place I recommend, and I will book again for another trip.

Septembre 2019

GOOD

Great spot! We were delighted by the customer service of Simplissimmo!

Septembre 2019

Perfect Stay

What a dream this apartment is, well located, secure, sparking clean Bed is beyond comfortable, plenty of restaurants to choose from!

Septembre 2019

Excellent!

Very well located In walking distance of many points of interest. Very clean. Has many cooking appliances. I would definitely recommend this accommodation.

Septembre 2019

Alfio Annibalini

Great space and setup. Perfect for long stays or a weekend.

Août 2019

Wonderful place, great location

The apartment was very well equipped (washer & dryer in the place were fantastic, quiet enough to run even at night), very centrally located - I walked everywhere - with a large grocery store around the corner. Super clean, quiet, would definitely stay there again next time I am in Montreal.

Juillet 2019

A pleasant stay

Very good stay, welcoming apartment, clean, nice.

Juillet 2019

Hugo L.

Constructions on Park Av and no shower gel

There were road restorations all night long that made the building shaking. Not the best conditions to get a restful night. Also, the shower gel dispenser of my room was empty. It's probably optimized for management to not have any onsite employee, but it prevents to take care of the clients with an emergency need. The suite had more space than enough, which was comfortable. Suggestion to make it better for people like me traveling for business: put a desk and a chair to let them work in good conditions. A bar chair and a sofa are not the best options. I definitely won't come back.

Juillet 2019

Awesome loft

Everything was perfect, will book again for sure

Juin 2019

Overall Good

I stayed for a week at the Boutique Lofts at Milton Parc. Overall, the experience was good. Easy check in and check out, great location, and I enjoyed the decor and overall style. The only drawback was the lax cleanliness: dust on floors and surfaces, residue food on some of the dishes, and the shower did not drain properly (within a couple minutes I was standing in a pool of my own shower water). I would stay here again, but I would be hopeful that cleaning standards are raised. Thanks for overall good stay.

Avril 2019

Monique C.

Travel for business

I was disapointed because the apartment was not very clean especially since they charged me 75$ additional cleaning fee to my bill. To give a couple of examples, you could see boot foot prints on the floors ,blood stain on the duvet cover on the bed, the washroom carpet did not seem to have been vaccumed and found hairs on the bathroom towels. Also the linens were old and definatly need to be replaced. It is sad because the condo is very nice and the simplissimo staff were very nice and made arrangements to provided me with kitchen linens and soap to wash the dishes which were not there when I arrived. Hope this helps to rectify the situation for future patrons.

Janvier 2019

Cardboard Entrance, No Safe Parking, Unsafe Wiring, Android only TV, Cleaning guidelines insulting

The entrance to the hotel has a bunch or cardboard boxes laid out at the entrance ro walk on. Wow. The parking offered is ridiculously small, and outdoor in a rather shoddy neighborhood, and there zero instuctions as to where it was. It was also more expensive tha indoor, safe parking nearby. The wiring behind the living area TV is laughable, and completely unsafe as well as an eyesore. An extension with mutliple plugs in kt, literally hanging off the wall, with loops of cords hanging below the TV. The bedroom TV only works with Android phones! No luck for Apple holders (the majority in Canada). The cleaning guidelines are to take out your own trash and clean the sink. But there is a $75 cleaning charge with the Airbnb listing! How is that sensible? We actually liked the room, but these other items pulled the place down to the point we are unlikely to return. It's just not a professional setup.

Décembre 2018

Loft was a dope

Everything was great about our stay. We stayed at loft #203 and loved it. Very well designed and decorated. Building is close to metro and the bus station was right at the corner not even a minute walk. There were many grocery stores close by. I'd give more than 5 stars if I could.

Septembre 2018

Nader M.

Two night getaway

MiltonParc has really created a beautiful space that feels like home. You get way beyond what you pay for and the location is right in the middle of where you want to be. 15 minutes from the botanical gardens and Olympic stadium. 5-10 minutes from the heart of the downtown shopping district. Finally, all the best food is nearby and the breakfast restaurant downstairs Cacao 70 is perfect. I would highly recommend this place for anyone going to Montreal.

Août 2018

Excellent experience in Montreal

Super comfortable, good ubication, all that you need!

Août 2018
3485 avenue du parc , H2X 2H6 Montreal, Quebec
Tenant Check-in

Simplissimmo will happily welcome tenants to the apartment on the day of arrival! Check-in is usually after 3PM.

Tenant Check-out

Simplissimmo meets with tenants on the day of departure to collect keys, verify the state of the unit, and bid a fond farewell so you never have to worry. Check-out is usually at 12PM.

No extras

Once HP & Associés have rented your property, there are absolutely no hidden fees for your tenants. Hydro, electricity, cable, internet and more, everything is included! Except for Holland Hotel's Lofts and the following periods, high season prices apply: Christmas and New Year period (dec-20 to Jan-2nd/ each year), Grand Prix of Montreal (9June 9th to 13th, 2016), Osheaga Festival (july 29th to 31st, 2016). (Presidential Loft: 2,792 $ / Executive Loft: 2,392 $)

In the heart of the city!

Being in the center of the action is as simple as picking a neighborhood! Downtown, Plateau, International District or Old-Montreal, the city has it all.
Home cooking

All units under Simplissimmo's management should offer fully-equipped kitchens complete with ultra-modern appliances, perfect for the gourmet chef!

Sleep tight

Properties under Simplissimmo's management are mostly furnished with memory foam mattresses that adapt to body's natural shape and temperature, for the comfort of the tenants!

Of course it's included

All properties under Simplissimmo's management should provide full sets of high-quality cotton bed & bath linens.

Pet friendly

Let us know if you accept pets in your unit.