Réference

1301

Chambres

2

Salle de bain

1

Capacité d'accueil

4

Surface

1001 ft²

Séjour minimum

1 jours

Type de propriété

Appartement

Arrivée

15:00

Départ

11:00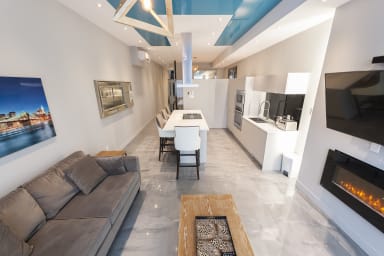 Open concept kitchen with living space
Open concept kitchen with living space
Bright living room with big windows
Electronic fireplace and smart TV with cable in the living room
Bright living room with big windows
Kitchen island with cooking top and eating area
Fully equipped kitchen - cooking top, oven, microwave, toaster, double sink
Kitchen island with cooking top and eating area
Smart TV in the bedroom. Partially glass wall. Bedroom 2
Double sink in the washroom, nice long mirrors
shower area - multiple jets shower
BIENVENUE CHEZ VOUS
Demeurez là où votre confort est à l'honneur. Dirigez-vous vers la chambre principale et la chambre d'invités et laissez-vous bercer par les matelas à mémoire de forme King Size et par les draps de luxe. Débutez votre matinée avec une tasse de Nespresso sur la terrasse avant de mettre une brassée à laver dans la buanderie de la suite. Des doubles éviers et des doubles douches à effet pluie ont été installés dans la salle de bains pour que personne n'ait à se battre pour le monopole de l'eau. Ensuite, préparez à manger dans votre cuisine toute équipée avec grand îlot ou commandez et mettez de l'ambiance en allumant la cheminée dans le salon pour enfin s'asseoir et regarder un film classique sur la télévision intelligente.
LE QUARTIER
Parcourez les nombreux sentiers du Parc Mont Royal et montez au sommet du Belvédère Kondiaronk, connu sous le nom de "the lookout", qui offre une vue de Montréal à couper le souffle. Visitez le Salon de Thé CHAI Tea Lounge et laissez vos papilles vous transporter aux quatre coins du monde grâce à leur vaste sélection de thés ou offrez-vous une nuit lumineuse d'art et de musique à la Place des Arts.
Numéro CITQ: 294694
Pénalité de 100% du montant de la reservation sera applicable si l'annulation à lieu moins de 5 jours avant la date d'arrivée.
+ Plus
Arrivée 24/24
Air conditionné
Antique
Art Déco
Atypique
Baignoire bébé
Lit bébé
Recommandation de babysitter
Balcon
Baroque
Ménage et désinfection
Sécheuse
Machine à café
Arrivée et départ sans contact
Contemporain
Lave-vaisselle
Écologique
Ascenseur
Empire
Appareils à basse consommation
Produits de base
Congélateur
Réfrigérateur
Cuisine équipée
Propriété clôturée
Gants disponibles
Salle de gym
Sèche-cheveux
Gel hydroalcoolique
Cintres
Chaise haute
Historique
Hi-tech
Aspirateur
Internet
Fer
Bouilloire
Adapté aux enfants
Draps et Serviettes
Location longue durée possible
Masques disponibles
Four micro-ondes
Minimaliste
Pas de plastique à usage unique
Pas d'article de toilette individuel
Aliments et boissons bio
Four
Parking Inclus
Piscine commune
Entrée privée
Ménage professionnel
Romantique
Satellite Ou Cable
Sauna
Arrivée autonome
Détecteur de fumée
Interdiction de fumer
Distanciation physique
Personnel avec équipement de protection
Téléphone
Terrasse
Toaster
TV
Ventilateur
Victorien
Domaine viticole
Lave-linge
Bois
Amanda M.

Amazing place!

My sisters and I did our yearly « Sissy trip » to Montreal this year and stayed with Milton Parc. It was beautiful and we were close to everything. We would definitely stay here again and would recommend this place to anyone wanting to visit Montreal! Thanks again!

Juin 2023

Beautiful space in the heart of things

Enjoyed the stay. Cooked a great meal in the kitchen. Enjoyed the deck off the bedroom. Modern, fun space. Parking a little tricky.

Juin 2023

P H.

Milton park stay

Was an amazing stay. Definitely recommend.

Mai 2023

Moyen

L'appartement devrait être mieux entretenu

Mai 2023

Garnet D.

Loved it

Hi, The location is amazing to St Catharine street. The staff were very tentative to our needs. The issues we had were minor. We would stay here again,

Mars 2023

Lorraine M. (

Royaume-Uni

)

Excellent location, beautiful apartment

The apartment has everything you need for a stay in Montreal, the kitchen items and washing machine etc are very good quality.

Septembre 2022

Superbe loft

Très bel appartement, bien équipé et très agréable à vivre.

Juillet 2022

Le Loft 1301 du Milton Parc

Le loft est spacieux et confortable, bien situé. Il est vrai que c'est le quartier des itinérants autochtones, mais ils ne sont pas dérangeants. Petites remarques: il est à noter que les bancs de l'îlot sont un peu trop haut pour être parfaitement à l'aise pour manger. Nous aurions apprécié avoir de la lingerie pour la cuisine. Nous avons aimé notre séjour.

Juillet 2022

nice place for a city trip

I enjoyed my stay. Nice apartment and well located for shopping or access to public transportation. I did find a few flaws though. It lacks basic kitchen utensils such as a bottle opener, a corkscrew, a pot high enough to cook pasta, dishes to use the oven properly. More glasses, cutlery and seats would not be neglected. We wanted to use the dishwasher, my wife hurt herself opening it, the door has no brake. There are a few finishing defects that are quite easy to fix, such as the TV on the wall or a few small holes that are not filled in. The floor is nice but has many holes. There is also a problem of insulation, we heard a lot of noise from the street and we felt a draft when we were on the sofa.

Avril 2022

NIC O.

All positive

Booking and entry straight forward....location of hotel is in a shady neighborhood but not dangerous....a lot of unaggressive pan handling.....not the hotels fault....just a heads up.... Lots of space and room in the unit....would not hesitate to stay again....thanks for making the boys weekend to the Bell Center a success..... SLAVA UKRAINI 🇺🇦

Mars 2022

Really Clean

Love this space!!

Janvier 2022

james a.

nice place

everything you need

Novembre 2021

Ronald P.

Très bien situer et très confortable!

Cet appartement est situé à pied du centre-ville, du Mont-Royal, quartier des Spectacles et Chinois, du Plateau, et pour les autres quartiers, à 5 minutes du Métro. Les lits sont très confortables.

Novembre 2021

Amazing!

10/10, c'est parfait et magnifique!

Avril 2021

Très bel endroit

Très moderne et propre , un logement avec beaucoup de charme ,très spacieux et confortable! Je reviendrai

Mars 2021

Natasha E.

Great place!

Well furnished and very nice

Mars 2021

Adilya A.

Excellent location

Beautiful 2 floor loft and very nice location!

Mars 2021

Trinity L.

amazing stay

I had a wonderful stay !! the place was gorgeous and check in was super easy!

Décembre 2020

Nirssanth G.

Nice place

Very unique spot

Novembre 2020

Patrick T.

Great place to stay!!

Nice appartment. Great location, near downtown.

Novembre 2020

Joshua W.

Great modern loft

Would stay at this location again, very easy to access space and clean loft to stay at.

Octobre 2020

Marco B.

Amazing

The apartment is excellent, with lots of space and very well equipped, the location is also great and it is possible to do most of the walking tours, the place was also very clean and all the TVs were working but 2 of them are smart TV so they only work for netflix youtube etc.

Février 2020

Nice place

The place was very nice and pretty just like in the picture. Easy to access I loved it. Although its true that the bed could be more comfortable they were a bit stiff, but the rest of the apartment was very nice

Janvier 2020

Excellent

SPACIOUS, MODERN, EASY CHECK IN, QUIET HAS A PRIVATE TERRACE WHICH IS A GREAT FEATURE. JUST OVERALL A NICE LOCATION, IT IS ALSO WALKING DISTANCE TO THE EATON CENTER SHOPPING MALL (10 mins by foot). TRULY A HIDDEN GEM

Décembre 2019

Great location

Great location, condo was very clean but needs some updating in terms of horrible mattresses and more amenities like a coffee maker, wine glasses, another frying pan.

Novembre 2019

Great spot!

We loved the location and area for all sorts of conveniences and good food. Condo could use some upgrades, mattresses were literally caved in the middle in both bedrooms. The convenience of a coffee maker, more than one wine glass would be nice. Otherwise very clean upon arrival and quiet building.

Novembre 2019

Wonderful location, comfortable and stylish digs

Centrally located, easy access to sights, restaurants, museums -- the MiltonParc provided a wonderful pied a terre for our stay in Montreal. My only suggestion is that there should be some information about how to work the televisions in the apartment. Complicated system, and we were never able to suss out how to watch live TV during the brief interval in which we wanted it.

Octobre 2019

zainab a.

Incredible!

Easy booking, safe and convenient location, easy to access the apartment with clear instructions. Apartment was state of the art, super clean and such a cozy sleep!!! Highly recommend, no fuss!

Octobre 2019

Dennis B.

Convenient

The location is very convenient to get around town. You can basically walk around and see a lot of sites without taking any transportation.

Octobre 2019

Simon T.

Amazing place

Place is so nice and clean ! Best choice ever for the price ! Can't wait to go back !good customers service via email as well ! Thank you

Octobre 2019

Great Spot

Great spot in Old Montreal!

Septembre 2019

Decent apartment, horrible customer service

Our unit on the third floor was fair to poor. On the plus side, the neighborhood was urban but very convenient and the space was roomy. But so many things were broken and getting anything fixed required making multiple demands to a hostile customer service team that gave an initial response of "its not broken" to every notice of something being wrong. The dishwasher had to be pried open with a spoon. The air conditioning made a horrible noise like a fog horn. When the air conditioner was finally serviced, the repair man left a film of drywall dust all over everything. The kitchen had a random, insufficient assortment of glasses and supplies, enough to eat take-out or maybe cook something simple like pasta. There was no soap supplied for the washing machine and very little soap in the bathrooms. It seemed like the management company doesn't care about upkeep and the hostile customer service made a mediocre experience turn poor.

Septembre 2019

Terrible mechanical noise at 4am and blame on us!

We were woken up by extremely loud and frightening mechanical noise and vibration from the AC and the surrounding ceiling area. Contacted the hotel management by text. No solution provided. They told US to investigate by giving us instructions while we lost sleep from 4am to 6am. After we checked out, they texted us saying the noise was from the dishwasher which was not closed!!... that was a total BS. We didn't use the kitchen at all. Didn't even touch the dishwasher. The dishwasher is not anywhere near ceiling, is it? No apologies until we pointed out that they should admit their fault at lack of maintenance. Also the description of Room 1301 says 2 bathrooms... there was only one bathroom. Never again.

Août 2019

Beautiful penthouse!

The deco was gorgeous, confortable beds, ultra clean! The neighborhood is a bit mixed, very calm and nice but a lot of homeless people sleeping on the sidewalk. They are super nice though! Will definitely book there again!!

Juin 2019

Maxwell R.

Great place to stay in Montreal

Really nice place to stay in Montreal. Thank you!

Février 2019

Morris F.

My stay

Awesome experience

Janvier 2019

Derrick W.

Chicago

Place was nice, clean and in great location. 5 stars.

Janvier 2019

Good location, nice loft

Has the potential to be great - great location, cool loft but needs some better care. Loft king bed was broken, sheets stained, dishwasher was not accessible (cupboard wouldn't open), one butter knife. But great potential here - would consider staying again.

Janvier 2019

milto parc

Very nice and functional appartment. The team is very responsive to deal with questions or issues. Great location and above all great value for money.

Octobre 2018

Bien situé pour visiter la ville

A part le câble de la télé qui ne marchait pas et les locataires précédents qui n'avaient pas bien lavé les verres rien à signaler. Personnel attentif et réactif aux demandes

Octobre 2018

Great loft!

Location was nice, beautiful accommodations

Septembre 2018

Nathaniel D.

Thanks

Thanks for the stay

Septembre 2018

Très agréable

Séjour à 4 pendant 5 nuits. Très bien! Pas forcément évident à trouver car le numéro est caché,mais la porte d'entrée jouxte un restaurant de sucré (cacao70) Très confortable, apprécié des ados, proche du centre

Août 2018

Philippe J.

Bon séjour à Montréal

Séjour Sympa à Montréal. L'appartement est bien placé près du centre bien que dans une rue moins agréable. Décoration, équipement et état de l'appartement très bien. Il manque quelques fauteuils sur la petite terrasse pour boire l'apéro le soir. Un problème la propreté est un peu limite. Nous avons eu une invasion de fourmis et de moucheron en partie à cause de la présence des bacs de poubelles sur le palier de l'ascenseur. L'hôte a néanmoins été très réactif en traitant dans la journée une partie du problème.

Août 2018

Montreal Trip and stay at the MiltonParc Hotel

The hotel looked exactly as pictured on the inside. That was nice and they were very responsive to my needs. The area where the hotel was located sketchy looking but we had absolutely no issues. The parking was very close but left a lot to be desired in the fact that it was at a convenience store and the spaces were small and we often had difficulty leaving.

Avril 2018

Nice place

We didn't know how to do some stuff but they came right away.

Mars 2018

Bien situé belle expérience

Prêt de tout. Tranquil Et beaucoup d'espace.

Mars 2018

Nikita P.

Birthday

Nothing to say but amazing

Mars 2018
3485 avenue du parc , H2X 2H6Montreal, Quebec
FAQ
Saviez-vous ?

Débloquez les réponses à vos questions et découvrez davantage sur cette unité et plus dans notre FAQ du Centre de Support – votre ressource incontournable pour une expérience sans faille!
Cliquez sur ce lien pour en savoir plus: https://simplissimmofr.frontkb.com