Réference

1302

Chambres

1

Salle de bain

1

Capacité d'accueil

1-2

Surface

753 ft²

Séjour minimum

1 jours

Type de propriété

Appartement

Arrivée

15:00

Départ

11:00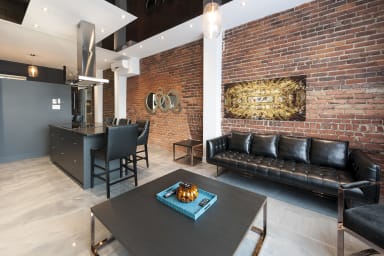 Open concept kitchen with living space
Stylish living room with big windows
Open concept kitchen with living space
Fully equipped kitchen - utensils, pots and pans available inside cabinets
Kitchen island with cooking top and eating area
Kitchen island with cooking top and eating area
Fully equipped kitchen - cooking top, oven, microwave, toaster, double sink
Fully equipped kitchen, island with cooking top.
bedroom glass wall and hallway
Double sink in the washroom, nice long mirrors
shower area - multiple jets shower
King size bed - minimalist decor
BIENVENUE CHEZ VOUS
Demeurez là où votre confort est honoré. Des éviers doubles pour vos articles de toilette et des douches à effet de pluie doubles ont été installés pour que personne n'ait à se battre pour le monopole de l'eau. Une fois bien rafraîchi, rendez-vous dans la chambre principale ou vous serez bercé par le matelas à mémoire de forme King Size et par les draps de luxe pour une nuit de sommeil profond. Commencez votre matinée avec une tasse de Nespresso de mettre une charge à laver dans votre buanderie. Ensuite, préparez le diner dans votre cuisine tout équipée avec îlot ou commandez et créez l'ambiance en allumant la cheminée du salon pour enfin vous asseoir et regarder un film classique sur la télévision intelligente.
LE QUARTIER
Parcourez les nombreux sentiers du Parc Mont Royal et montez au sommet du Belvédère Kondiaronk, connu sous le nom de "the lookout", qui offre une vue de Montréal à couper le souffle. Visitez le Salon de Thé CHAI Tea Lounge et laissez vos papilles vous transporter aux quatre coins du monde grâce à leur vaste sélection de thés ou offrez-vous une nuit lumineuse d'art et de musique à la Place des Arts.
Numéro CITQ: 294694
Pénalité de 100% du montant de la reservation sera applicable si l'annulation à lieu moins de 5 jours avant la date d'arrivée.
+ Plus
Arrivée 24/24
Air conditionné
Antique
Art Déco
Atypique
Baignoire bébé
Lit bébé
Recommandation de babysitter
Baroque
Ménage et désinfection
Sécheuse
Machine à café
Arrivée et départ sans contact
Contemporain
Lave-vaisselle
Lecteur DVD
Écologique
Ascenseur
Empire
Appareils à basse consommation
Produits de base
Congélateur
Réfrigérateur
Cuisine équipée
Propriété clôturée
Gants disponibles
Salle de gym
Sèche-cheveux
Gel hydroalcoolique
Cintres
Chaise haute
Historique
Hi-tech
Aspirateur
Internet
Fer
Bouilloire
Adapté aux enfants
Draps et Serviettes
Location longue durée possible
Masques disponibles
Four micro-ondes
Minimaliste
Pas de plastique à usage unique
Pas d'article de toilette individuel
Aliments et boissons bio
Four
Parking Inclus
Piscine commune
Entrée privée
Ménage professionnel
Romantique
Satellite Ou Cable
Sauna
Arrivée autonome
Détecteur de fumée
Interdiction de fumer
Distanciation physique
Personnel avec équipement de protection
Téléphone
Terrasse
Toaster
TV
Ventilateur
Victorien
Domaine viticole
Lave-linge
Bois
Great location and exceptional loft

The entire loft was exceptional, it was clean and spacious.

Septembre 2022

Nice place!

Place was exactly like the pictures. Very clean. Easy and clear check-in.

Août 2022

Kin Y.

Great experience!

I don't expect to have such a great room during my budget trip. Room is clean and tidy and lots of space to move around my luggages. Definitely will come again in my next visit.

Juillet 2022

kenny h.

Montreal visit

Loved the room and all amenities. The suite was spacious, clean and modern. Bed was very comfortable with a great bathroom. I would give this a 5 star if located in a better place and had available parking. There were numerous homeless gatherings the second you walked downstairs and out the door. The parking garage access proved to be a "harassment" when coming and going. Great room though that was very clean!

Juin 2022

Dégoûtant

Assiette remplie de bouffe d'anciens locataires et pas d'eau chaude !

Décembre 2021

Brenda S.

Beautiful apartment

Convenient to McGill and a short walk to downtown. All the amenities provided for a very comfortable stay.

Novembre 2021

Trompeur

Malheureusement on n'a pas réussit à dormir . Certe c'est propre mais aucunement fiable pour la nuit . On n'a eu un bruit provenant de notre propre chambre plus de 3 heures d'attente pour qu'un membre du staff vienne ( il n'est pas venu) donc j'ai appelé et essayer de parler avec lui. Il me promets de m'appeler pour un remboursement il ne tient pas parole je suis partie de l'hébergement tard le soir la tête qui me fesait terriblement mal . Certe c'est propre mais mise à part le bruit de la chambre c'est un hotel mal situé beaucoup de bruit de l'exterieur et on n'entends meme nos voisins . Il n'on aucun pouvoir pour le bruit extérieur certe mais celui de ma chambre ils ne sont pas venu le réglé et m'on laissé me fatiguer à les attendre et ne m'on toujours pas remboursé .

Juin 2021

Samia Z.

Wonderful loft!

I really enjoy my stay at the Milton loft! It was very easy to find! A nice place, very clean, wonderful design! Enjoyed it and would definitely recommend it! I will for sure book it in the future!

Avril 2021

Dan G.

Great hospitality

This unit is literally the best. When I walked in I wasn't too convinced but after 10 mins of being there and inspecting the place, I fell in love with it. Cozy and spacious. I love love the bedroom and the washroom. Only isssue I ran into was that the kitchen sink was draining pretty slowly. But other than that, I would high recommend this place- Especially to couples. I can't wait to return back !

Janvier 2021

Très beau séjour!

Loft fabuleux avec une magnifique vue sur le Mont-Royal. Luxueux, parfait pour un couple, propre, de beaux électroménagers. Le seul point négatif, pas de coupes de vin. Nous étions chanceux d'en avoir amené. Je recommande fortement!

Décembre 2020

Paola T.

Very clean

This place is super nice. Super fast wifi Super clean Amazing check in system! Loved my experience!

Novembre 2020

Vinesh B.

1302 - 1 Bedroom Loft Mount Royal Parc

Couldn't be happier with our stay. Apartment was very well kept with everything we needed for our stay. Process to check-in and check-out was smooth. Overall, great value. Would recommend to others heading to Montreal.

Octobre 2020

nice loft!

Very nice loft! The elevator didn't work when we arrived so it was a bit problematic we had to climb the stairs at first but later at night it started to work. Also, our door make a very loud noise when opening and closing but overall the loft was very nice and had everything and it was not expensive! Thanks for the nice stay.

Juillet 2020

Dennis B.

Milton Parc

Very nice, well maintained units in a good area of the city. Good communication with ownership/landlord for ease of entry. Units do not have bathtubs or windows that open. Overall I would stay there again and recommend to friends.

Mars 2020

LOCATION,MODERN DECORATED WITH HIGH-TECH

LOCATION: VERY CONVENIENT; 30 MINS LESS WALKING ACCESS TO METRO STATIONS,STREET ST-DENIS,ST-LARURENT,BUS STOPS STEPS AWAY. LOTS OF RESTOS,STORES AND GROCERIES AROUND,A SHOPPPING CENTRE NEARBY . INTERIOR: NICE AND CLEAN; SPACIOUS WITH HIGH CEILING MODERN DECORATION WITH HIGH-TECH EQUIPMENTS; PARKING: TAKE THE RENTER'S ADVICE OR TAKE SOME TIME ROLLING AROUND THE AREA FOR A FREE PARKING IN THE STREET OR PAY-PARKING YOUR VEHICLES IN PUBLIC PARKING LOT NEARBY CHECK-IN : EASY ACCESS WITH CLEAR INSTRUCTIONS; FOR A SIMPLE PERSON,CHECK-IN SECURITY PREVIEW PROCESS MAY BE A LITTLE COMPLICATED

Février 2020

Hidden Gem

The place is hard to find. Don't look for a "hotel" - or any sign of one. Just look for the House number (over the door inside an entrance) and ignore the surroundings. Once inside, you will find a real gem, modern, comfortable, well equipped. And if you have a problem, someone answers the phone and sorts it out. Shower is great: bed super comfortable; kitchen is great. What's not to like.

Février 2020

bruyant

Chambre très bruyante qui donne sur une grande avenue. Des SDF sont devant l'entrée de l'immeuble Les radiateurs étaient bloqués sur 20 le 1er jour qd on est arrivé.

Novembre 2019

Carole, Ontario

At first I was a little apprehensive about the virtual check in with photo ID especially with all the internet hacking. All went great! Clear communication and direction made it seamless. The suite was clean & comfortable. Having the services within walking distance made the stay even more pleasant. Just a few housekeeping suggestions: 1) a tea towel in the kitchen instead of using a hand towel from the bathroom. 2) clearly identify the lotion and soap in the dispensers by the bathroom sinks as they are in the shower. Use different colour if possible because it's my impression that the solutions got mixed .... 3) for the non technical person, please provide clear instructions for the heating system. 4) note to self, make sure your phone is fully charged so you have the access code to the building and unit and have it written and kept with you at all times. I didn't get locked out but could image how stressful it could have been. I would recommend this location. Enjoy your stay. From a Montrealer!

Novembre 2019

Jason E.

An amazing and unique experiebce

Had a wonderful stay at MiltonPark. The boutique hotel had everything we could want and was a beautiful modern conversion. Central to everything we wanted to see, we would stay here again in a heartbeat!

Novembre 2019

R B.

We will return.

The apartment was very nice. The appliances all worked and the apartment was clean. The layout took advantage of the older architecture and added modern stylings . Loved the bathroom. The only negatives are well outside the control of the owners. The street is loud. The other guests were loud. Homeless people live in the covered entrance. But the location is an easy walk to all amenities. We would return.

Octobre 2019

Lauro Y.

Excellent

Great location, near Place des Arts station and a good variety of restaurants, markets, etc The apartment is modern and has all necessary for a good stay. Great wi-fi, great bedroom, big bed, great bathroom with two showers.

Octobre 2019

SEWON P.

Wonderful home

Very comfortable and convenient. I would absolutely recommend this location to anyone looking to have fun in Montreal.

Septembre 2019

It has everything we want and good location!

We highly recommand you this loft because it has everything we want! Good location and walk to McGill university within 5mins!

Août 2019

Loft

Génial modern et excellente situation

Juillet 2019

Ramiro C.

Good Times

I had a wonderful experience. The room exceeded my expectations. I would certainly book another room with you. Thank you.

Juillet 2019

Greg

Place was clean and well kept worked great for us Thanks

Juillet 2019

A perfect loft

Clean, well designed and equiped, near from everything... but don't forget to bring your coffee for the Nespresso machine (but there ´s a grocery at 1 min).

Avril 2019

Nate W.

Great except for the bed sheets

The bed sheets gave me and my girlfriend rug burn and the pillows could use some work. Other than that though the king bed was very spacious and comfortable. The kitchen was awesome and the bathroom was amazing. In all we enjoyed our stay.

Février 2019

Efrem R.

Very Nice Loft

Amenities were Great although not enough Bathroom tissue so we purchased more..the only serious downfall was homeless people sleeping and hanging out in the area of bldg entrance..pretty frightening

Janvier 2019

Nathalie l.

Super

Excellent je retournerai

Décembre 2018

Derek J.

Perfect

Easy- clean- nice layout. Will stay again

Décembre 2018

Great experience

Amazing stay , great loft, bed is very comfy. Location of apartment is amazing next to everything

Octobre 2018

The best in Montreal

Localizaçao maravilhosa; tudo novo; moderno( impecavel. Me senti como se estivesse em casa;

Octobre 2018

ROB AND CHER CHANDLER (TROY NY USA)

We had a blast and we will be back again. Nice location and nice one on one time.

Mai 2018

Jess D.

Perfect place !

Appartement top, check un simple et efficace. Toutes les commodités nécessaires dans l'appartement. Rien à dire :-)

Avril 2018

Horrible experience

Filthy, calls not returned, run down, loud, no supplies provided, not maintained - on arrival needed to launder bedding and towels before use

Mars 2018
3485 avenue du parc , H2X 2H6Montreal, Quebec
Tenant Check-in

Simplissimmo will happily welcome tenants to the apartment on the day of arrival! Check-in is usually after 3PM.

Tenant Check-out

Simplissimmo meets with tenants on the day of departure to collect keys, verify the state of the unit, and bid a fond farewell so you never have to worry. Check-out is usually at 12PM.

No extras

Once HP & Associés have rented your property, there are absolutely no hidden fees for your tenants. Hydro, electricity, cable, internet and more, everything is included! Except for Holland Hotel's Lofts and the following periods, high season prices apply: Christmas and New Year period (dec-20 to Jan-2nd/ each year), Grand Prix of Montreal (9June 9th to 13th, 2016), Osheaga Festival (july 29th to 31st, 2016). (Presidential Loft: 2,792 $ / Executive Loft: 2,392 $)

In the heart of the city!

Being in the center of the action is as simple as picking a neighborhood! Downtown, Plateau, International District or Old-Montreal, the city has it all.
Home cooking

All units under Simplissimmo's management should offer fully-equipped kitchens complete with ultra-modern appliances, perfect for the gourmet chef!

Sleep tight

Properties under Simplissimmo's management are mostly furnished with memory foam mattresses that adapt to body's natural shape and temperature, for the comfort of the tenants!

Of course it's included

All properties under Simplissimmo's management should provide full sets of high-quality cotton bed & bath linens.

Pet friendly

Let us know if you accept pets in your unit.