Réference

306

Chambres

1

Salle de bain

1

Capacité d'accueil

2

Surface

650 ft²

Séjour minimum

1 jours

Type de propriété

Appartement

Arrivée

15:00

Départ

11:00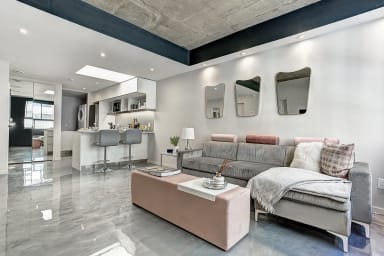 BIENVENUE CHEZ VOUS
Les chambres du Pierce ont été conçues pour faire de votre séjour une expérience inoubliable et raffinée. Laissez-vous bercer par votre matelas Premium King size à mémoire de forme et les draps luxueux, pour une nuit de sommeil profonde , et réveillez-vous avec une tasse de café Nespresso et une douche de pluie rafraîchissante. En attendant que vos vêtements soient lavés dans la buanderie située dans la chambre, préparez un petit-déjeuner dans la cuisine entièrement équipée, que vous pourrez déguster sur la table à manger charmante ou sur l'îlot pour deux personnes. Laissez-vous tenter par la vie nocturne de Montréal ou restez à la maison pour regarder un film sur la Smart TV 40'' installée dans le salon accueillant.
LE QUARTIER
L'hôtel Pierce est situé au cœur de la ville artistique et dynamique de Montréal. Passez la journée à vous balader dans les rues flamboyantes et à visiter les nombreuses galeries et musées à proximité, comme le Musée des Beaux-Arts de Montréal. Prolongez votre expérience et offrez-vous une journée de magasinage et de gastronomie dans l'une des nombreuses boutiques de mode et l'un des multiples restaurants qui bordent les rues juste devant chez vous.
Numéro CITQ: 297973
Pénalité de 100% du montant de la reservation sera applicable si l'annulation à lieu moins de 5 jours avant la date d'arrivée.
+ Plus
Arrivée 24/24
Air conditionné
Antique
Art Déco
Atypique
Baignoire bébé
Lit bébé
Recommandation de babysitter
Baroque
Ménage et désinfection
Sécheuse
Machine à café
Arrivée et départ sans contact
Contemporain
Lave-vaisselle
Écologique
Ascenseur
Empire
Appareils à basse consommation
Produits de base
Congélateur
Réfrigérateur
Cuisine équipée
Propriété clôturée
Gants disponibles
Salle de gym
Sèche-cheveux
Accès handicapés
Gel hydroalcoolique
Cintres
Radiateurs
Chaise haute
Historique
Hi-tech
Aspirateur
Internet
Fer
Bouilloire
Draps et Serviettes
Masques disponibles
Four micro-ondes
Minimaliste
Pas de plastique à usage unique
Pas d'article de toilette individuel
Aliments et boissons bio
Four
Parking Inclus
Piscine commune
Entrée privée
Ménage professionnel
Romantique
Satellite Ou Cable
Sauna
Arrivée autonome
Détecteur de fumée
Interdiction de fumer
Distanciation physique
Personnel avec équipement de protection
Terrasse
Toaster
TV
Victorien
Domaine viticole
Lave-linge
Bois
Good apartment

WOW Apartment

Octobre 2022

Really nice stay

The rules are very restrictive and the neighborhood is kind of sketchy but it all amounted to a very nice stay due to the security. It was so quiet and comfy. I was glad for the ability to do laundry and heat up leftovers to save money on breakfast. Definitely would stay again.

Août 2022

Rodrigo P.

Brand new appartement but not clean

The apartment is beautiful, spacious but the floor and the bed sheets were not clear. I found hair and one pillow had a yellow spot. Gross.

Avril 2022

Je recommande assurément

Hôtel très bien situé et avec décoré avec goût. Très confortable et tout y est. Je le recommanderais et surtout j'y retournerais cet été!

Mars 2022

5 Stars !!

Loved the location & the condo. Was well taken care of & simple to check in & out, would definitely stay again!

Janvier 2022

Simplissimmo

Wooow on a passé un excellent séjour . Le logement est très propre, spacieux et bien situer. Je le recommande fortement.

Avril 2021

Great value!

The place was nice and tidy and quite spacious and the price was quite reasonable would visit again for the same price!

Avril 2021

Alain B.

EXCELLENT!

This apartment is full equiped - washing machine, dishwashing machine, tv (2) with Netflix, large shower, oven, microwave etc. Well located near the Musée des Beaux-Arts de Montréal, Musée Mc Cord. The only annoyance is the registration procedure... Few days before, we have to send to photos of an ID card, only few hours before arriving, we received a message with the code to enter in the hotel and another code to get in the apart... The owner could look at the registration procedure of AirBnB! Other than that everything has been EXCELLENT!

Mars 2020

Great stay in Montreal

Pierce Hotel is very well located. The flat is very well equipped and modern. All is meet to enjoy Montréal for business and/or holidays.

Novembre 2019

jessie m.

pierce

Bel emplacement, exactement comme sur les photos. À une exception près, le condo paraissait plus grand en ligne. Malgré ce petit détail, bien situé, propre et tout est à proximité. Je recommandes pour un petit moment à 2

Octobre 2019

Daryl H.

Great place in a convenient location

Our stay was great. It was clean, comfortable and close to the center (subway, restaurants...).

Septembre 2019

Rodrigue G.

Propreté, belle espace, bien situé ! Que dire de plus !

C'est un bel endroit, tout équipé, propreté impeccable ! Je vous recommande le concept sans hésitations !

Mai 2019

Very nice and excellent position

Everything was good, the apartment was very nice, clean and with the all things you need! The only two "bad" things were Netflix because it didn't work and even my boyfriend has not be able to connect with the WiFi !

Avril 2019

Quiet and good located place

We are really enjoy stay there.

Avril 2019

Anahita B.

Great appartment

The apartment was located in the heart of the city, having access to everything you could possibly need. The suit was vey clean and unlike many reviewers, we had hot water in the bathroom and also we could adjust the room temperature. I highly recommend this place. However, parking had been a struggle for us since the hotel does not offer parking and also some of the kitchen utensils were not washed and simply kept in the drawers dirty.

Avril 2019

Appartement hotel

Beautiful, very clean but the street was very nice. A machine made noise all night, could not sleep at all. If I could move the appartment to another location location, I would give it 5 🌟

Février 2019

Lucile F.

Perfect

It was perfect. Nothing to add!

Février 2019

Super

très bel appartement,très bien équipé et très bien situé qui nous a permis de passer un séjour trés agréable

Janvier 2019

Fanny H.

Really nice

I enjoyed my night there

Octobre 2018

Jimmy G.

October 2018

Clean place, easy to contact office if needed. Has what we need for a nice stay without resto 3 times a day.

Octobre 2018

K. E.

Poor, poor, poor...

Check-in to this property was a nightmare.... Although I informed the hosts that we will be arriving late at night (about 21:00 hours) after a long-distance flight, despite their written acceptance of this request, there was no one available to greet us and let into the apartment. When we called the contact phone number given, all we reached to was an answering machine... After being stranded at the property with heavy suitcases and tired for several hours we had to go and find a nearby hotel to stay in and paid top dollars EXTRA for an accommodation which we already pre-paid for. On top of that the place was noisy, the A/C made a lot of noise and bad smell (apparently it was not among the appliances that got renovated), there were cockroaches in the building, floors a and the windows were dirty beyond words can express. Please see photo attached... We will NEVER stay at this or any other property run by this host/manager.

Septembre 2018

Heather B.

Heather b

Amazing location Huge apartment with everything you need for your trip !!! Very clean and accessible

Juillet 2018

Saud A.

Saud

Location, clean, size, design, and equipped very well

Mars 2018
1650 maisonneuve ouest , H3H2P3Montreal, Quebec
Tenant Check-in

Simplissimmo will happily welcome tenants to the apartment on the day of arrival! Check-in is usually after 3PM.

Tenant Check-out

Simplissimmo meets with tenants on the day of departure to collect keys, verify the state of the unit, and bid a fond farewell so you never have to worry. Check-out is usually at 12PM.

No extras

Once HP & Associés have rented your property, there are absolutely no hidden fees for your tenants. Hydro, electricity, cable, internet and more, everything is included! Except for Holland Hotel's Lofts and the following periods, high season prices apply: Christmas and New Year period (dec-20 to Jan-2nd/ each year), Grand Prix of Montreal (9June 9th to 13th, 2016), Osheaga Festival (july 29th to 31st, 2016). (Presidential Loft: 2,792 $ / Executive Loft: 2,392 $)

In the heart of the city!

Being in the center of the action is as simple as picking a neighborhood! Downtown, Plateau, International District or Old-Montreal, the city has it all.
Home cooking

All units under Simplissimmo's management should offer fully-equipped kitchens complete with ultra-modern appliances, perfect for the gourmet chef!

Sleep tight

Properties under Simplissimmo's management are mostly furnished with memory foam mattresses that adapt to body's natural shape and temperature, for the comfort of the tenants!

Of course it's included

All properties under Simplissimmo's management should provide full sets of high-quality cotton bed & bath linens.

Pet friendly

Let us know if you accept pets in your unit.