Reference

3202

Bedrooms

1

Bathroom

1

Accommodates

1-2

Surface

950 ft²

Min Stay

1 days

Property Type

Apartment

Check-in

15:00

Check-out

11:00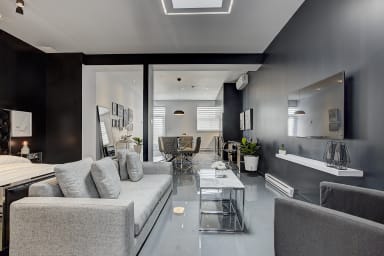 WELCOME HOME
Succumb to the night call of your King size memory foam mattress with luxe sheets for a rejuvenating deep sleep and jumpstart your day with a cool rain shower or warm relaxing bath and Nespresso Coffee. Rest easy because we have thought of everything. Start with sorting your clothes in the walk-in closet, do a load of laundry in the in-suite washing machine and prepare a rich brunch in the fully equipped kitchen and marble island before heading to your office desk for a few hours of productive remote work. Take a break and bask in the sun out on your private terrace or sit on the couch for an episode of your favorite show on the Smart TV. It's nice to be home.
THE NEIGHBORHOOD
Conveniently located near the historic Lachine Canal, embody your best nature-loving self and enjoy the many outdoor activities available year-round. Get your steps in, cross the canal and visit Montreal's popular Atwater Market famous for its Art Deco-style Architecture and among the most beautiful buildings in the city. With every passing season, you will find an array of butcher shops, cheesemongers, horticultural producers and market gardeners just waiting to serve and delight you.
CITQ number: 297941
Penalty of 100% of the reservation amount will apply if cancellation takes place less than 5 days prior to arrival date.
Read more →
24 Hour Check-in
Air Conditioning
Antique
Art Deco
Atypical
Baby bath
Baby crib
Babysitter recommendation
Baroque
Cleaning and disinfection
Clothes Dryer
Coffee Maker
Contactless check-in and check-out
Contemporary
Dishwasher
Ecological
Elevator
Empire
Energy-efficient devices
Essentials
Freezer
Fridge
Full Equipped Kitchen
Gated property
Gloves available
Gym
Hair Dryer
Hand sanitizer
Hangers
Heating
Highchair
Historical
Hi-tech
Hoover
Ice Maker
Internet
Iron
Kettle
Linen Towels
Masks available
Microwave
Minimalist
No single-use plastic
No single-use toiletries
Organic food & beverages
Oven
Parking Included
Pool Shared
Private Car Park
Private entrance
Professionally cleaned
Romantic
Satellite Or Cable
Sauna
Self Check-in
Smoke Detector
Smoking Forbidden
Social distancing
Staff wear protective equipment
Terrace
Toaster
Tv
Victorian
Vineyard
Washing Machine
Wood
Suba S.

Wonderful Stay

Our apartment was spacious, well furnished, and had everything you would need for a stay in Montreal. Everything was clean and the check-in and check-out process was seamless. The bed was very comfortable and clean. The location was great to get a bite to eat or take the metro. Thank you so much!

March 2023

Mathieu L. (

Saint Martin

)

Tres bon sejour

Nous avons passé un excellent séjour, l'appartement est spacieux et très fonctionnel. A 50m du métro.

February 2023

clean, comfortable, be aware many wall are painted black.

Clean, comfortable, good value, be aware many walls are painted black.

February 2023

Kevin W.

Noisy & sparse

This is much more an Airbnb than a hotel. The unit is super sparse with cheap furniture and minimal amenities. The couch cushions had been replaced with misshapen synthetic foam squares. From the moment I got their middle eastern dance music could be heard loudly from another unit. At night there was some fan that was triggering on and off every 20 seconds and I couldn't get it to stop. For the price the place did not feel comfy or accommodating & I would not return.

January 2023

Marika M.

Middle

Dusty and not very clean, look great but a lot of scratch and not able to have french service and television in french.

December 2022

Une belle solution d'hébergement

Lofts lumineux, bien situés, bien équipés.

November 2022

Dr. R.

A great Montreal loft for your next visit.

Lovely "studio loft" for anyone interested in a 1st-class accommodation for a few days, weeks or months in Montreal.

November 2022

Great location. Spacious but not very clean

The apt is easy to find and to get in. It is spacious and has a nice balcony. Unfortunately, the sofa, the bathroom and the different appliance felt unclean. Dust, dead mosquitos, and hair… For the price we pay, it is very unfortunate that the appartement isn't cleaner.

August 2022

Tristan W.

Loft Did Not Disappoint

The loft apartment style is exactly like the photos and doesn't disappoint. I really liked the aspect of having a building/apartment code to buzz into the building. Overall apartment was clean. Bed was very cozy! Sky lights lit up the apartment without the need for domestic lights. Bring your own Netflix/Prime account passcodes. The Roku TV has the streaming services on the main menu. Parking wasn't available. Closest option was down the road 10 minutes in a Indigo Parking Lot that only had Max 12hr options. Frustrating but it's downtown Montreal!

July 2022

Nice!

I really enjoyed my stay!

May 2022

Daniel O.

Just ok. The shooting was a bummer.

Towels were kind of stiff and scratchy, and the TV remote didn't work plus I had to re-hook up the TV and re-hang it to get it on the mount correct. By Thursday there was partying going on in several of the other rooms. Apparently a party got out of hand and I was woken up by gunshots and screams at 230 AM outside my room, then the aftermath of panicked party goers trying to figure out what to do. I don't speak French, but the police filled me in on the details the next day. By the next night the police tape was gone and there was another party. The pictures were all crooked on arrival, which wasn't bad. Just weird. Good location though, right next to some good coffee shops (Cafe Bloom was the best). Taking off three stars because of the murder.

December 2021

Ryan M.

Kind of deceiving photos

The design esthetic of the room was great. However the loft could use some maintenance. The sofas in the loft had left over stains from previous guests. We also found hair on the furniture as if it hadn't been vacuumed in a while. The shower seal needs to be replaced as the water spilled out of the shower in our unit. There was also the unpleasant smell of garbage right at the entry way. Lastly, parking was convienently located however, the lot is completely dark at night. Overall decent stay. Kind of expected a bit more.

July 2021

Pamela M.

Les lofts du centre, Simplissimo

Very elegant and beautiful condos, I will definitely come back!

July 2021

Wall

Good place nice looking but not very sound proof

June 2021

Marc P.

Quick stay

Positives: Room design and location. Clear instructions. To improve: No coffee, kitchen counters need a rework, patio seemed abused, garbage in entrance unacceptable and nausiating.

May 2021

Pavitar S.

Super stay

Amazing loft really spacious super clean all equipped kitchen lots of light close by every store and restaurent comfortable bedding huge bathroom will definitely stay at these lofts again 5☆☆☆☆☆

March 2021

Elyssah S.

Excellent

We enjoyed staying in this loft! Definitely will be coming back!

March 2021

Hoang N.

Great location

Amazing host

December 2020

Lisa S.

High Quality Flat

The flat is professionally designed for both beauty and function. Fully furnished with appliances including washer, dryer, dishwasher, full oven range, microwave. Luxurious, spacious bathroom. Ample closets and storage space. Convenient keyless entry. We also received an almost-immediate and accurate reply when we asked a question using the chat app. People partying until 4 am in neighbouring flats was the main downside. Criticism are minor: A wall socket under the desk would have been nice for plugging in a laptop and was a strange oversight in such an otherwise-well-thought-out apartment Two pot holders work better than one. It is not appropriate to call 911 for a noise complaint, so they should not be telling people to do this in the instructions. In total, a luxurious experience that takes the stress out of travel. We would definitely come back.

January 2020

Airbnb

Meilleur Airbnb que j'ai loué!! Tout était parfait. Le seul point négatif, c'est que la place n'est pas bien sonorisé.

January 2020

THALIA T.

We love it!

Hi everyone!, last Dec 2019, we select Lofts Du Centre to visit Montreal during our Honeymoon. The place is perfect, very clean, warm and cosy. We highly recommend, because is located in the heart of Montreal. You can find the subway just 2 blocks away and the ares is very safe, there are restaurants, 1 Pub, 1 supermarket (4 blocks away) and coffeshops near the area. The place is perfect for 2-4 persons. The instructions to make check in are very simple and always arrive on time (do not desesperate). Deifnitely we made the best choice to have a wonderdul honeymoon! Best regards, Thalia (Mexico)

January 2020

Shaquon S.

THE BEST PLACE EVER IN CANANDA

HONESTLY I WAS SO BLOWN AWAY BY THE PICTURES FIRSTLY. SECONDLY WHEN I GOT THERE THE PLACE LOOKED EVEN BETTER THEN THE PICTURES. THE PLACE WAS SO CLEAN THAT BLEW ME AND MY WIFE AWAY I DIDN'T EVEN WANT TO LEAVE THE ROOM AT ALL. I WILL BE GOING BACK NEXT MONTH. HANDS DOWN

January 2020

GUYLAINE L.

Superbe appartement bien situé pour relaxer.

Bel appartement très propre et confortable. Très bien situé (à 2 min du métro. Quartier intéressant. Lieu sécuritaire. On y retournera !

December 2019

Refund

I never was able to get acces to my loft because the security deposit but am I able to get my money back?

December 2019

Expérience

Cest exactement comme sur les photos! Le loft est magnifique et très propre! Je m'y suis sentie comme chez moi! :)

December 2019

Loved

So spacious and had everything we needed! Was a quieter area, but so easy to walk everywhere we needed to go!

November 2019

Jessica R.

Peaceful

This was very last minute, booking this room. I was traveling from Toronto to say goodbye to my father who had passed away suddenly. I was able to grieve in peace and I am very thankful for that. Everything was very easy and the loft itself was modern and comfortable. Thank you.

November 2019

Super

Sehr schönes Appartement, modern, sauber und sehr Verkehrsgünstig gelegen. Es gibt auch genügend Einkaufsmöglichkeiten und Restaurants im näheren Umfeld, sodaß es an nichts fehlen sollte. Kleine Kritikpunkte: Bettwäsche frisch gewaschen hatte dennoch Fleckrückstände. Besser austauschen. TV/Radio hatte die letzten drei Tage keinen Empfang mehr. Ursache unbekannt. Kaffekanne zur Maschine fehlte. Toilettenpapier war zu wenig vorhanden. Alles in allem schmälert das aber kaum den sehr guten Gesamteindruck.

October 2019

Charmant appartement

Nous avons passé un excellent séjour dans cet appartement aux prestations de qualité. Excellent emplacement à deux pas du métro pour un séjour sur Montréal. On reviendra 👍

September 2019

Oluwaseyi F. (

United States

)

Fully equipped loft

Nice, the place was very comfortable for the two of us. The entire space is very clean, and the air conditioning works well. Check-in was easy and flexible with the access codes.

September 2019

GREAT TIME IN MONTREAL

We had a great time during our stay. A beautiful loft with a great location and the staff was extremely helpful! We would definitely stay here again!

September 2019

Perfect Stay

Thanks again to Simplissimmo for this lovely stay

September 2019

NICE

We had a very good stay at this loft. It's very clean, luminous, spacious and comfortable.

September 2019

Jose O.

Nice please to say

The apartment is very big and comfortable, modern and nicely decorated, with good taste, it feels upscale. Alex is a great host, very professional and informative. it is a practical location, there is a Dollarama in the first floor, pharmacy half a block away, a great bakery in the same block, a supermarket 2 blocks away and best of all the metro station is just a half block away. I didn't give it a 5 star because the area doesn't feel as safe, a little scary mainly at night, anyway Montreal is a very safe city. Definitely a place I would recommend to family and friends.

September 2019

Scott G.

Good hotel

Very clean and comfortable! Easy to navigate and in a cute area. I would stay again.

August 2019

Bel appartement spacieux

J'ai aimé : Très bien équipé et propre, très spacieux, très proche du métro : bon point de chute pour visiter Montréal. J'ai moins aimé : La procédure d'enregistrement est fastidieuse : pas de réception sur place tout se fait par téléphone Absence de rideaux occultant aux fenêtres et velux donc lever aux aurores.

August 2019

Fit for leisure family stay

The room is excellent. Cozy and with full functions including a washing machine and dryer.

August 2019

Excelente

Excelente space and it is near everything you need. I love it

July 2019

Lofts du Centre

Friendly, lovely oldish neighbourhood, conveniently close to the Montreal Metro system, one Metro stop away from the Atwater market, short distance to the walking and cycling trail along the old Lachine canal. The room itself was spacious, very modern, clean, with enough amenities to comfortably stay for a long period. However, the mattress should be due to be replaced soon.

July 2019

George S. (

United States

)

Fantastic Service and a Beautiful Loft

Alex, our contact was awesome and super understanding, we forgot some items in the room after checkout and he promptly had someone give them to us when we came back to pick them up. The location is great because a lot of awesome restaurants are in walking distance and there is a new gelato place that is fantastic down the road.

June 2019

Andrew P. (

United Kingdom

)

Great place and good location

Fabulous accommodation a stone's throw from tub station and supermarket

June 2019

Andreanne R.

Magnifique

Ce loft était magnifique. Il y avait l'espace parfait pour deux et tout se qu'on peut avoir besoin. Parfait pour faire des repas ou se relaxer. Il est vraiment super .

March 2019

Easy Check-in - Very Clean and Comfortable Studio Space

Easy Check-in - Very Clean and Comfortable Studio Space

November 2018

Marie-Pier P.

Je le conseille !

Superbe loft moderne, propre et confortable !

November 2018

Maria-Jose G.

Superbe loft

Lieu magnifique et très bien situé, équipé au top. Rien ne manque. A 2 pas du métro. Pensez cependant que le jour du départ vous ne pouvez pas laisser vos valises donc quand votre avion part à 23h et que vous quittez le loft à 11h ce peut être encombrant...

November 2018

Cosaco J.

LOVE IT!!!

The place was very clean, spacious, comfy and peaceful, it match with the photos. I didn't have issue with the access to the Building and the room Close to metro station and restaurants. Seriously, I recommend this place

October 2018

Loft sur montreal

Idéalement placé , aux portes de Montréal. Très grand appartement très bien équipé . Tranquille , à 2 pas du métro charlevoix.

October 2018

Jean-Simon D.

A great weekend in Montreal

My girlfriend and I were in Montreal for the whole weekend for an event and the Loft du Centre were perfect for us. The location being right on the Green Line was ideal to commute in the city and staff was immensely accommodating when I realised I had made a mistake booking the parking for the car, or when we required anything. I would go back in a heartbeat.

September 2018

Laurie V.

Un séjour parfait!

J'ai adoré les loft du centre! Très moderne, meubles de qualité, très bien décoré. L'emplacement est parfait à deux pas du métro. Idéal pour week-end en amoureux!

September 2018

Daniel M.

Horrible experience

I arrived at 11:30 pm to the loft to try and get in. I tried to sign up with the August Home app to unlock the door but could never even create a account, I had to stay in a hotel that night. The next day I was told to contact the customer care about getting a door code to manually get in, I was sent 3 different door codes to try and they were all different. On my checkout day I was sent a email letting me know I needed to take the trash out and that the garbage bins were located on the 6th floor of the building, the building only has 2 floors. I didn't book the room since it was done via my company for work but if I had personally booked I would have asked for a full refund.

September 2018

Karine L.

August stay

Tout était parfait, superbe endroit, communications faciles lorsque nous avions des questions. Nous y retournerons, c'est certain!

August 2018

Great stay

The apartment is new and modern with every amenity yu could ask for. It's also close to many great bars and restaurants. Highly recommend

August 2018

Krystal H.

Beautiful loft!

We really enjoyed our stay in the loft! It was beautiful, spacious and comfortable! We enjoyed that there was lots to do in walking distance from the loft. Would recommend!

August 2018

Dilmer H.

Good

thank you very much x the accommodation was fabulous all

May 2018

Anthony S.

Stylish 1 bedroom with 2 flaws

The place looks amazing very stylish and modern. The bed was broken on arrival and we had to fix ourselves. Even still the mattress sank through at parts. Shy of this thr apartment was clean trendy with an amazing balcony.

May 2018
2521 Rue centre , H3K 1J9Montreal,
FAQ
Did you know?

Unlock the answers to your questions and discover more about this unit and more in our Help Center FAQ – your go-to resource for a seamless experience!
Please click on this link to learn more: https://simplissimmo.frontkb.com