Reference

929 (4th)

Bedrooms

4

Bathrooms

4

Accommodates

8

Surface

3498 ft²

Min Stay

1 days

Property Type

Apartment

Check-in

15:00

Check-out

11:00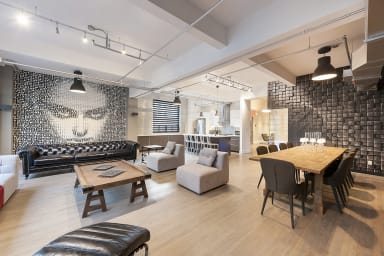 Le Loft Exécutif Simplissimmo
4 bedrooms apartment rental
Living room fully furnished Montréal
Loft 4 bedrooms Holland Hotel
Short term rentals Simplissimmo
Open and furnished kitchen Montreal
King size bed all inclusive bedroom Simplissimmo
Bathroom with spacious bathtub Montreal
Bathroom fully furnished Holland Hotel
Fully furnished bedroom Simplissimmo
Spacious bedroom downtown Montréal
Modern furnished bedroom Montréal
Bathroom with shower apartment for rent
Short term rentals Simplissimmo
Bright and spacious apartment for rent
4 bedrooms loft Simplissimmo
Queen size bed all inclusive bedroom
Bathroom fully furnished Simplissimmo
Living room fully furnished with sofa Montreal
Modern and furnished interior Montreal
Downtown apartment rentals Montreal
Downtown Montreal furnished apartment rentals
Open and furnished kitchen Simplissimmo
Modern and furnished interior Simplissimmo
All inclusive kitchen for a familial stay Montreal
Furnished living room Montreal
Saint Catherine Street rental
Living room fully furnished Montréal
THE EXECUTIVE LOFT
Step into luxury as you enter this magnificent 3500 sq. ft. 4 Master Bedroom suite. Sink into the comfort of King Size memory foam mattresses and opulent sheets, while enjoying additional Smart TVs and private bathrooms. Perfect for the busiest of executives, the Executive Loft boasts a bright conference room with track-lighting and a 60'' Smart TV for presentations. When the work is done, freshen up in the en-suite laundry room and savor a catered meal in the fully equipped kitchen and elegant dining area. The grand salon, with its exposed brick walls, optical murals, accent chairs, and sofas, is further enhanced by a 70" smart TV and wireless home-theater sound system.
THE NEIGHBORHOOD
Located in the heart of downtown Saint-Catherine, the Holland Hotel is a 'Walkers Paradise'. Indulge in a shopping spree, no matter the weather, and sample the many international cuisine options nearby. For a night of fun, visit the festival quarter and experience the famous nightlife of Montreal with your guests.
CITQ number: 271191
Penalty of 100% of the reservation amount will apply if cancellation takes place less than 14 days prior to arrival date.
Read more →
Air Conditioning
Antique
Art Deco
Atypical
Baby bath
Baby crib
Babysitter recommendation
Baroque
Cleaning and disinfection
Clothes Dryer
Coffee Maker
Contactless check-in and check-out
Contemporary
Dishwasher
Dvd Player
Ecological
Elevator
Empire
Energy-efficient devices
Essentials
Fire Extinguisher
Freezer
Fridge
Full Equipped Kitchen
Gated property
Gloves available
Gym
Hair Dryer
Hand sanitizer
Hangers
Highchair
Historical
Hi-tech
Hoover
Internet
Iron
Kettle
Kids Friendly
Linen Towels
Long Term Rentals Available
Masks available
Microwave
Minimalist
No single-use plastic
No single-use toiletries
Organic food & beverages
Oven
Parking Included
Pool Shared
Private entrance
Professionally cleaned
Romantic
Satellite Or Cable
Sauna
Smoke Detector
Smoking Forbidden
Social distancing
Staff wear protective equipment
Stereo System
Telephone
Terrace
Toaster
Tv
Ventilator
Victorian
Vineyard
Washing Machine
Wood
Jordan C.

Amazing Spot for a bigger party of people!

Excellent location. Stunning ambience for a great stay!

July 2023

XIAOWEN W. (

United States

)

Great location with impressive loft!

Very impressive lofts, so much space! Ideal location, can walk to most places!

June 2023

Super loft !

Très beau loft que vois bouderiez comme maison .

May 2023

Nomeriano C.

Wonderful Property and Great Location

We enjoyed our stay at the Holland. The location was great. Close to shopping, restaurants and the Metro (Peel Station). Very comfortable for large groups. The property was spacious and open which made it easy to congregate and converse. I would recommend the Holland Loft!

May 2023

Loft Exécutif

Magnifique endroit en plein centre-ville! Le loft est grand et bien aménagé avec cuisine complète et salle de bain dans chaque chambre. Le contact avec simplissimo est simple et facile. Le loft est juste un peu plus vieux en vrai que ce qu'on voit sur les photos, les meubles sont un peu fatigués et l'accès au loft qui est une entrée commune devrait être plus propre et l'odeur de propane dans l'ascenseur devrait être réparée Mais sinon c'est un endroit fantastique !

March 2023

Appartement surprenant mais idéalement situé.

En termes de communication, tous les mails sont en anglais. Bizarre pour une destination francophone. Le ménage est très moyen. On a retrouvé des chips sur les tables du salon. Trouver une casserolle ou une poele n'est pas simple non plus. Cet appartement est sous équipé au niveau de la cuisine.. Il est aussi surprenant de voir une table de réunion pour 15 personnes dans l'appartement. En revanche, il est idéalement situé rue Ste Catherine. C'est bruyant, mais cela ne dépend pas de l'appartement; ce sont les défauts du centre ville. Le salon est démesuré en termes de grandeur. On n'a jamais réussi à faire fonctionner la télé. 3 télécommandes mais 1 seule chaine en réception. Bizarre. Les chambres sont spacieuses. Dommage qu'il n'y ait pas de volets dans les salles de bains, car comme elles communiquent avec les chambres via une baie vitrée, la chambre est toujours éclairée. Les lits sont spacieux et confortables.

January 2023

Amazing stay at the Executive Loft

We were a group of 7 and had an amazing stay at the executive loft. We had stayed for NYE, and the loft provided all the necessary kitchen equipment to host my group and have a great meal. The place was super clean, extremely spacious, and super well decorated. The one comment is that the floors between lofts are not properly insulated and we were able to hear a very loud party of 30 people above us very late into the night.

January 2023

worth it.

For the work we did in the conference room and the fun and relaxation we were able to have in the loft, this was definitely worth every penny. Very clean and great service too. 10/10 recommend.

September 2022

wow

The decor here is incredible.

September 2022

Quieter than expected

Because of the location we were expecting to hear more noise. Thankfully the rooms are well isolated and we all got a good night's sleep and we're grateful for that. The homeless situation in the streets below is to be expected and that didn't bother us too much. The loft is really big and has everything you can possibly need.

September 2022

Josh M.

Great thank you.

Here for a medical seminar. Stayed on the 4th floor and thoroughly enjoyed the space and the amenities. Your conference room came in handy more than once. Thank you for the hospitality. We are looking forward to staying with you again. Have a wonderful day.

September 2022

John P.

thank you

loved the loft and the service was quick.

September 2022

In love with the decor.

Who's your decorator? Genuinely interested.

September 2022

Louise R. (

United Kingdom

)

So much to do.

We used everything in the loft except the kitchen. We were here for work and appreciated the conference room. No one felt like cooking and we all agreed to takeout and eating out which was great because the hotel is surrounded by restaurants. We loved it.

September 2022

Location is key

Loft is located a few walking minutes away from head office. We got to host and have our meetings from the conference room instead of the office which was great. Booked this for our international clients staying with us a few days. Great place and they loved it.

September 2022

Michael A.

Wish we could come back.

Don't think we will be back in Montreal again. If in a few years I'm back, I'll look for this place.

September 2022

work and play

Big conference room, big rooms, big living room. Got some work done and enjoyed the space thx

September 2022

Conference room

Came for business and the conference room was what sold us. Great relaxing work environment. Half of the team dressed up and the other half were in sweats. We loved our time here.

September 2022

Dave M.

Amazing Space

The best space you could hope to find for a trip to see a Habs game with the boys on a Saturday night. Would also serve well for work team offsites. JP and Kareem very professional staff. Obviously it's Montreal and on weekends in the heart of centre-ville things will get loud, however the staff maintain presence to keep respect and courtesy so that you also get to sleep well! Tip: We stayed in unit on 4th floor, which was really great. Nespresso, 5 baths, 4 showers and a huge board room. 8 ppl can stay max and 4 visitors after 11pm. The third floor loft looked to have a walk out patio that would be epic in the summer, literally doubling the space. That's where I'll be next time if possible. Merci! Tres bien!

March 2022

There's much better place available downtown

This place honestly sucks Old furniture, old tv that btw is only working in the living room All room tv's aren't working Floors are dirty, windows are dirty, fridge, oven Sound system Sonos is not working, most of speakers are defective Looks like owners invested money at the beginning but never did again Bring your own toilet paper because there's one roll in each bathroom Ice machine in the fridge doesn't work

December 2021

Worst stay ever

Rude, annoying, arrogant staff

November 2021

Fantastic surprise

The space is fantastic. Staff contact was readily available. Unit was spacious and comfortable. Great location - shopping, restaurants, museums, malls, train station, and buses all within 1-10min walk. Truly felt like a resident experience. Convenient grocery - within 4 block distance with affordable and timely delivery. Will definitely return.

March 2020

1 night stay

Everything was great!

February 2020

Awesome Stay

We couldn't have hoped for more on our business retreat. We had 2 lofts. Alex was fantastic to deal with.

February 2020

Justin M.

Penthouse

I very like my experience

December 2019

Fantastic place; perfect location!

This loft was a perfect place for our staff meetings. Plenty of room to work without feeling like we were stepping on each other. The floor plan was perfect for us, and we'll definitely be back.

October 2019

Great experience

WOWWWW loved it, Thanks again

September 2019

Loft executive Montreal

Very Nice stay at Simplissimo Loft Montréal. We had the executive loft for 1 night (4th floor). Alex was there to welcome us. Very friendly and at our disposal to explain how this very well equipped loft works. The location is ideal, in the heart of Montreal. A downside: the loud noise of the air conditioning which made it difficult to use the last room. Alex was at our disposal during the stay. Very helpfull and easy experience. Thank you !

August 2019

Big and beautiful

Our family wanted to stay downtown and usually settle for adjoining rooms in a hotel. Before entering the loft at Holland Hotel we had high expectations due to the pictures. Our thoughts were, "surely those images we of a common area and not the actual loft." It turns out the reality exceeded our expectations and we stayed in a clean, quiet and very large four bedroom loft right at Ste Catherine and Stanley. It was a fantastic stay and everyone enjoyed the stay. We hosted a dinner for 12 people and it still felt empty. Great place. Friendly staff. We would stay again.

August 2019

Nancy R.

Excellent!

Our stay in the Executive Loft was excellent. There is tons of room for everyone, the living area is sunny and bright, and the kitchen was well equipped. The location is excellent and convenient to everything. The parking garage around the corner on Stanley was cheap, so we never had to bother with our car. Alex, the representative, was easy to reach and readily replied to my questions. We had a problem the first night with one of the air conditioners in one of the bedrooms, but it was quickly fixed the next day. The only suggestion I have is for a few upgrades. The shower faucets were old and difficult to adjust, and the sealant around the showers needs to be replaced. Also, the wooden floor needs some areas fixed, but I get the feeling that the place is an old factory building, so the floors didn't really bother me because they added to the charm. For a place that was essentially so beautiful, fixing up the bathrooms seems a no-brainer to me. All that said, the place definitely deserves 5 stars.

July 2019

This is a party loft - not for business

Very spacious and centrally located. Bathrooms were not very clean and sheets and pillows were thin. Wifi did not work throughout the loft, despite attempts my management to fix this. We were there for business trip. The boardroom doesn't even have and outlet in the centre of the table or a landline for conference calls. The people staying above us were having a party for the raptors game- they were moving furniture, stomping the floors and screaming- completely classless. This is a perfect spot for younger groups looking to party but not for us. Good customer service, although our issues could not be addressed during our stay.

June 2019

Noah H.

Awful service

We had dirty towels that we stiff and stained. The bedding and pillows were very uncomfortable. One of the bathroom sinks did not drain. There are nails sticking out of the floor that I ripped my socks on. The showers had very hot water and only very hot water no cold water. I will not be staying here again or recommending it to anyone.

February 2019

Elizabeth C.

Christmas in the city with family

Our stay at Holland Hotel over the Christmas holiday was wonderful. Close to shopping, restaurants and theaters and Uber friendly to other places we ventured. The space is enormous and allowed everyone to have their own space yet get together as a family for games and Christmas movies on TV in the evening. Comfortable beds, nice up to date bathrooms, laundry unit in the apartment. Alex was at the ready, if needed. Highly recommend staying here to anyone visiting Montreal.

December 2018

Never Again

The location is great. The place spacious and clean but our experience on Friday and Saturday nights was that it was party central. Had to call the police at 4 am to shut down the party going on on the floor above us. Tried to call the emergency contact numbers before the police but could only leave a voicemail on one and the mailbox was full on the other one. Was told there was another party book on Saturday night but it wouldn't be as out of control. Not so. Had to intervene to have it shutdown at 3 am. Other things that could be improved upon are having a drip coffee maker. We bought coffee but couldn't use it and had to do a coffee run each morning. There were hardly any spoons and less than 1/2 roll of toilet paper in each bathroom. We noted this on our initial walk through. Two phone calls and 3 hours later both were delivered from the Dollar Store in insufficient amounts. We all left Holland Lofts exhausted and many with colds due to lack of sleep. None of us will ever stay there again!

October 2018

I will come back

Amazing place in the city center of Montreal. Beautiful loft, close to shops, restaurants and amenities. Ideal for a family for a couple of days in Montreal.

July 2018

Noel F.

Great spot!

Great spot - would definitely stay again. We had 7-8 people and it fit very comfortably. Yan was very accommodating as well and helpful! Thanks

March 2018

Margaret L.

Perfect spaxe

Just loved everything about it — the location, the sophistication , the design, the amenities. Just perfect..

March 2018
1121 Sainte-Catherine West , H3B 5K2 Montreal, Quebec
FAQ
Did you know?

Unlock the answers to your questions and discover more about this unit and more in our Help Center FAQ – your go-to resource for a seamless experience!
Please click on this link to learn more: https://simplissimmo.frontkb.com