Réference

929 (4th)

Chambres

4

Salles de bain

4

Capacité d'accueil

8

Surface

3498 ft²

Séjour minimum

1 jours

Type de propriété

Appartement

Arrivée

15:00

Départ

11:00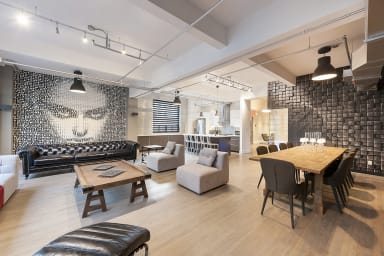 Le Loft Executif Simplissimmo
Loft en centre ville à louer
Appartement 4 chambres à louer
Salon entièrement meublé Montréal
Loft 4 chambres à l'Hôtel Holland
Location court terme Simplissimmo
Cuisine toute équipée Montréal
Location loft courte durée
Lit king size chambre tout inclus Simplissimmo
Salle de bain avec baignoire spacieuse Montréal
Salle de bain meublée Hotel Holland
Chambre toute équipée Simplissimmo
Chambre spacieuse centre ville Montréal
Chambre moderne tout inclus Montréal
Salle de bain avec douche appartement à louer
Loft meublé centre ville Montréal
Location courte durée Simplissimmo
Lumineux et spacieux appartement à louer Montréal
Salle de bain toute inclus
Loft 4 chambres Simplissimmo
Lit queen size chambre tout inclus
Salle de bain meublée Simplissimmo
Salon tout équipé et spacieux avec canapé Montréal
Intérieur moderne et équipé Montreal
Centre ville dynamique unité à louer
Appartement meublé à louer centre ville Montréal
Cuisine ouverte et équipée Simplissimmo
Intérieur spacieux location appartement Montreal
Cuisine équipée location coute durée
Salon entièrement meublé Montréal
Location appartement rue sainte catherine
Numéro CITQ: 271191
L'espace de vie
Situé au 4ème étage de l'immeuble, Le Loft Exécutif est accessible grâce à un ascenseur privé et offre une capacité d'accueil de 16 personnes.
Ce spacieux loft ultra moderne de 3 500 pi2 est situé au cœur du centre-ville de Montréal sur la rue Sainte-Catherine. Composé de 4 chambres et de 4 salles de bains et une salle d'eau.
Étage privé • Surface XXL • Hauteur de plafond 13 pieds • Système d'éclairage de qualité gradateur • Cuisine tout équipée • Système de son sans-fil Sonos • Smart TV 70" • Salle de réunion intégrée
L'immeuble
Le projet de l'Hôtel Holland est situé dans l'arrondissement le plus achalandé de Sainte-Catherine. Des boutiques sont accessibles au 1er étage tandis que le 4e étage de l'immeuble est entièrement occupé par Le Loft Exécutif signé Simplissimmo. Celui-ci offre à sa clientèle un ascenseur sécurisé. Le projet vous permet de bénéficier du calme absolu en plein secteur huppé grâce à la qualité d'insonorisation de type M4 des murs.
Le quartier
L'artère de la rue Sainte-Catherine est reconnue pour son effervescence en matière de restaurants, de bars et de boutiques. Situé dans le quartier du Mille Carré Doré, vous êtes à distance de marche de tout ce que Montréal a de plus impressionnant à offrir. Que vous ayez envie d'aller déjeuner (Universel) ou d'un bon café (Café Myriade), d'aller prendre un verre avec les portugais au Ferreira Café ou avec les britaniques à la Taverne Square Dominion, de manger de la cuisine indienne (Le Taj), canadienne (Europea) ou américaine (Deville Dinerbar), la liste est longue ! Même réalité pour les boutiques comme OGILVY, BCBG, JOBLOOM… les centres d'achats Eaton et Montréal Trust, les banques, les musées, les chocolateries… De nombreuses activités divertissantes tels que le Laser Quest, les salles de cinéma de la Banque Scotia ou encore les réputés bars de danseuses. Dans le Mille Carré Doré, il y en a pour tous les goûts.
En cas de non respect des termes et conditions du contrat, le montant total du dépôt de sécurité sera retenu.
Pénalité de 100% du montant de la reservation sera applicable si l'annulation à lieu moins de 30 jours avant la date d'arrivée.
+ Plus
Air conditionné
Antique
Art Déco
Atypique
Baignoire bébé
Lit bébé
Recommandation de babysitter
Baroque
Ménage et désinfection
Sécheuse
Machine à café
Arrivée et départ sans contact
Contemporain
Lave-vaisselle
Lecteur DVD
Écologique
Ascenseur
Empire
Appareils à basse consommation
Produits de base
Extincteur
Congélateur
Réfrigérateur
Cuisine équipée
Propriété clôturée
Gants disponibles
Salle de gym
Sèche-cheveux
Gel hydroalcoolique
Cintres
Chaise haute
Historique
Hi-tech
Aspirateur
Internet
Fer
Bouilloire
Adapté aux enfants
Draps et Serviettes
Location longue durée possible
Masques disponibles
Four micro-ondes
Minimaliste
Pas de plastique à usage unique
Pas d'article de toilette individuel
Aliments et boissons bio
Four
Parking Inclus
Piscine commune
Entrée privée
Ménage professionnel
Romantique
Satellite Ou Cable
Sauna
Détecteur de fumée
Interdiction de fumer
Distanciation physique
Personnel avec équipement de protection
Système Stéréo
Téléphone
Terrasse
Toaster
TV
Ventilateur
Victorien
Domaine viticole
Lave-linge
Bois
Dave M.

Amazing Space

The best space you could hope to find for a trip to see a Habs game with the boys on a Saturday night. Would also serve well for work team offsites. JP and Kareem very professional staff. Obviously it's Montreal and on weekends in the heart of centre-ville things will get loud, however the staff maintain presence to keep respect and courtesy so that you also get to sleep well! Tip: We stayed in unit on 4th floor, which was really great. Nespresso, 5 baths, 4 showers and a huge board room. 8 ppl can stay max and 4 visitors after 11pm. The third floor loft looked to have a walk out patio that would be epic in the summer, literally doubling the space. That's where I'll be next time if possible. Merci! Tres bien!

Mars 2022

There's much better place available downtown

This place honestly sucks Old furniture, old tv that btw is only working in the living room All room tv's aren't working Floors are dirty, windows are dirty, fridge, oven Sound system Sonos is not working, most of speakers are defective Looks like owners invested money at the beginning but never did again Bring your own toilet paper because there's one roll in each bathroom Ice machine in the fridge doesn't work

Décembre 2021

Worst stay ever

Rude, annoying, arrogant staff

Novembre 2021

Fantastic surprise

The space is fantastic. Staff contact was readily available. Unit was spacious and comfortable. Great location - shopping, restaurants, museums, malls, train station, and buses all within 1-10min walk. Truly felt like a resident experience. Convenient grocery - within 4 block distance with affordable and timely delivery. Will definitely return.

Mars 2020

1 night stay

Everything was great!

Février 2020

Awesome Stay

We couldn't have hoped for more on our business retreat. We had 2 lofts. Alex was fantastic to deal with.

Février 2020

Justin M.

Penthouse

I very like my experience

Décembre 2019

Fantastic place; perfect location!

This loft was a perfect place for our staff meetings. Plenty of room to work without feeling like we were stepping on each other. The floor plan was perfect for us, and we'll definitely be back.

Octobre 2019

Great experience

WOWWWW loved it, Thanks again

Septembre 2019

Loft executive Montreal

Very Nice stay at Simplissimo Loft Montréal. We had the executive loft for 1 night (4th floor). Alex was there to welcome us. Very friendly and at our disposal to explain how this very well equipped loft works. The location is ideal, in the heart of Montreal. A downside: the loud noise of the air conditioning which made it difficult to use the last room. Alex was at our disposal during the stay. Very helpfull and easy experience. Thank you !

Août 2019

Big and beautiful

Our family wanted to stay downtown and usually settle for adjoining rooms in a hotel. Before entering the loft at Holland Hotel we had high expectations due to the pictures. Our thoughts were, "surely those images we of a common area and not the actual loft." It turns out the reality exceeded our expectations and we stayed in a clean, quiet and very large four bedroom loft right at Ste Catherine and Stanley. It was a fantastic stay and everyone enjoyed the stay. We hosted a dinner for 12 people and it still felt empty. Great place. Friendly staff. We would stay again.

Août 2019

Nancy R.

Excellent!

Our stay in the Executive Loft was excellent. There is tons of room for everyone, the living area is sunny and bright, and the kitchen was well equipped. The location is excellent and convenient to everything. The parking garage around the corner on Stanley was cheap, so we never had to bother with our car. Alex, the representative, was easy to reach and readily replied to my questions. We had a problem the first night with one of the air conditioners in one of the bedrooms, but it was quickly fixed the next day. The only suggestion I have is for a few upgrades. The shower faucets were old and difficult to adjust, and the sealant around the showers needs to be replaced. Also, the wooden floor needs some areas fixed, but I get the feeling that the place is an old factory building, so the floors didn't really bother me because they added to the charm. For a place that was essentially so beautiful, fixing up the bathrooms seems a no-brainer to me. All that said, the place definitely deserves 5 stars.

Juillet 2019

This is a party loft - not for business

Very spacious and centrally located. Bathrooms were not very clean and sheets and pillows were thin. Wifi did not work throughout the loft, despite attempts my management to fix this. We were there for business trip. The boardroom doesn't even have and outlet in the centre of the table or a landline for conference calls. The people staying above us were having a party for the raptors game- they were moving furniture, stomping the floors and screaming- completely classless. This is a perfect spot for younger groups looking to party but not for us. Good customer service, although our issues could not be addressed during our stay.

Juin 2019

Noah H.

Awful service

We had dirty towels that we stiff and stained. The bedding and pillows were very uncomfortable. One of the bathroom sinks did not drain. There are nails sticking out of the floor that I ripped my socks on. The showers had very hot water and only very hot water no cold water. I will not be staying here again or recommending it to anyone.

Février 2019

Elizabeth C.

Christmas in the city with family

Our stay at Holland Hotel over the Christmas holiday was wonderful. Close to shopping, restaurants and theaters and Uber friendly to other places we ventured. The space is enormous and allowed everyone to have their own space yet get together as a family for games and Christmas movies on TV in the evening. Comfortable beds, nice up to date bathrooms, laundry unit in the apartment. Alex was at the ready, if needed. Highly recommend staying here to anyone visiting Montreal.

Décembre 2018

Never Again

The location is great. The place spacious and clean but our experience on Friday and Saturday nights was that it was party central. Had to call the police at 4 am to shut down the party going on on the floor above us. Tried to call the emergency contact numbers before the police but could only leave a voicemail on one and the mailbox was full on the other one. Was told there was another party book on Saturday night but it wouldn't be as out of control. Not so. Had to intervene to have it shutdown at 3 am. Other things that could be improved upon are having a drip coffee maker. We bought coffee but couldn't use it and had to do a coffee run each morning. There were hardly any spoons and less than 1/2 roll of toilet paper in each bathroom. We noted this on our initial walk through. Two phone calls and 3 hours later both were delivered from the Dollar Store in insufficient amounts. We all left Holland Lofts exhausted and many with colds due to lack of sleep. None of us will ever stay there again!

Octobre 2018

I will come back

Amazing place in the city center of Montreal. Beautiful loft, close to shops, restaurants and amenities. Ideal for a family for a couple of days in Montreal.

Juillet 2018

Noel F.

Great spot!

Great spot - would definitely stay again. We had 7-8 people and it fit very comfortably. Yan was very accommodating as well and helpful! Thanks

Mars 2018

Margaret L.

Perfect spaxe

Just loved everything about it — the location, the sophistication , the design, the amenities. Just perfect..

Mars 2018
1121 Sainte-Catherine West , H3B 5K2 Montreal, Quebec
Tenant Check-in

Simplissimmo will happily welcome tenants to the apartment on the day of arrival! Check-in is usually after 3PM.

Tenant Check-out

Simplissimmo meets with tenants on the day of departure to collect keys, verify the state of the unit, and bid a fond farewell so you never have to worry. Check-out is usually at 12PM.

No extras

Once HP & Associés have rented your property, there are absolutely no hidden fees for your tenants. Hydro, electricity, cable, internet and more, everything is included! Except for Holland Hotel's Lofts and the following periods, high season prices apply: Christmas and New Year period (dec-20 to Jan-2nd/ each year), Grand Prix of Montreal (9June 9th to 13th, 2016), Osheaga Festival (july 29th to 31st, 2016). (Presidential Loft: 2,792 $ / Executive Loft: 2,392 $)

In the heart of the city!

Being in the center of the action is as simple as picking a neighborhood! Downtown, Plateau, International District or Old-Montreal, the city has it all.
Home cooking

All units under Simplissimmo's management should offer fully-equipped kitchens complete with ultra-modern appliances, perfect for the gourmet chef!

Sleep tight

Properties under Simplissimmo's management are mostly furnished with memory foam mattresses that adapt to body's natural shape and temperature, for the comfort of the tenants!

Of course it's included

All properties under Simplissimmo's management should provide full sets of high-quality cotton bed & bath linens.

Pet friendly

Let us know if you accept pets in your unit.