Reference

3201

Bedrooms

2

Bathroom

1

Accommodates

2-4

Surface

1150 ft²

Min Stay

1 days

Property Type

Apartment

Check-in

15:00

Check-out

11:00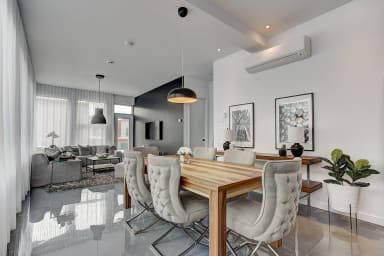 WELCOME HOME
Be lulled into a deep sleep while laying on any of the memory foam mattresses with luxe sheets in the Master and guest bedroom and begin your day with a warm bath or invigorating rain shower. Start by sorting through your clothes in the walk-in closet and throw in a load to wash in the in-suite laundry. Meanwhile, take advantage of the marble island and fully stocked kitchen and create culinary masterpieces to enjoy on the hardwood dining table for four. Don't forget to indulge in a comforting Nespresso coffee out on the terrace before cuddling on any of the soft couches in the living room so you can watch an endless rerun of Friends on the 50'' Smart TV.
THE NEIGHBORHOOD
Conveniently located near the historic Lachine Canal, embody your best nature-loving self and enjoy the many outdoor activities available year-round. Get your steps in, cross the canal and visit Montreal's popular Atwater Market famous for its Art Deco-style Architecture and among the most beautiful buildings in the city. With every passing season, you will find an array of butcher shops, cheesemongers, horticultural producers and market gardeners just waiting to serve and delight you.
CITQ number: 297941
Penalty of 100% of the reservation amount will apply if cancellation takes place less than 5 days prior to arrival date.
Read more →
24 Hour Check-in
Air Conditioning
Antique
Art Deco
Atypical
Baby bath
Baby crib
Babysitter recommendation
Baroque
Cleaning and disinfection
Clothes Dryer
Coffee Maker
Contactless check-in and check-out
Contemporary
Dishwasher
Ecological
Elevator
Empire
Energy-efficient devices
Essentials
Freezer
Fridge
Full Equipped Kitchen
Gated property
Gloves available
Gym
Hair Dryer
Hand sanitizer
Hangers
Heating
Highchair
Historical
Hi-tech
Hoover
Ice Maker
Internet
Iron
Kettle
Linen Towels
Masks available
Microwave
Minimalist
No single-use plastic
No single-use toiletries
Organic food & beverages
Oven
Parking Included
Pool Shared
Private Car Park
Private entrance
Professionally cleaned
Romantic
Satellite Or Cable
Sauna
Self Check-in
Smoke Detector
Social distancing
Staff wear protective equipment
Terrace
Toaster
Tv
Victorian
Vineyard
Washing Machine
Wood
The Best Stay!!!

I had an amazing time in the Simplisssimo rental. Very spacious and beautiful amazing modern amenities. The host is extremely kind and forthcoming with all information. They made sure my stay was effortless and accommodating. Whenever I come to Montreal I will be staying with them every time.

January 2023

Nancy L.

One of our best stays (Room 201)

Before our 3-night stay in mid November, I read quite a few reviews that mentioned about bad smell from the trash bins at building entrance / stained furniture & curtain / dirty floor & tabletop / hair in beds / noise / weak Wi-Fi / toilet not secured to the ground, so we were very skeptical, but luckily our apartment (Room 201) turned out to be just perfect! The Dollarama store right below the apartments makes it very easy to locate the apartment even at night. Contactless check-in was super easy too - one code for the main entrance and one for the apartment. The apartment is so spacious it feels bigger than it appears in the photos. Both bedrooms are of very good size too with large closets. The kitchen includes everything you need for cooking, would be good if they provide a kitchen (cloth) towel though. The washing machine and dryer did a very good job too! I believe 2-3 detergent tablets were included. There's a fairly large balcony too, but we couldn't use it during our stay as it was completely covered by snow. The bathroom has the best jet shower system we've ever had in our travels. Nothing better than a hot strong shower when it's snowing outside. Just a few steps from the apartment is Clarke Cafe, which is highly recommended. They have really good coffee/sandwich/Portuguese egg tart. There are also a few smaller eateries on the same block of the apartment. Within 10-15 minute walk you can get to the Atwater Market and lots of shops/restaurants on Notre-Dame Street. The apartment is also only about 3 minute walk to the Tube (Green) Charlevoix Station, which is only a few stops from downtown Montreal. If I really have to pick on something, I wish the dining / living area could have been much brighter. And also the TV is hard to operate - would appreciate if there's instructions provided. Other than that, we highly recommend this apartment, and will definitely come back if we're ever in this area again!

November 2022

Nice stay in Montreal

This is a very modern appartment with industrial fashion. I had a great stay here and loved seeing this part of town! Definitely recommend to anyone its a really nice place and I travel a lot.

November 2022

Jean-Francois O. (

Canada

)

Dirty Dirty Dirty

The room was so dirty it was obvious that no true cleaning has been done for a long time. Surfaces, floor, walls, toilet, couch and mirrors were disgusting. The only thing they had cleaned prior to our arrival was the bed sheets (thank god). Never again.

April 2022

Une bonne expérience

J'ai aimé le loft. Je le recommande vivement

January 2022

Sergio B.

Stay

Beautiful place very comfortable and clean… the balcony has a very nice view and well located.

July 2021

Sandy J.

Loft Du Centre

This is a wonderful and pleasant stay. You have everything you can ask for, very clean and neat which make your stay relaxing and comfortable. Thank you for this fantastic stay.

April 2021

Olaya E.

Loft

Bel appart propre bien situé

April 2021

Nida D.

Clark

We were more than delighted with the unit. Very spacious throughout. Bathroom was also very modern and excellent shower. Great location with special cafes very close. But cooking facilities in unit were more than adequate with well supplied cooking and eating utensils. Also Alex was always readily available via text message to answer questions or to respond to concerns.

February 2020

Séjour urbain

Très beau loft, bel emplacement, près de tous les services. Loft très propre. À refaire.

January 2020

Nely M.

Is beautiful

The apartment Is a very comfortable apartment and is very well equipped

December 2019

Great stay in unit 201

Beautiful place. Incredibly spacious. Everything is comfortable. Easy walk to the fabulous Atwater Market. Recommend Clark cafe next door. Excellent coffee and pastry!

December 2019

commentaire positif

Nous avons beaucoup apprécié notre séjour à votre condo, tout était selon notre espérance. Nous avons aimé l'emplacement, la tranquillité, la propreté. Nous aurions aimé avoir des serviettes pour essuyer la vaisselles, seul point négatif, nous allons surement relouer un jour prochain. Merci

November 2019

We will definetely come back!!!!

Super clean and spacious and cant hear the next doors. Love the decor. I would recommend to anyone.

September 2019

Megan S. (

United Kingdom

)

Ideal property in Montreal

The property was clean, comfortable and in an ideal location. 2 minute walk from Charlevoix Metro, bus stops on the same street and bike stations if you fancied cycling into the city. It was a 5 minute walk from the main supermarket and there were nice, local takeaways and restaurants. The amenities in the property were ideal including washing machine/dryer and kitchen appliances including toaster, microwave, cooker/oven and coffee machine. I wouldn't hesitate to stay here again or recommend to a friend.

September 2019

Philippe-Andre M.

EASY TO ACCESS

Easy check-in with access codes, I recommend to anyone looking to make the trip to Montreal.

September 2019

Dev S.

Bon séjour

L'unité était propre, Simplissimmo était réactif sur nos demandes, merci

September 2019

Great experience

The loft itself was beautiful, modern and spacious.

September 2019

AMAZING

Very clean and modern inside.

September 2019

Quality appartement, modern, spotless, very spaceous

The code system for the room and front door worked perfectly, we received the information in advance. The apartments are above the Dollarama store. The appartement we had (201) is very modern, luminous, very very clean and spacious. We could have lived there easily for months on end, let alone 3 days. Even if limited to 4 people (2 rooms with king size beds) you could dance in this place. There is even a large terrace. Even if very luminous, the good blinds and powerful air conditioning meant that we were very comfortable, and the place has very good sound insulation, you can't hear any noise at all from outside. There is loads and loads of wardrobe space, the bathroom and shower are great with great shower gel and shampoo. In terms of equipment, the dishwasher, washing machine and clothes dryer were much appreciated, if they could have some clothes detergent available, like the had for the dishwasher that would be great. The front door of our apartment was not easy to open it needy a hefty push or pull, they may need to adjust that before someone pulls the handle off. Two of the dinning room chairs were broken, we avoided sitting on them, the management should consider changing or fixing those. The apartment is around 40 mins walk away from Montreal City centre. We walked up to Rue Notre-Dame and then to the centre. The neighbourhood is OK, it seems to be a mix between an old industrial area to the west which has been converted into a more residential area now towards the east, towards Montreal city centre. We enjoyed our stay here, we'd go again if we return to Montreal.

August 2019

Modern big apartment

We really enjoyed our stay here, except for the parking ticket. This is a big modern apartment where you can stay and visit Montreal. De tube is nearby and the bus drives through the street. A grocery store is within walking distance. Just minor things were not great: the towel rack in the bathroom doesn't do its job. Two chairs are not reliable to sit on. And one of the kitchen cabinets grinds against another. The shower and beds are really great! Thanks for letting us stay here.

July 2019

NITIN D.

Broken furniture in apartment

Broken chairs in apartment

July 2019

Monetta L.

Great

We were in Montreal for the Jazz Festival and truly enjoyed our stay. Lofts Du Centre was an amazing place. I would truly recommend anyone visiting Montreal to stay at this location.

July 2019

Stuart

The accommodations were excellent. Sparkling clean. I would highly recommend this place.

June 2019

Jason B.

6 out of 10

Apartment was in a convenient location located near the subway. We were disappointed with how when we arrived at the appartment we found the garbage bins were located inside the front entrance and the smell was terrible. Also because we had the closest apartment to the front the smell made it's way inside our room stinking the place up. Also when we arrived we found the countertops were still dirty from previous guests.

April 2019

Lofts

Très beau lofts recommandé classe propre belle place

March 2019
2521 rue centre , H3K 1J9 Montreal,
FAQ
Did you know?

Unlock the answers to your questions and discover more about this unit and more in our Help Center FAQ – your go-to resource for a seamless experience!
Please click on this link to learn more: https://simplissimmo.frontkb.com