Réference

1204

Chambres

1

Salle de bain

1

Capacité d'accueil

2

Surface

753 ft²

Séjour minimum

1 jours

Type de propriété

Appartement

Arrivée

15:00

Départ

11:00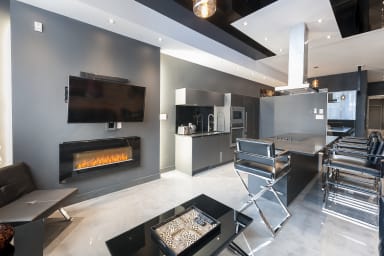 Fireplace, smart TV with cable - open concept kitchen
Fully equipped kitchen - cooking top, oven, microwave, toaster, double sink
Fully equipped kitchen - utensils, pots and pans available inside cabinets
Kitchen island with cooking top and eating area
Bright living room with big windows. Nice brick wall
stylish living space with brick wall
bedroom glass wall and hallway
Smart TV in the bedroom. Partially glass wall in the corner
Double sink in the washroom, nice long mirrors
shower area - multiple jets shower
washer, dryer, oven, microwave
King size bed - minimalist decor
BIENVENUE CHEZ VOUS
Demeurez là où votre confort est honoré. Des éviers doubles pour vos articles de toilette et des douches à effet de pluie doubles ont été installés pour que personne n'ait à se battre pour le monopole de l'eau. Une fois bien rafraîchi, rendez-vous dans la chambre principale ou vous serez bercé par le matelas à mémoire de forme King Size et par les draps de luxe pour une nuit de sommeil profond. Commencez votre matinée avec une tasse de Nespresso de mettre une charge à laver dans votre buanderie. Ensuite, préparez le diner dans votre cuisine tout équipée avec îlot ou commandez et créez l'ambiance en allumant la cheminée du salon pour enfin vous asseoir et regarder un film classique sur la télévision intelligente.
LE QUARTIER
Parcourez les nombreux sentiers du Parc Mont Royal et montez au sommet du Belvédère Kondiaronk, connu sous le nom de "the lookout", qui offre une vue de Montréal à couper le souffle. Visitez le Salon de Thé CHAI Tea Lounge et laissez vos papilles vous transporter aux quatre coins du monde grâce à leur vaste sélection de thés ou offrez-vous une nuit lumineuse d'art et de musique à la Place des Arts.
Numéro CITQ: 294694
Penalty of 100% of the reservation amount will apply if cancellation takes place less than 5 days prior to arrival date.
+ Plus
Arrivée 24/24
Air conditionné
Antique
Art Déco
Atypique
Baignoire bébé
Lit bébé
Recommandation de babysitter
Baroque
Ménage et désinfection
Sécheuse
Machine à café
Arrivée et départ sans contact
Contemporain
Lave-vaisselle
Lecteur DVD
Écologique
Ascenseur
Empire
Appareils à basse consommation
Produits de base
Congélateur
Réfrigérateur
Cuisine équipée
Propriété clôturée
Gants disponibles
Salle de gym
Sèche-cheveux
Gel hydroalcoolique
Cintres
Chaise haute
Historique
Hi-tech
Aspirateur
Internet
Fer
Bouilloire
Adapté aux enfants
Draps et Serviettes
Location longue durée possible
Masques disponibles
Four micro-ondes
Minimaliste
Pas de plastique à usage unique
Pas d'article de toilette individuel
Aliments et boissons bio
Four
Parking Inclus
Piscine commune
Entrée privée
Ménage professionnel
Romantique
Satellite Ou Cable
Sauna
Arrivée autonome
Détecteur de fumée
Interdiction de fumer
Distanciation physique
Personnel avec équipement de protection
Téléphone
Terrasse
Toaster
TV
Ventilateur
Victorien
Domaine viticole
Lave-linge
Bois
Justin S.

New York style living in Montreal.

Amazing location and style. Felt like an upscale apartment rather than a hotel.

Avril 2023

Nathan F.

Very disappointing

Broken fridge. TV in bedroom non-functional. Had to throw food out since we had no working fridge. Support offered: turn devices on and off, that should fix the problem. It did not. Laughable. We booked this apartment because it had a full kitchen (allegedly). With the fridge being broken, this point was moot. Still awaiting a response about my request for a 50% refund after speaking with multiple reps and filling out forms. There was nothing 'simple' in dealing with Simplissimmo.

Mars 2023

Séjour

Tres beau comme endroit dans les passages et à l'intérieur de la chambre bien placé 👌

Décembre 2022

Mixed blessing

Lofts are spacious, well designed and the kitchen well equipped. Showers and beds are top notch. The concept is a good one with significant appeal, if managed well. Could be an ideal residence for a week's stay. While neighborhood to the south is lovely (I used to live there), Avenue du Parc itself is challenging and sad as it has become a homeless refuge, with some abusive and aggressive behavior from what appears to be a largely indigenous population. Not the fault of the property, but will be a significant issue for some, My stay was compromised by malfunctioning equipment and subsequent relocation to another unit. While staff were helpful with no one on site coordination was burdensome. Requests for some adjustment to charges have to date been ignored, thus compromising any value to choosing to stay here, since one night was ruined and a good portion of the second was taken dealing with the equipment failure. Perhaps a hotel would be a better option for a short stay.

Septembre 2022

Beautiful place but there is an issue

The place was spotless, very modern and cool vibe in the unit. Massive bed and amazing shower. However, a prominent issue was evidently the Large amounts of homeless people surrounding the apartment building, it's not just on that street, the homeless were right in front of our door as we entered the apartment . On top of this, my girlfriend and I heard someone try to enter our unit at 3 am, our unit could have been mistaken for another room, nonetheless it was extremely frightening. Overall, homeless and area brings the value of place down to three stars in our experience

Juillet 2022

Jean-Marc L.

Belle place !!

Ont a aimés, nôtre séjour!! C'est gtand et lit confortable.

Avril 2022

Langue française

Toute la correspondance reçue par courriel, la suite des chiffres agissant comme clés, les règles à suivre et même la demande de rétroaction TOUT EST EN ANGLAIS, avec aucune icône proposant de lire les communications dans la langue de la Métropole. C'est outrageant. Surprise : ici, une touche française, pour les étoiles, pour l'image, la renommée...

Mars 2022

darnelle n.

I love it!

Great location and great spot. At least 20-30 homeless people outside the building which left me feeling a little anxious but they were polite.

Août 2021

Nick W.

Great stay

Clean space. No issues with owner. Great location (about a 10 minute walk from st Catherine street). Overall great experience

Juillet 2021

Tracy R.

Beautiful place and bathroom!

Only downside is the noise from the alley if u choose to have the window open but it's not necessary with the ac unit.

Juillet 2021

Arièlle G.

Très bien

Belle emplacement et proche de tout! Bonne communication et rapide je vous recommandes

Juin 2021

Francoise F.

AH ! La vie de luxe et de modernité

L'appartement était identique aux photos présentées sur le site. La décoration est faite avec goût. L'entrée dans l'édifice s'est faite rapidement. La salle de bain et particulièrement la douche est vraiment très bien. Je suis très heureuse de mon choix. Si j'ai la chance, je retournerai une deuxième fois à cet endroit. F. Forget

Février 2021

EXCELLENTO

It was really nice but lot of noise from neighbors but we didn't mind. The area was nice and well placed. The inside was just magnificent and the bathroom was hella lit. Thanks!

Décembre 2020

Jeff K.

Jeff Kirby

A well equipped, spacious apartment with a nice sense of (design) flair. Luxurious bathroom is a bonus.

Décembre 2020

Fahad A.

Very classy

Get this apartment, it is so nice and modern. So comfortable and clean. Netflix everywhere, living room and bed room. The bed was so clean and comfy. The best experience ever.

Décembre 2020

Flavia N.

Amazing

Clean. Beautiful and super comfortable. Place. Would be back for sure

Novembre 2020

Jakub C.

Great Apartment and Experience

Nice apartment and a great experience overall. Everything went really smoothly with no issues. Not to be insensitive, but the only issue was the homeless would crowd the entrance to the building at night causing issues to enter the building. Other than that, everything was perfect.

Novembre 2020

Samantha K.

Good stay

Really enjoyed my stay here! Althoughm if you have a car just know parking is about a block away and 20$ a day!

Août 2020

Randy S.

Absolutely stunning!

We got in to town late... After wandering around for a while trying to find the entrance, my girlfriend and I followed the instructions written on the email, found our loft and when we opened the door....... We fell in love with the space! Incredible design, all the amenities you could ever need and in a location that was close to everything we wanted to do over the weekend! No doubt that if we head back to Montreal, we'll definitely be staying there again!!! The place is 🔥

Octobre 2019

Mohamed A.

Great Place, Alot of missing amenities

I really loved this place, it was very nice and modern, however there were several amenities that were listed in the booking but not available. For example - There are two tvs in the location. One is in front of the bed, this one does not work at all. It turns on, but it has no connection to any cable tv or tv applications or anything, so it's useless unless you bring your own cable box (who does that). The second tv in the living room has one channel, CNN. The TV doesn't allow you to switch channels at all. It's really annoying. Also, this place has no free parking, which is what it claims in the listing. there is free street parking during certain overnight hours, but there is certainly no free parking as part of this hotel. You can reserve a $25 dollar a night space in advance no less than 2 days in advance, which sucks because nobody tells you that till you get there. otherwise the place was nice, clean, modern, and i LOVED LOVED LOVED the shower heads

Septembre 2019

Appartement équipé

Appartement très bien situé. Agréable séjour !

Septembre 2019

Alvaro D.

Milton Parc loft 204

Very confortable and a walking distancie of every where. We had a problem with the AC but was solved by phone very fast.

Septembre 2019

Quality & service

We booked one loft at MiltonParc We loved pur stay A very High Quality loft We appreciated the procédures to acces thé loft, easy, simple and efficiant Thanks Marie-Eve & Martin

Août 2019

Beaucoup de bruit

Nous avons pas dormi la nuit du samedi, des jeunes gens avaient pris une chambre voisine et on fait la fête tout la nuit

Juillet 2019

Exzellent Loft

Everything was perfect!!

Juillet 2019

Review

Place was nice and the kitchen was great. The temperature control and TV didn't work.

Avril 2019

Pierre L.

Séjour du 23 au 25 janvier 2019

Bien situé, propre et avec toutes les commodités

Janvier 2019

Duncan F.

Great location and stylish

We both really enjoyed our stay. Seamless check-in and check-out procedures and a great central location handy for downtown, old port, the plateau and the village. There are a few rough edge to the loft. We couldn't get the TV to work, a chrome cast would at least have allowed us to beam from our phones, an sound system wouldn't go amiss, and a few basics (dishwasher tablets, laundry detergent) would save unnessecary expense) as would making sure that the shampoo, shower gel dispenerers were full. Only one of the two showers was fully operational but since we were only two it didnt make a difference. It would be useful to provide Nespresso coffee pods if providintg a Nespresso machine. But these are minor quibbles. Overall a lovely loft in a great location. Would be hard to find anything better I think for our budget

Décembre 2018

Bryan A.

Perfect apartment in a great location

We loved the Milton Parc. Easily walkable to Old Town, and there are a ton of good cafes & restaurants / bars nearby.

Octobre 2018

Nice cosy apartment

Nice apartment. Everything you need for your stay available. Very nice location. Just a short walk to various attractions (royal mountain, cathedral, shopping, harbour, etc). Nice supermarket and various coffee just around the corner

Octobre 2018

William O.

Nice room, service needs improvement

My wife and I were visiting Montreal to celebrate our anniversary and we booked months in advance. Loved the design and the location of the suite (close to shops, restaurants, attractions, etc.). Nice amenities and clean, modern lines. However, we didn't receive check in instructions until an hour before check in. There is no front desk so that meant we had to begin our travel from out of town without being 100% sure how or if we could get in to our room. When we did get them, the code to get into the building was incorrect and we had to call the office for the right one. If we had arrived after the office closed... Room had several damage/maintenance issues including non-functioning light bulbs, a broken shower handle, a hole in the wall (from an apparent kick?), cable box blocking the fireplace, rendering it unusable, to name a few, which we reported immediately. We were assured that a maintenance tech would pay us a visit the next day. They never arrived. We were there for 7 nights so they had ample opportunity. A little more attention from the management and this place has the potential to be great.

Octobre 2018

Natalie K.

Neat spot

The administration was quite accommodating to us after a computer glitch interrupted our original reservation. We were quite thankful for that! The space was very modern, which we liked, but a few things could be improved for future guests! The toilet paper roll was half finished when we arrived and there were no extras anywhere. (We also found a few dead flies on the floor in the bathroom, and the shampoo dispenser in the shower was pretty much empty). The dishwasher was full of clean dishes, yet we were expected to not leave any dirty dishes in the apartment, so It would have been nice for cleaning staff to unload the dishwasher before we arrived. (Especially since we only stayed one night!) That said, none of those things were major by any means, and we only mention them as feedback in regards to potential improvements for future guests! We still enjoyed our experience! Thanks!

Septembre 2018

James L.

nice spot !

maybe consider more linens, coffee products, cleaning supplies, umbrella, etc.. we had a nice stay here though and have left for the day, will return early this afternoon to pick up our luggage and leave for the airport.. thx again for everything!

Août 2018

Nice and close to downtown

We stayed at Milton just for two nights. Good for the location, nice and comfortable.

Août 2018

William G.

Perfect modern apartment suite

Super easy to check In and park. Clean modern room, like a suite at a 5 star business hotel. Highly recommended

Février 2018

enza r.

Milton Parc Lofts

The lofts are beautiful!!!!! However, the tv in the bedroom was not connecting to the bale = did not work.. the towels were not soft and definitely not enough for a 3 night - 4 day stay. I would have appreciated more toilette paper...

Février 2018
3485 rue Parc , H2X 2H6 Montreal, Quebec
FAQ
Saviez-vous ?

Débloquez les réponses à vos questions et découvrez davantage sur cette unité et plus dans notre FAQ du Centre de Support – votre ressource incontournable pour une expérience sans faille!
Cliquez sur ce lien pour en savoir plus: https://simplissimmofr.frontkb.com